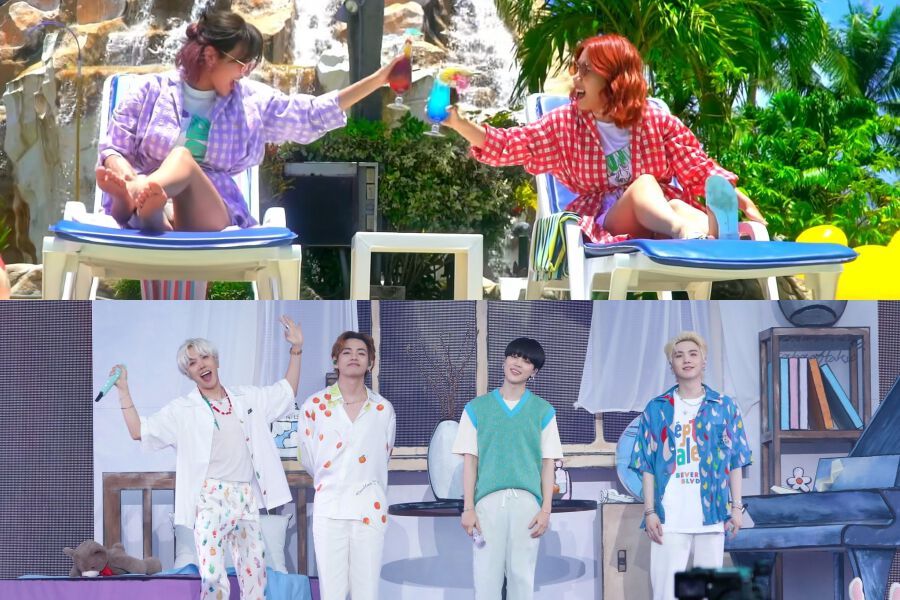 In K-pop, there is a subgenre for every situation, and that makes life a tad more flavorful. During travel, each transportation has a go-to type of music to set the mood. On an airplane, there are specific K-pop songs to listen to that will help one relax, especially if it's a long flight. Here are 11 relaxing K-pop songs to listen to while on an airplane. Have a safe flight!
SHINee's Taemin – "Think Of You"
When you're about to leave the country, you're bound to think about the people you're leaving behind even if you're only going for a short time. This warm melody by Taemin would make the best opening for your flight playlist. Just close your eyes, become one with the music, and get ready for takeoff!
MAMAMOO's Hwasa – "Be Calm"
Flying can be anxiety-inducing for some people, and several solutions come into play. One of these happens to be music, and the more laidback it is, the better. Perhaps, listening to this B-side by Hwasa would be helpful in calming people who struggle with fear of flight.
TXT feat. Iann Dior – "Valley of Lies"
This one is a literal jam, which might make it a little bit too loud to relax while you listen to. But don't let that stop you! With the right volume, you can actually let yourself go as you immerse yourself in these reflective lyrics.
Hoody – "HANGANG"
If your destination is Korea, this track will keep you company way after your plane lands. Hoody's gentle vocals as well as the mesmerizing lyrics give you a glimpse of the beautiful Han river and all the flowing feelings that you can experience while sailing across it.
TREASURE – "DARARI"
TREASURE's viral sound rightfully deserves a spot here. Through the confessional lyrics, you're sent on a romantic trip. You can shape your own love story as you admire the sky through the porthole—or as you close your eyes shut and let your imagination run wild. In short, "DARARI" is set to keep your heart warm and your mind calm.
Red Velvet's Wendy (Prod. The Black Skirts) – "Airport Goodbyes"
This song has all the feels, and it is the perfect soundtrack for when you part ways with someone at the airport. Wendy's soulful voice will serenade you through the flight as you look back on either what you left back at home or the memories you have made during your vacation.
BTS – "Fly to My Room"
Remember when you were stuck in your room for two consecutive years unable to set foot outdoors? BTS sure knows how to vividly describe the frustration felt by the entire globe during the pandemic. Listening to this song when you're not only outdoors but literally flying in the sky gives off a liberating and soothing sensation that many long to experience.
BOL4 – "Travel"
Okay, this is a rather cheerful song that would make you dance your feet off. But who said it can't be relaxing as well? BOL4 knows what makes a fun trip, and the pair is not holding back from sharing their tips. The lyrics describe in detail the key to a relaxed and carefree flight.
Hoppipolla – "Wander"
Sometimes, you're simply in the mood for a good instrumental that would serenade you to sleep. In that case, look no further because Hoppipolla has got your back. Let this wonderful performance send goosebumps throughout your body while your mind immerses itself in the hypnotizing tunes.
ENHYPEN – "I Didn't Know"
Close your eyes, play this song, and let yourself levitate with the melody. ENHYPEN's enchanting vocals combined are set to relax every muscle in your body and make you forget about the long flight that awaits you. Give it a try when you get the chance!
Shaun – "Way Back Home"
When it comes to nostalgia, this moving ballad hits home. The acoustic version sets an appeasing tone which is further amplified by Shaun's dreamy vocals. If you make a second playlist for the way back home, you know this track fits like a glove.
Which relaxing K-pop song is on your airplane playlist? Let us know in the comments below!
Esmee L. is a Moroccan lively dreamer, writer, and Hallyu enthusiast.
How does this article make you feel?