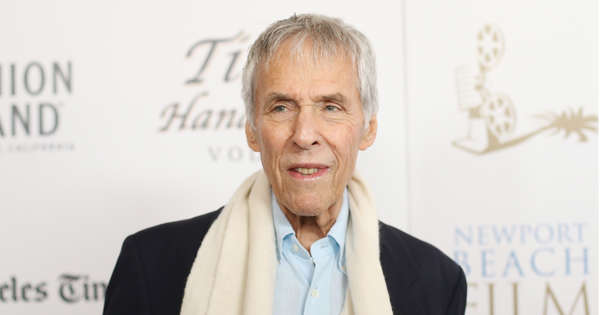 Songwriter, composer, producer and arranger Burt Bacharach, a dominant force in American popular music for half a century, died of natural causes in Los Angeles on Wednesday. He was 94.
Bacharach's publicist Tina Brausam revealed the news on Thursday.
As a tunesmith, the nonpareil melodist Bacharach found fame in every medium.
His songs — many of them written with lyricist Hal David — became chart-topping successes, particularly in the hands of vocalist Dionne Warwick. Among '60s songwriting duos, only Lennon-McCartney rivaled Bacharach-David in terms of commercial and artistic achievement. Bacharach collected six Grammys as a writer, arranger and performer from 1967-2005.
His music was ubiquitous on screens both big and small in the '60s and '70s, and he was recognized by the Academy Awards and Golden Globes for his work on "Butch Cassidy and the Sundance Kid" (1969) and "Arthur" (1981). He collected a 1971 Emmy for a TV recital of his work.
On Broadway, the 1968 Bacharach-David tuner "Promises, Promises" rolled up 1,281 performances and garnered a Tony nomination as best musical.
Bacharach's first notable gig in showbiz was as singer Vic Damone's accompanist after Bacharach's discharge from the Army in 1952; he went on to play behind the Ames Brothers, Imogene Coca, Polly Bergen, Georgia Gibbs and Steve Lawrence. He also backed singer Paula Stewart, to whom he was married from 1953-58.
In 1957, Eddie Wolpin of Famous Music partnered Bacharach with David. Laboring in the pubbery's Brill Building song mill, the pair scored a No. 4 hit with Perry Como's "Magic Moments"; less memorably, Bacharach reached No. 33 with the Five Blobs' horror movie theme "The Blob."
Bacharach worked as Marlene Dietrich's musical director from 1958-61 and found time to craft hits like the Shirelles' "Baby It's You" (No. 8, 1961), Chuck Jackson's "Any Day Now" (No. 23, 1962) and — with David — Gene Pitney's "The Man Who Shot Liberty Valance" and "Only Love Can Break a Heart," No. 4 and No. 2, respectively, in 1962.
That same year, Bacharach and David began their fruitful writing and production collaboration with former backup singer Warwick, whom the composer had met at a Drifters session. Her first single with the cleffers, "Don't Make Me Over" — with lyrics inspired by a heated remark by the vocalist, who had accused the writers of lying to her — launched a fabled series of hits that mated Warwick's silken voice with Bacharach's subtly shifting melodies and David's poignant lyrics.
Their top-10 collaborations of the '60s included "Anyone Who Had a Heart," "Walk on By," "I Say a Little Prayer," "Message to Michael," "Do You Know the Way to San Jose," "This Girl's in Love With You" (previously a gender-swapped No. 1 hit for Herb Alpert) and "I'll Never Fall in Love Again." Warwick also interpreted Bacharach and David's theme song for the 1968 Michael Caine vehicle "Alfie."
The writers were ubiquitous on the charts and onscreen during the '60s. Their top 40 hits included Jackie DeShannon's "What the World Needs Now," the 5th Dimension's "One Less Bell to Answer" and Bobby Vinton's "Blue on Blue."
A move into film, enabled by actress Angie Dickinson, to whom Bacharach was married from 1966-80, led to soundtrack work that spawned several pop smashes. The 1965 farce "What's New Pussycat" included Tom Jones' title track, Manfred Mann's "My Little Red Book" and Warwick's "Here I Am." Dusty Springfield's sultry "The Look of Love" was featured in 1967's James Bond spoof "Casino Royale." Most memorably, B.J. Thomas' breezy "Raindrops Keep Fallin' on My Head," from George Roy Hill's serio-comic Western "Butch Cassidy and the Sundance Kid," reached No. 1; Bacharach received Oscars for best original song and score.
A film supplied the plot for Bacharach and David's hit first stage venture: Billy Wilder's darkly comedic "The Apartment" became "Promises, Promises," which opened on Broadway in December 1968 to strong reviews. "Mr. Bacharach gives the musical its slinky, fur-coated feel of modernity," wrote Clive Barnes in the New York Times. The show, which collected a best score Grammy in 1969, was revived on Broadway in 2010, with the addition of a couple of previous Bacharach-David hits.
The songwriters' storied partnership dissolved acrimoniously after their misbegotten 1973 film musical adaptation of Frank Capra's 1937 feature "Lost Horizon." In the wake of that flop, Bacharach and David sued each other; Dionne Warwick launched a suit of her own against the team. For a time, Bacharach retreated to TV work and solo recording projects.
His writing career returned to commercial form after he partnered with lyricist Carole Bayer Sager, to whom he was married from 1981-92. Their "Arthur's Theme," written with singer Christopher Cross and Peter Allen for the '81 Dudley Moore comedy "Arthur," vaulted to No. 1 and collected an original song Oscar. In 1985, the couple's "That's What Friends Are For," originally written for the feature "Night Shift," renewed Bacharach's association with Warwick; her all-star single version was No. 1 nationally for four weeks, and the composition received a Grammy as song of the year.
Bacharach's career was relatively becalmed until the mid-'90s. He briefly collaborated again with David on the song "Sunny Weather Love," for a 1993 Warwick album. However, he received greater attention for work with another writing partner: "God Give Me Strength," an emotion-wracked ballad penned with admirer Elvis Costello for "Grace of My Heart," Allison Anders' 1995 feature about '60s cleffers, led to the full-blown 1998 collaboration "Painted From Memory." A track from the album won a Grammy.
During the '90s and '00s, Bacharach appeared in front of the camera as well: He did cameos in Mike Myers' 1997 spy takeoff "Austin Powers: International Man of Mystery" and its two sequels. The latter films included covers of Bacharach-David's "I'll Never Fall in Love Again" (by Costello and Bacharach) and "Alfie" (as "Austin," by the Bangles' Susannah Hoffs, wife of director Jay Roach).
Bacharach was born in Forest Hills, N.Y. His father was a nationally known authority on menswear, his mother a painter and singer. He attended the same high school as Mike Stoller of the Leiber and Stoller songwriting team.
A pianist from an early age, Bacharach studied music at several institutions, including New York's Mannes School of Music, where he was instructed by composers Henry Cowell and Darius Milhaud. His influences ranged from the impressionism of Ravel and Debussy to the energy and harmonic invention of bebop.
In 1972, Bacharach and David were inducted into the Songwriters Hall of Fame. They received the Recording Academy's Trustees Award for their contributions as writers in 1997 and became the first songwriting team to be honored with the Library of Congress' George & Ira Gershwin Prize for Popular Song in 2011.
In 1998, Rhino Records issued a three-CD compendium of Bacharach's work, "The Look of Love." A like-titled revue comprising Bacharach-David songs had a short-lived Broadway run in 2003.
Bacharach released a duo album with the Isley Brothers' Ronald Isley in 2003, and in 2005 he issued "At This Time," his first solo album in 26 years (and a best pop instrumental album Grammy winner). He continued to make concert appearances internationally.
His theatrical work continued late in his life and career: "New York Animals," with music by Bacharach and book by Steven Sater, opened Off Broadway at the New Ohio Theater in 2015.
He is survived by his wife Jane and three children.
For more stories like this, follow us on MSN by clicking the button at the top of this page.
Click here to read the full article.