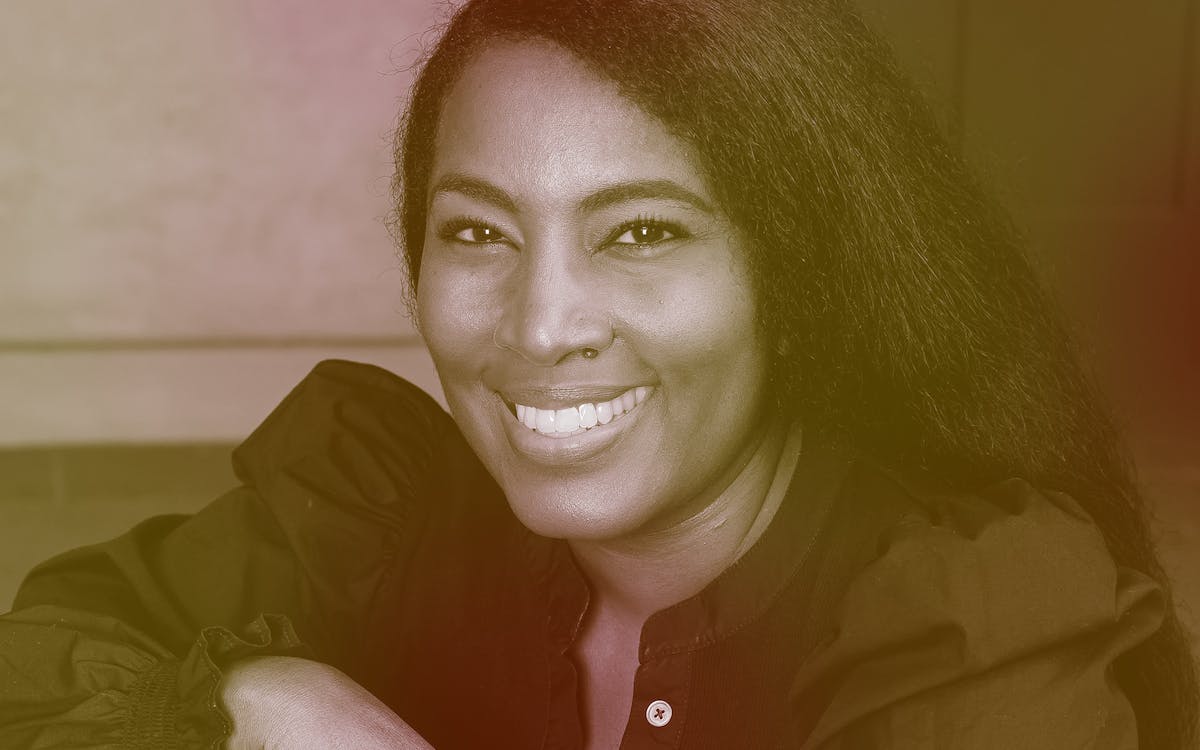 It's 1999 at Houston Baptist University, a religious college nestled in southwest Houston. The constant whistle of tires on pavement from the neighboring Southwest Freeway is no match for a row of nondescript practice rooms where two violinists—teacher and student—face a Manhasset music stand. The teacher's black hair is pulled back into a rubber band; her mane is so thick that the elastic need not be looped twice. Clad in relaxed denim bell-bottom jeans and a soft, electric blue cotton T-shirt, Chanda Dancy, the teacher, is thrilled to be in the presence of music. The teenage musician, me, is desperate to show Dancy that she practiced the Kreutzer études assigned the week before.
Dancy was not like other classical-violin instructors. Her violin was always within reach to convey direction when words failed to capture the essence of how she wanted her student to feel the music. Unrestrained by the classical genre's preoccupation with precision, Dancy possessed a musical fearlessness, which has informed her career from HBU to Hollywood. In her current work as a film composer, she aims to create music that sonically illustrates characters' emotional journeys. She has scored documentaries, including Aftershock, a doc about two women who died during childbirth; television shows, including The Defeated, a post–World War II crime-fighting Netflix series; and films, including the Whitney Houston biopic I Wanna Dance with Somebody. Last year she released her most critically acclaimed score yet, for J. D. Dillard's Devotion. 
Devotion is a heart-wrenching film about Jesse Brown (Jonathan Majors), the first Black Naval aviator, during the Korean War. Dancy's score is an emotional excavation of what it means to be Jesse, a highly skilled pilot who hypes himself up for missions by reciting racist remarks to himself in the mirror. Listeners hear these internal tug-of-wars paired with lush orchestral phrasing that gains and loses altitude along with the story line. Thanks to the rich layers of harp, strings, and even synthesizers, you can actually hear the expansiveness of the seas the pilots fly over.  
Both the story of Devotion and its production are meditations on talented Black Americans in predominantly white spaces. The film has a Black director, J. D. Dillard; a Black orchestra conductor, Anthony Parnther; and Dancy, a Black film composer. There are very few Black film composers, a minuscule number of which are women. "I'm a Black woman composer. And yeah, I do have a slightly different point of view when it comes to my artistic approach," Dancy told me over the phone. "That's to my advantage because I don't sound like anyone else." The historical significance of being one of relatively few Black people in classical music is not lost on Dancy, and she doesn't deflect from it. "I embrace it. I am who I am, and this goes back to being from southwest Houston, Texas. I was always allowed to be comfortable in my own skin."
Dancy's path to success began in the 1980s, when more and more Black Houstonians were moving beyond historically Black neighborhoods such as the Third Ward and Sunnyside and into the southwest neighborhoods of Alief, Sharpstown, and Westchase. With multiple integrated racial and ethnic communities, southwest Houston was fertile ground for Black girls like Dancy to chart their own pathways. Dancy didn't think twice about teaching herself how to play guitar, harp, and keyboard while cultivating the deep devotion to anime that shows up in her music. ("The [Macross Plus] score by Yoko Kanno has always stuck with me.") "I'm definitely influenced by jazz and thick textural chords, as well as minimalism," said Dancy. "Then there's a little bit of blues and what my publicist calls my 'anime influence,' " she said, laughing. "It's the sound of nostalgia."
Dancy first learned the violin in third grade—relatively late for violinists, who can start as early as three years old—at Houston's T. H. Rogers School. Within a few years, she was composing. "Officially, the first [time] that I wrote to have other people play [I] was around twelve years old." From intonation to posture to breath itself, the allowance for error for young classical musicians is nearly nonexistent. Classical musicians are trained to replicate, not deviate. At least, that's how most classical musicians are trained. "I saw instruments as a fun way to create your own stuff," said Dancy, reflecting on her years as a young violinist. "My violin was not just to play Beethoven. I didn't look at a piano to play Rachmaninoff. I looked at a piano and thought, 'Ooh, what if I do this? And what if I do that?' "
While Dancy eventually graduated from prestigious composition academies, it was her undergraduate study at HBU (recently renamed Houston Christian University)—a Christian college with about 2,500 students—that transformed composition from an intuitive passion into a career. "The school was so tiny that the dean of the school of music was also my composition professor," said Dancy. Her dean and teacher saw Dancy's enthusiasm and created a composition curriculum specifically for her. Dancy directed and scored her own short films at HBU, the University of Southern California's Screen Scoring program, and the Sundance Composers Lab, experiences that fueled her past two decades as a film and television composer.
These days Dancy is happily settled in Los Angeles, but she still misses Texas. Well, specific aspects of Texas. "I miss the cost of housing and Tex-Mex," she told me. She also misses Houston's Vietnamese food. "There's something about Bellaire Boulevard, like it just can't be beat for good Vietnamese food." After Devotion, she scored the Whitney Houston biopic I Wanna Dance With Somebody. She told me that both scores are rooted in recognizable character themes, approached with the utmost care and consideration for the real-life people the films honor. "The biggest difference is the sheer scale of the Devotion score, which was recorded with 109 musicians, including a choir," she said. (I Wanna Dance With Somebody had about half of that.)
She remains booked and busy with a plethora of other projects she's legally unable to discuss yet. Plenty of composers would be content with Dancy's current success, but Dancy is already aspiring to accomplish more. "I would love to work on a big Marvel or Disney film," she said. "The bigger the canvas, the better."
Despite the early anticipation that Dancy might make history as the first Black woman nominated for an Oscar for Best Original Score, Dancy wasn't recognized for Devotion. Nor was she dismayed. "When I set out to do this score, I wanted to do something really big and really amazing and spread my wings. And it was shocking to get that Oscar buzz when it was just literally me just being myself," said Dancy. "I'm having so much fun. And even though I didn't get the nomination, it feels as if I did, because the doors have opened."