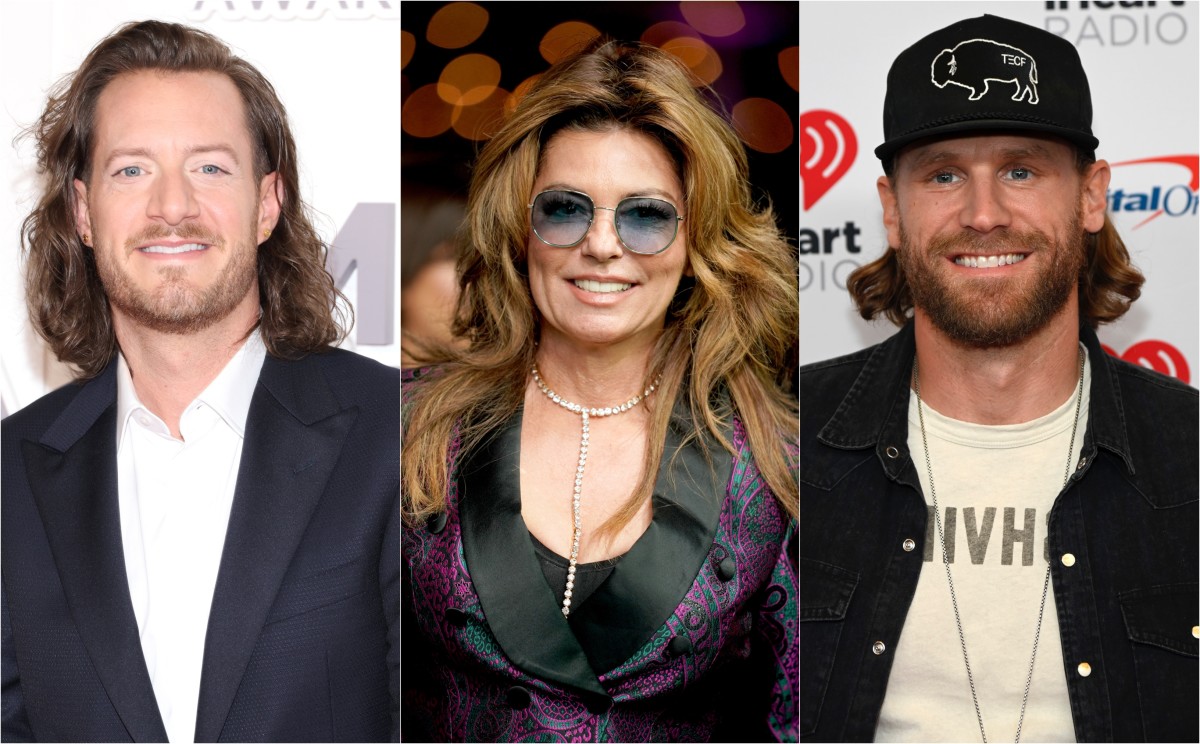 As 2022 comes to a close, we're looking forward to all the new music 2023 has in store.
And it's already looking like a promising year for country music, as several artists have announced their upcoming albums.
Here are six of the most highly-anticipated country albums of the new year so far.
Hardy
Hardy, best known for songs like "Rednecker" and "wait in the truck," is promoting his sophomore album, The Mockingbird & the Crow, which will be released on Jan. 20, 2023.
Per his Instagram post, fans can listen to the title track and two other new songs everywhere now, while also pre-saving or pre-ordering the album.
Elle King
The singer made a splash in the pop world, but she's ready to claim the country genre as her own as she gears up for her most country-inspired album yet. Come Get Your Wife is available for pre-order now and is set to arrive on Jan. 27, 2023.
When announcing the album on Instagram, she explained: "Remember that one time I was beating some asshole at a game and he yelled, "Come get your wife!" to my partner!?!? And I'm not even married! Lol. Thanks for the album title, babe Each track comes from influences of all genres, and I now know country music is where I belong."
Tyler Hubbard
Tyler Hubbard is an established name in country music as one-half of Florida Georgia Line, alongside Brian Kelley, but he's hoping to stand as a solo artist with his debut album, which will be available Jan. 27, 2023 and is available for pre-order now.
"For me to be releasing my first album as a solo artist, it means everything. I feel really proud of this music and how special it is to have the opportunity to share my personal story. Hopefully it makes you want to come to a show and hang out because most of these songs were created to play live. I can't wait for you to hear it, I hope y'all get to know me on a deeper level, and I'm so grateful to have you all with me on this incredible journey," he noted in the album announcement on Instagram.
Shania Twain
2022 was a good year for Shania Twain, but 2023 is going to be even better as she has already announced her Queen of Me album, her first studio album since 2017. It's expected to arrive on Feb. 3, 2023, ahead of her "Queen of Me Tour," which will begin in the spring. Fans can pre-order the album now and snag tickets to the tour.
"These days, I'm feeling very comfortable in my own skin – and I think this album reflects that musically. Life is short and I want to be uplifted, colorful, unapologetic and empowered. I want to carry a clear message, particularly as a woman, to always remember my power and I hope the songs are a reminder to you, of that same power inside you!" she explained of the album in a recent caption on Instagram.
Chase Rice
The country crooner is making his comeback on Feb. 10, 2023, with his "first full album since 2017," titled I Hate Cowboys & All Dogs Go To Hell.
He took to Instagram to pen an emotional note for fans, stating that for "10 years, I've put out glimpses of who I truly am in my music, but I've never been able to piece it all together." He explains that he finally deals with the loss of his dad in the album, which is one he "would have been proud of."
He also announced his upcoming tour, writing, "Gonna be playin almost the whole "I Hate Cowboys & All Dogs Go To Hell" album, Eyes On You, Drinkin' Beer, all the good stuff. Lemme know any other songs y'all wanna hear below. Tickets on sale now let's gettttt it"
Jordan Davis
The country hitmaker is gearing up for the release of his second album, Bluebird Days, on Feb. 17, 2023.
"pumped to share new music with y'all next year," he wrote on Instagram, along with info on how to pre-order exclusive merch bundles.
The album will include Davis' chart-topping hit "Buy Dirt" with featured artist Luke Bryan, which was co-written by the artist with his brother Jacob, along with Matt and Josh Jenkins.
Since it's still so early in the game, plenty of other well-known country stars, along with rising newcomers, will likely announce albums, but this is a promising start and leaves us excited for the upcoming year in country music.