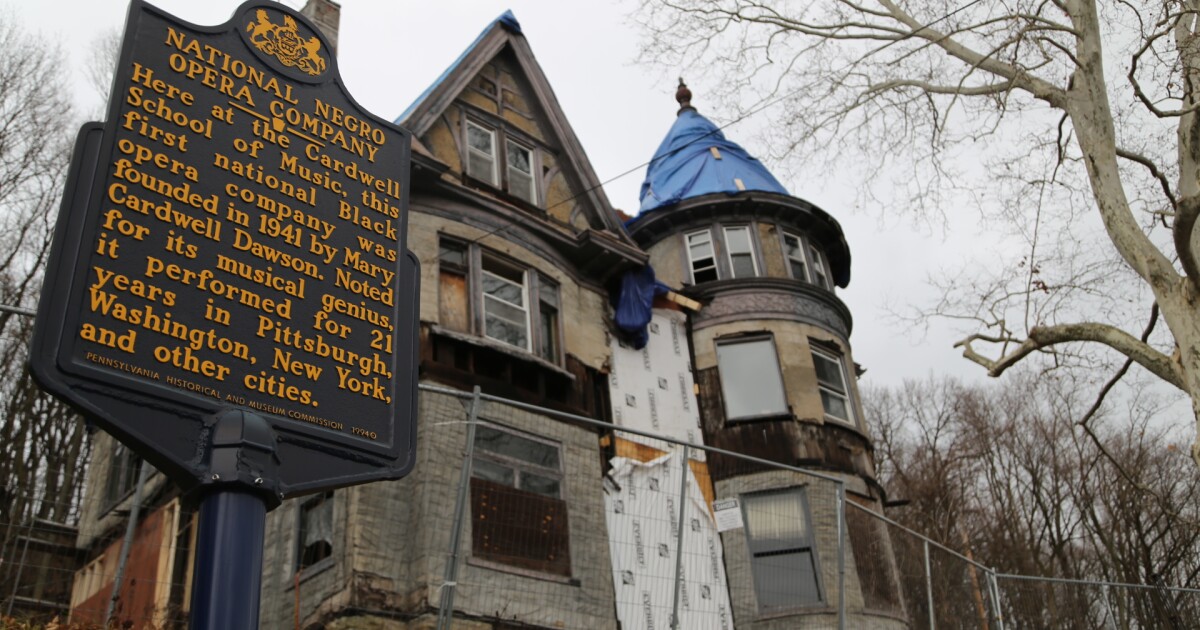 A vine-covered, boarded-up Queen Anne-style mansion sits on Apple Street in Pittsburgh's Homewood neighborhood. While the building might not look like much now, it was once home to the National Negro Opera Company, the first and the longest-running Black opera company in the U.S. And its creator, Mary Cardwell Dawson, was the leader of a movement to make classical music more accessible to Black audiences in Pittsburgh and around the country.
Although her life was defined by multiple cities, Pittsburgh community members are trying to give her musical legacy and activism a permanent home in Pittsburgh.
Samuel Black, director of African American Programs at Heinz History Center, said Dawson is not just a prominent figure in music, but enterprising in music.
"I would kind of classify her as one of the individuals who took place in these sort of monumental periods of Black history," he said.
She was born in the South, but moved to Pittsburgh in 1920. When she arrived in the city, Dawson wanted to open a music school, one where children — specifically Black children and those from low-income communities — could come to learn. She ran her first school out of a storefront on Frank Street in Homewood.
Then, she heard about a house owned by William "Woogie" Harris, the brother of trailblazing photographer Charles "Teenie" Harris. He gave her a loan and she began holding classes in the house on Apple Street. She offered lessons for piano, violin, voice and music theory, and the house functioned as a rehearsal space for her adult choir. She would visit Black churches around Pittsburgh to recruit gifted young singers.
"She [was] adopted by Pittsburghers, very well-respected," Black said. "Her music school, as far as I know, had one famous pupil. And that was the jazz pianist Ahmad Jamal, and he remained close to her throughout his life." Jamal, a graduate of Westinghouse High School, began lessons with Dawson at age 7 and has been a jazz band leader for six decades.
In 1941, Dawson organized the United States' first African-American opera company. They debuted with a performance of Verdi's "Aida" at the Syria Mosque in Oakland. Professor and musicologist Karen Bryan has written extensively on Dawson. She said that a goal of Dawson's was not just equal representation in classical music, but equal working conditions in classical music.
"She had a vision," Bryan said. "And that vision was that opera particularly should be accessible. And should involve everyone."
Dawson demanded that her leads be paid standard union wages, so that they would make the same as white performers. The company traveled across the country, and Dawson insisted on only performing at desegregated venues. This included Syria Mosque and the Watergate Hotel in Washington, D.C.
"Her activism expanded not only to getting people on the stage and to producing Black performances of these operas; it extended to demanding that they be treated equitably by the union," Bryan said.
Pittsburgh gave Dawson the opportunity to train hundreds of young mostly Black and minority musicians and start her opera company, but she also had aspirations elsewhere. She left for D.C. in 1943, but the opera company house remained in Pittsburgh.
Now, nearly a century after Dawson's arrival in the city, today's young people are helping restore the former music school. The Young Preservationists Association, in collaboration with the house's owner Jonnet Solomon, submitted a nomination for historical preservation in 2020.
The association's founder, Daniel Holland, said he was touched by how many students gathered for a clean-up day at the house.
"We had 100 students from various places, including University of Pittsburgh, Westinghouse High School and Tepper School sent some students over. It was a great day," Holland said.
In addition to Young Preservationists, many local organizations and community members have fought to protect the house. This May, groundbreaking began after it was announced that $2 million through various grants and donations would be dedicated to its restoration.
The house is a reminder of Dawson's legacy and community-building. She was passionate about giving young Black people the spaces and opportunities to explore and perform genres of music they otherwise wouldn't have.