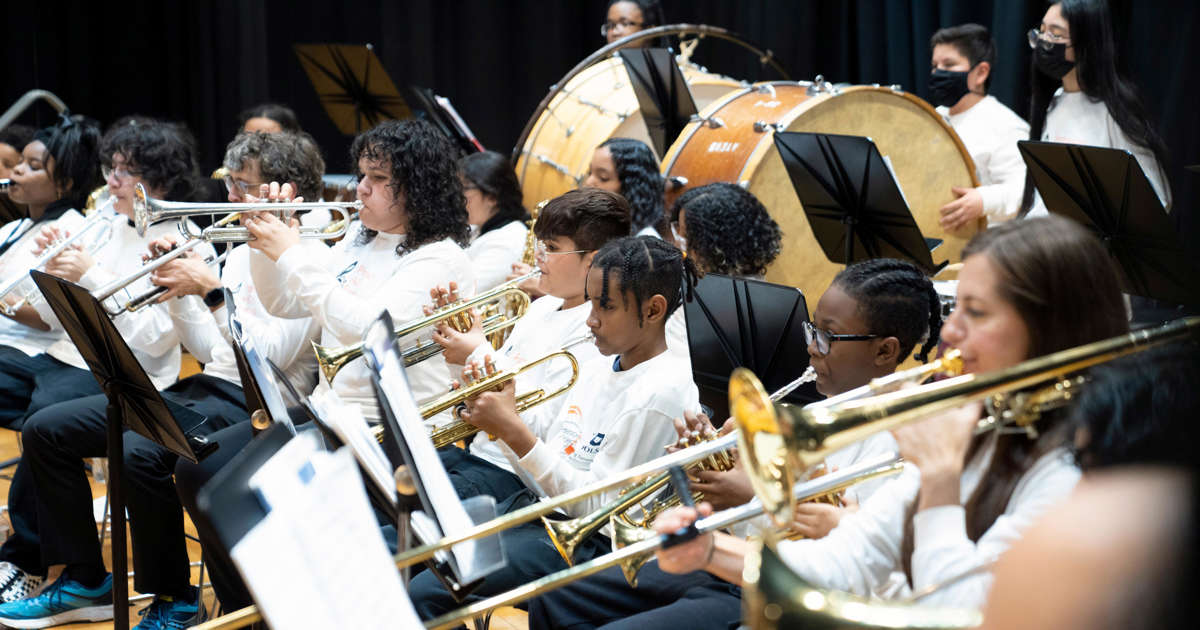 Hours before Paterson's first citywide music festival in nearly two decades, violinist Hector Otero wasn't nervous, despite the fact that the conductor, who had fallen ill, was still a no-show. As concertmaster, Otero, 17, had to step in and lead his classmates in a final rehearsal.
"It's not that big of an issue," said Otero, as the sound of regimented string, horns, and drums echoed in a nearby practice room. "We've been to so many events and festivals."
A high school senior, Otero, who earned a full-ride scholarship to study music at Montclair State University, evinces the calm of a seasoned performer. He is one of the many success stories from the Paterson Music Project, a non-profit in its 10th year, that offers affordable after-school and weekend music instruction in a city whose arts education programs are at the whim of state funding.
Start the day smarter. Get all the news you need in your inbox each morning.
The Music Project, which began in 2013 with only 30 students, now has two locations in Paterson — at P.S. 16 and the Community Charter School — and another in Woodland Park, together serving 470 students. At Saturday's event, the All-City Festival, the musical talents of more than 250 student from 28 Paterson schools echoed through the hallways at John F. Kennedy High School.
"This concert is not just for students from our program — it's the first citywide event since 2007," said Shanna Lin, director at the Music Project. "What better way to celebrate our 10-year anniversary."
The ongoing threat to arts education has a historical precedent. In the fallout of the Cold War and the mid-century space race, school curriculums became hyperfocused on STEM subjects, according to Michelle Van Hoven, supervisor of fine and performing arts for the Paterson Public Schools
School districts faced with dwindling budgets — often in low-income communities of color — are still quick to jettison their arts programs.
Van Hoven, who began as a music teacher at Rosa L. Parks School of Fine and Performing Arts about a decade ago, has witnessed the ebb and tide of funding over the years. Now at the helm of the city's arts education department, Van Hoven advocates from within.





© Michael Karas/NorthJersey.com
Students rehearse as part of the Paterson Music Project at John F. Kennedy High School in Paterson on Saturday, January 28, 2023.


"Music and arts programs are expensive in general," Van Hoven told the Paterson Press. "But in the time since, we've realized how vital arts education is."
Advocates, like Van Hoven, are pushing the benefits of arts education in childhood and adolescent development, arguing it can even help with mental health, so crucial in an age of cyberbullying and pandemic-related trauma.
"It provides opportunities for students to explore themselves as people, it increases their creativity, increases motivation," Van Hoven said.
The students also create close bonds with other young musicians, according to 16-year-old Geanelly Vallecillo. She — with the help of her sister, Haley Vallecillo, 14, also a violin player — convinced her parents not to move to Connecticut, and instead remained in Paterson to finish out her instruction with the Music Project.
The program for Saturday's All-City Music Festival included nine compositions ranging from folk songs to Scott Watson's jazzy Awesome Sauce. The finale was a "collective composition," which is an organized improvisation in which the musicians respond to certain prompts and hand gestures.
"We start with something very simple — just a rhythm," said Rachael Diaz, a 16-year-old junior. "With that one idea, like a spark, it starts a fire."
This article originally appeared on NorthJersey.com: Paterson Music Project sees plenty of success stories in its 10th year