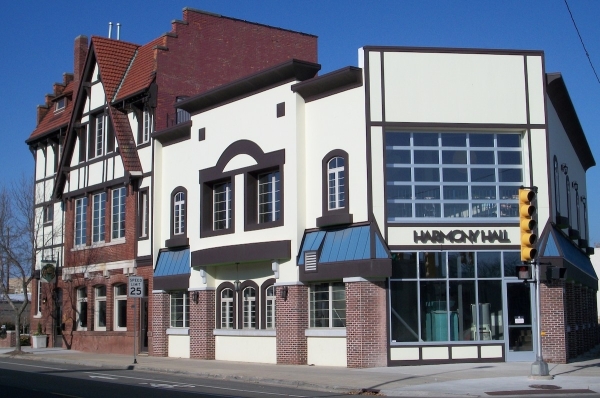 GRAND RAPIDS — Moonshine and canned cocktail marketer Sip Shine LLC plans to bring a new nightlife experience to Grand Rapids' west side this spring at the former Harmony Hall building.
The Grand Rapids Planning Commission today approved a request from the Jenison-based company to operate a bar and restaurant with daily live music and rooftop seating. Sip Shine is in a purchase agreement with Harmony Brewing Co. LLC for the building at 401 Stocking Ave. NW, and plans to take ownership of the building in the first quarter of 2023. Harmony Brewing announced in September 2022 that it was closing the satellite location and moving its brewhouse to a separate production-only facility. 
Sip Shine's plan calls for a first-floor private dining room and a tasting room where people can sample the brand's line of flavored moonshines. A retail space where people can purchase Sip Shine pre-packaged spirits to-go would also be included on the first floor. The second floor would feature a bar with a small stage featuring free, daily live performances of mainly country music. A rooftop deck would feature ambient music, seating and a bar.
"The rooftop deck is to get a view of the city," Sip Shine owner Kyle Search said during today's planning commission meeting. "There will be no entertainment out there. We are planning acoustic music that will be performed every day that is something to give patrons something nice to listen to, and offer a different environment than we're used to here at bars and restaurants."
Plans also call for expanding the elevator up to the rooftop bar and installing a ramp for easier access. The total occupancy of the building would be 408 people, an increase from Harmony Hall's 260-person occupancy.
"Our goal is to be a business that is welcoming to all, especially those in the community, by providing foods not currently offered and providing an opportunity for some local musicians to perform 'country' music on a small stage," reads part of Sip Shine's site plan narrative.
Orion Construction is the general contractor for the build-out and WLP & Associates Ltd. serves as the project's architect.
The West Grand Neighborhood Association, Bridge Street Market, and Kusterer Brauhaus submitted written support for Sip Shine's redevelopment plan.
"Outdoor rooftop seating would provide an opportunity to serve the community during the summer months and allow for continued observance of COVID-19 protocols while increasing their capacity," Annette Vandenberg, executive director of the West Grand Neighborhood Association, wrote in a letter to the planning commission. "Feedback from neighbors has been positive and many similar venues in the area have expressed support for this project."
Sip Shine was founded in 2019 and was inspired by the Gatlinburg, Tenn. moonshine scene. The beverage company was producing its spirits in Des Moines, Iowa, but is moving its production operation to Wise Men Distillery LLC in Kentwood. Wise Men's line of spirits also will be available at Sip Shine's tasting room and restaurant.
Sip Shine beverages can be found at many retailers throughout West Michigan and across the country. The beverage company also offers alcoholic slushie machines at venues around the country, including locally at Van Andel Arena and the LMCU Ballpark.