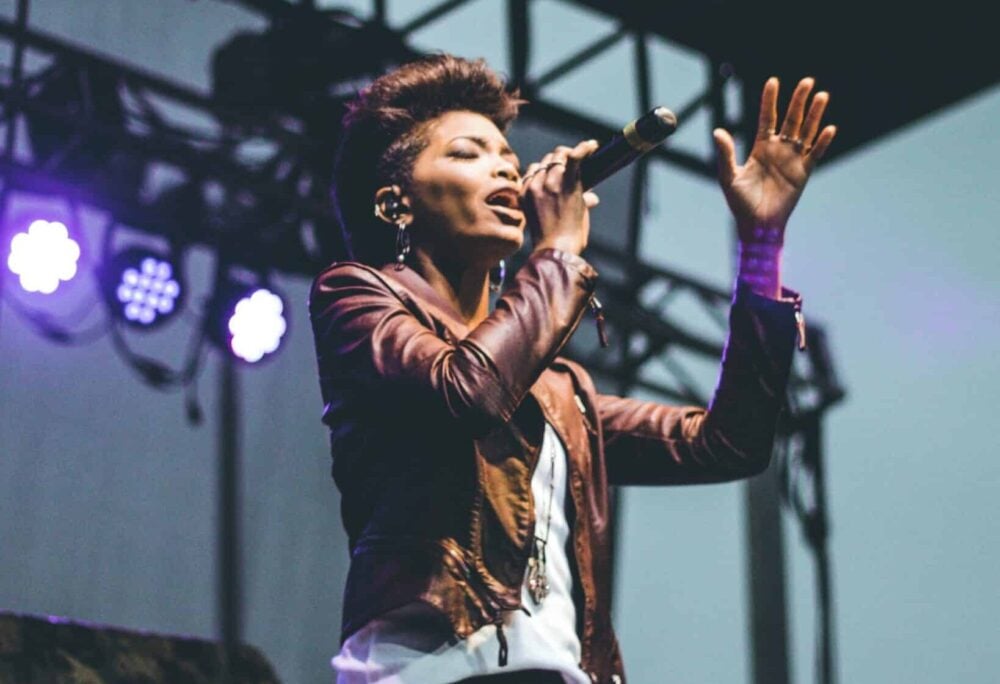 Country music has been called "the white man's blues" for two reasons: the blues had a huge impact on the genre, and it's been dominated by white performers. However, there are many great black country singers who bring soul into the country music world.
Find out all about them on our list of the best black country music singers.
The Top 15 Black Country Singers
15. DeFord Bailey
Though not among the black country singers, DeFord Bailey is one of the first legendary musicians to grace the stage of the Grand Ole Opry, paving the way for the rest of the black country music singers on our list.
His career spanning from the early 1920s until 1941, Bailey was one of the very first performers ever to be announced on Nashville's biggest radio station, WSM's Grand Ole Opry.
He was also the first black performer to ever appear on the show and was the first musician to have his music recorded in Nashville. 
The harmonica legend was the first black country singer to be inducted as a member of the Grand Ole Opry and the Country Music Hall of Fame.
Known as the "Harmonica Wizard," the path he blazed is still remembered today.
Related: The 15 Best Male Country Singers of All Time: A Definitive List  
14. Coffey Anderson
Coffey Anderson appeared briefly as a contestant in season 2 of American Idol and the sixth season of Nashville Star but is best known for his YouTube videos, which feature both original songs and cover performances.
He signed his first record deal with Dream Records in April 2010 and subsequently released his self-titled album Coffey Anderson in September of that same year. 
The album made it on the U.S. Billboard 200 albums chart and featured singles such as "You Are All I'm After," "Seek Your Face," and "Sunshine."
13. Cleveland Francis
Did anyone else's heart skip a beat when they heard Cleveland Francis sing "Love Light" for the first time? Good thing he's not just a singer-songwriter but a cardiologist to boot.
Francis recorded nine albums throughout his career, which began in the 1960s.
His singles have charted four times on the Billboard Hot Country Songs Chart, his most successful being "You Do My Heart Good" in 1992.
He seemingly disappeared from the music world for many years after returning to medicine but came back into the spotlight in 2022, releasing a remastered reissue of "Follow Me," a folk album that he self-released in 1970.  
12. Lesley Riddle
Some might ask: who are old African-American country singers? One of the best is Lesley Riddle. 
Lesley Riddle first picked up a guitar in the late 20s, developing and mastering an original picking and slide technique that attracted other musicians whom he soon began collaborating with.
Although Riddle has several studio recordings under his belt, he is best known for his association with the Carter Family.
Riddle first met A.P. Carter in December of 1928, and the two soon ventured out on trips together to gather songs. While Carter worked on the lyrics, Riddle's ability to memorize the melody got him dubbed the "human tape recorder."
Examples of this collaboration include the Carter Family's "Cannonball Blues" and "Lonesome For You."
11. Brittney Spencer
One of the more recent black country singers to grace our list, Brittney Spencer has not wasted time since first coming onto the scene in 2020 after a video of her covering The Highwomen went viral.
She has since released her first E.P., Compassion, as well as multiple singles, most popularly 2021's "Sober & Skinny."
Her fame has only continued to grow as she's graced the stage of the Country Music Association Awards, the Academy of Country Music Awards, and more.
In November 2022, she signed with Elektra Records, making her one of the up-and-coming black country singers of 2023. 
Related: The Best 15 Female Country Singers of All Time: Who Made the List? 
10. Petrella Ann Bonner
"The first lady of country soul," Petrella Ann Bonner has been a part of the country music scene since the mid-1980s. 
She has recorded eight studio albums, with several singles appearing on the Top 100 Country Singles charts. 
Bonner is a member of the Nashville Songwriters Association International and was named "Songwriter of the Year" by the Tennessee Songwriters Association in 1994 for her song "Living on a Shoestring."  
9. Chapel Hart
America fell in love with sisters Danica and Devynn Hart and their cousin Trea Swindle, aka Chapel Hart, when they graced the America's Got Talent stage with their original song, "You Can Have Him Jolene," a unique twist on the Dolly Parton classic.
The performance earned them a group Golden Buzzer from host Terry Crews and the AGT judges.
Although they ultimately finished in fifth place, they have since made their debut at the Grand Ole Opry and are featured on fellow black country music singer Darius Rucker's single "Ol' Church Hymn," released in late 2022.
8. Rhiannon Giddens
Is there anything Rhiannon Giddens can't do? As a founding member of the Grammy-winning Carolina Chocolate Drops, she keeps busy as the lead singer, fiddle player, and banjo player.
She has also released two solo albums, Tomorrow is My Turn and Freedom Highway, and two collaborative albums with Francesco Turrisi, There is No Other and They're Calling Me Home.
Related: The 50 Best Country Songs from Jimmie Rodgers to Morgan Wallen 
7. Ray Charles
Although he's known as the pioneer of soul music, you can't deny Ray Charles' contributions to the world of country music, particularly with his 1962 album Modern Sounds in Country and Western Music and its sequel released the same year.
Country living legend Willie Nelson has noted how Charles' country albums "kicked country music forward 50 years" because of the latter's coverings of Don Gibson and Hank Williams, introducing a whole new generation of fans to the legendary country crooners.
6. Jimmie Allen
Jimmie Allen is another up-and-coming black country music singer, having first appeared on the scene in 2017.
Signed to Stoney Creek, an imprint of Broken Bow Records, he has released multiple singles and three studio albums under the label.
Has a black singer ever won a CMA Award? Yes, in fact.
In 2021, Allen was awarded the Country Music Association Award for New Artist of the Year, only the second Black country singer to do.
5. Cowboy Troy
When it comes to the country-rap world, Cowboy Troy dominates.
He has recorded seven studio albums and charted twice on the Billboard country singles charts with "Loco Motive" in 2005 and "Black in the Saddle" in 2007.
Over the years, he's been part of several collaborations with fellow country artists, including Big & Rich and Sarah Buxton.
4. Mickey Guyton
Guyton moved to Nashville in 2011 after being introduced to industry professionals Gary Borman and Steve Moir.
Soon after, she was signed to UMG's Capitol Records Nashville, making her the only female black country artist to be signed to a top record label.
After doing "Nashville the Nashville way," in 2019 she began writing music that told the story of her struggles as a black woman, her most well-known being "Black Like Me," released in 2020.
Guyton performed the single at the Academy of Country Music Awards, the first female black country singer to ever perform during the show.
She reached yet another first when she became the first black woman to host the award show when she co-hosted with Keith Urban in 2021.  
Related: The 21 Best Drinking Songs to Raise Your Glass To 
3. Kane Brown
Kane Brown first began getting noticed in 2014 with his viral videos covering several artists, including Alan Jackson and George Strait.
He subsequently signed with the Zone 4 in 2014, releasing a few singles throughout that time. He then signed with Sony Music Nashville in January 2016.
Kane released his debut full-length album, Kane Brown, in December of that year, which opened at No. 10 on the U.S. Billboard 200. 
His second single from the album, "What Ifs," a duet with fellow country singer Lauren Alaina, has been certified platinum five times by the RIAA.
Brown has since released two more studio albums, Experiment and Different Man, the former becoming his first No. 1 album on the Billboard 200 chart.
In 2021, he became the first black country singer ever to win Video of the Year at the Academy of Country Music Awards for his single "Worldwide Beautiful."
2. Darius Rucker
Darius Rucker broke into music as the lead singer and rhythm guitarist for the rock band Hootie & the Blowfish, but when he left to pursue a solo career, country music is where he turned.
Rucker signed to Capitol Nashville in 2008 and has since released five studio albums on the label. 
He found success quickly with his first single, "Don't Think I Don't Think About It," which reached No. 1 on the Hot Country Songs chart. It was only the second time a black country artist reached that feat since Charley Pride in 1983.
In 2009, he became the first black country singer to win the Country Music Association's New Artist of the Year Award.
In 2012, he became the third black country singer to be inducted as a member of the Grand Ole Opry, following in the footsteps of DeFord Bailey and Charley Pride.
Since his first album, Rucker has consistently released No. 1 singles and is set to release his sixth studio album later this year. 
Darius Rucker is definitely one of the black country singers of 2023 who isn't slowing down anytime soon.
Related: Garth Brooks Net Worth: How Did the Legendary Country Artist Make His Millions? 
1. Charley Pride
Who is the most popular black country singer? That'd be Charley Pride.
The top black country music singer of all time, Pride was the first black country music singer to make it to the big time.
Pride's biggest success came in the mid-1970s, during which time he was the best-selling performer for RCA Records since Elvis.
Throughout his career, Pride had 52 Top 10 hits on the Billboard Hot Country Songs chart, with 30 of them reaching No. 1. He is a three-time Grammy Award winner and is a member of the Country Music Hall of Fame and the Grand Ole Opry.
Pride's most well-known tune,\ "Kiss an Angel Good Mornin'" was released in 1971. It sold a million copies and was No. 1 on the country charts for five weeks straight. 
It became a crossover hit, peaking at No. 21 on the pop Top 40 chart and No. 10 on the Adult Contemporary chart. 
The year of its release, Pride was honored with the Country Music Association's highest honor, Entertainer of the Year, as well as the Male Vocalist of the Year Award in 1971 and 1972.
In 2020, he was awarded the Willie Nelson Lifetime Achievement Award during the 46th annual CMA Awards, performing his signature hit. It would be his last performance as he passed away from complications caused by COVID-19 on Dec. 12, 2020.  
You might also enjoy: 
Morgan Wallen: Net Worth, Age, Height, Controversy, Dating, and More
20 of the Best Songs About Cowboys: Giddy Up!  
The 25 Best Songs About America