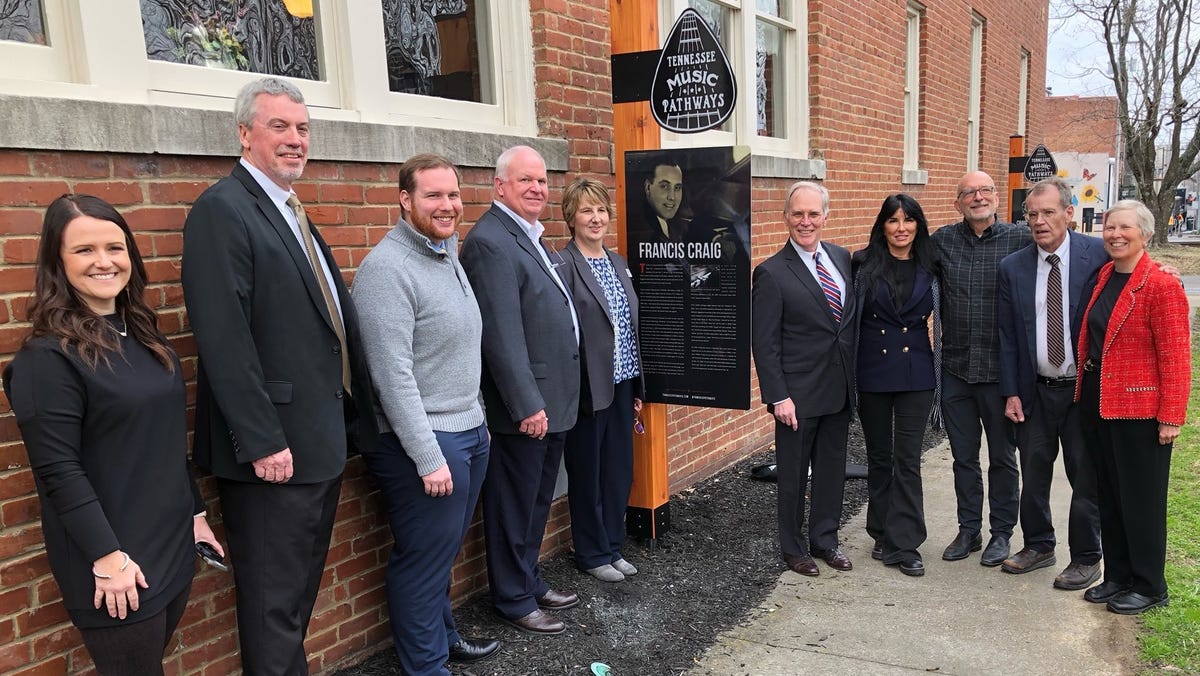 The Tennessee Department of Tourist Development unveiled a Tennessee Music Pathways marker honoring Francis Craig in Downtown Dickson on Jan. 11
Craig, a Dickson native, was honored for his musical contributions that include writing and recording Nashville's first chart-topping song and Vanderbilt University's most well-known fight song as well as decades leading his own jazz band.
It is the second Tennessee Music Pathways marker installed in Holland Park after country music singer and Dickson County resident Craig Morgan was honored in October.
Dickson Mayor Don Weiss Jr., Dickson County Mayor Bob Rial, Dickson County Chamber President Jennie Wagner, Clement Railroad Hotel Museum Director Zach Kinslow and Department of Tourist Development Middle Tennessee Division Manager Ashley DeRossett joined descendants of Craig in a ceremony at the museum before unveiling the marker in the city park next door.
"The City of Dickson's connection to the music industry goes back as far as the beginning of the city," said Weiss. "As part of Middle Tennessee and a neighbor to Music City USA, this area has been home and host to many of country music's brightest stars. But the musical connections of the Dickson area also have included early rock and roll influences, gospel, southern rock, blues, jazz and one of the early leaders of the big band era, who we honor today."
A Vanderbilt season ticket holder and fan, Rial welcomed family members of Craig, who wrote one of the university's fight songs, "Dynamite!"
"I was telling the family earlier, I can never get all the lyrics right, but I can hum that song from the beginning as well as anybody in this room," Rial said.
The son of a Methodist minister assigned to Dickson, Craig was born Sept. 10, 1900, less than a year after the town was incorporated. He showed early signs of inheriting the talents of a pianist mother and was playing piano by ear by the age of 10.
While a student at Vanderbilt University, Craig formed his own jazz orchestra called the Vanderbilt Jazz Band, gaining popularity playing dances in the region. When the school's chancellor told Craig he would have to change the band's name, he left college and soon was the bandleader at the iconic Hermitage Hotel in Nashville.
During his 25 years there, he helped launch the careers of stars like Dinah Shore, Snooky Lanson and Kitty Kallen.Craig would direct the first studio band at Nashville's most famous radio station WSM when it began broadcasting in 1925 and also would be a deejay at Chicago's WGN in 1940 and host "Sunday Down South" on the NBC radio network for 12 years.
Craig's 1947 recording of his composition "Near You" sold more than 3 million copies and was the first record produced in Nashville to hit number one on the Billboard magazine Honor Roll of Hits list, where it remained for 17 consecutive weeks, a record that stood until "Old Town Road" topped the chart for 19 consecutive weeks 72 years later. "Near You" would be recorded by legends such as Jerry Lee Lewis, Nat King Cole, Andy Williams, Pat Boone, The Andrews Sisters and George Jones and Tammy Wynette.
'Dynamite!' fight song origin
Before Vanderbilt was to face the 4th-ranked Tennessee Volunteers in a 1938 football game, Craig composed and debuted "Dynamite!" as a university fight song. While Tennessee won that game 14-0 on the way to winning the school's first National Championship, "Dynamite!" has since become Vanderbilt University's most popular fight song and 85 years later still is played at Commodore football games, basketball games and other sporting events.Craig died in Sewanee in 1966.
"While not as well known today as some of the other music stars who are connected to Dickson, Francis Craig has a legacy that endures today more than a century after being born here," Weiss said. "The City of Dickson is pleased to honor native son Francis Craig by hosting the Tennessee Department of Tourist Development's Tennessee Music Pathway marker in his honor here in Holland Park as a tour stop on the Soundtrack of America."
DeRossett said a third marker is currently planned for Holland Park, which will honor former Dickson resident John Rich, formerly of Lonestar and half of the country duo Big and Rich.
Launched by the Tennessee Department of Tourist Development in 2018, Tennessee Music Pathways is an online planning guide that connects visitors to the state's rich musical heritage at tnmusicpathways.com. From the largest cities to the smallest communities, Tennessee Music Pathways stretches across all 95 counties and features hundreds of landmarks from the seven genres of music that call Tennessee home.