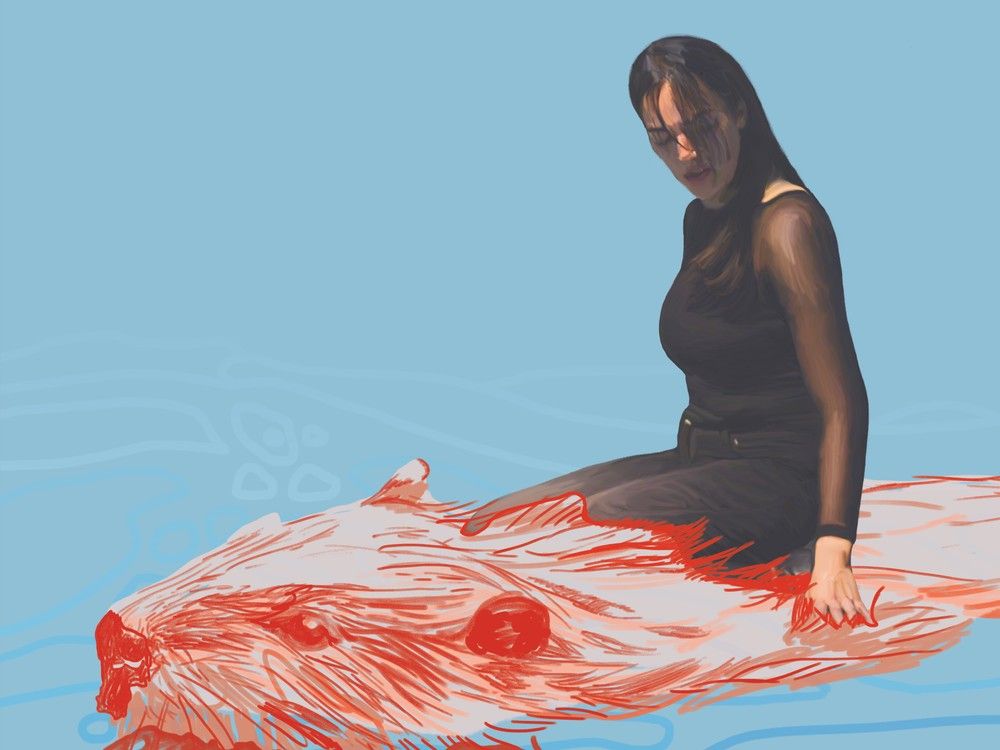 Artist Émilie Monnet reconnects with Anishinaabe roots in trilingual monologue.
Reviews and recommendations are unbiased and products are independently selected. Postmedia may earn an affiliate commission from purchases made through links on this page.
Article content
PuSh International Performing Arts Festival 2023 — Okinum
Article content
When: Feb. 2, 3, 7:30 p.m.; Feb. 2-5, online
Article content
Where: Anvil Theatre, 777 Columbia St., New Westminster
Tickets/info: pushfestival.ca
Falling, flying, failing to make it to a lecture or test on time. These decidedly mundane topics are well documented by sleep researchers interested in recurring dreams. But what plays out deeper in our psyches has long been a source of inspiration for artists across the ages.
In her award-winning work Okinum, Canadian multidisciplinary artist and playwright Émilie Monnet enters into a recurring dream to reconnect with her Anishinaabe ancestry and language and delivers an empowering message of identity and self-discovery.
In the Anishinaabemowin language, okinum means dam. Interpreting her recurrent dream about a giant beaver who gives her magical words to say, Monnet breaks down cultural walls to find personal truths in a tale relayed in Anishinaabowim, English and French. The multimedia voyage deciphering what the words mean includes live score by sound designer Jackie Gallant incorporating the sounds of beavers, plus other voices with immersive lighting and visuals.
Article content
Okinum was nominated for a 2021 Governor General's French language award.
Article content
Now the Productions Onishka show comes to the PuSh International Performing Arts Festival 2023 presented with Anvil Theatre, Touchstone Theatre, AnAku and KVS Production. It is also available in book form.
"The dream came first, then the show and the book was published a year later in French," said Monnet. "My writing is very directly influenced by sound and the use of sound and video in the show is a very different experience than reading it. The immersive nature of it was more important than even the words at first because I'm so interested in the coexistence of sounding and breathing and how the body is engaged psychically in different ways by different languages and what that means."
Specifically, the English translation of Okinum was 10 pages shorter than the original, which reflects the differences in observation and world view of different cultures' communication. Monnet was fascinated by what she discovered in the form of her work as she shifted between languages in performance.
Article content
"Indigenous languages are very image and action-based, so you really see the images as you are discussing them," she said. "As I enter the dream world and the invisible, I find that I connect much better with that realm in Anishinaabemowim. It enriches the images because it has the words to describe them."
Monnet's grandfather's first language was Anishinaabemowim, but it was not transmitted to her growning up. Her first language was French and she was rooted in that culture. Her artistic practice has been spent often collaborating or speaking with elders to strengthen her Indigenous ties. Her mother is an Anglophone, who grew up on reserves, and her father is French from Brittany. So all of the languages in Okinum define who its creator is as well.
Article content
"I started writing back and forth in French and English because I was funded by two different playwright's associations in Montreal followed by an Indigenous theatre company in Toronto," said Monnet. "So it made a lot of sense to keep those two languages and cultures as well as Anishinaabe in the final work. It's always been a question of where I find myself in those identities."
As she was completing the piece, she was diagnosed with throat cancer. This meant the beaver dam became a beautiful metaphor for all the women in her family whose voices were blocked or denied and how to unblock those barriers to allow the emotional and spiritual truth to flow. Now in full recovery, Monnet says that Okinum has become a launchpad for future work.
Article content
Her first play, it has garnered international acclaim and will tour to French Guiana and play to Indigenous peoples along the Marigny River in that French overseas department. A new collaborative work with an Indigenous artist in the Amazon is in development to premiere in 2023.
---
Article content
5 shows to see at the 2023 PuSh International Performing Arts Festival
When: Jan. 19 – Feb. 5, various times
Where: Various venues and online
Tickets/info: pushfestival.ca
With its wide range of performances, the PuSh Festival can seem daunting when it comes to selecting which shows to attend. Fortunately, the PuSh Passes provide opportunities to see shows at reduced rates and allow for mixing and matching selections. Those who aren't feeling the vibe of being in a full venue can consider the digital pass which provides access to five of the digital shows at the 2023 event.
Note: There are specific dates for digital pass performances which provide an excellent option for those whose schedules don't permit in-person attendance. Visit the complete schedule at the PuSh Festival website.
Article content
Here are five shows to see.
---
A Percussionist's Songbook
When: Jan. 25, 26
Where: Orpheum Annex
Canadian premiere: An album of "songs without words" is how percussionist Burgess explains his latest release. Incorporating inspirations from Arabian folktales to Michael Ondaatje's prose, he takes the crowd on an aural tour.
---
Afternow
When: Jan. 28 – Feb. 5
Where: Roundhouse Exhibition Hall, 181 Roundhouse Mews
Coming from Zimbabwean/American performer Nora Chipaumire, this sound and visual installation bridges African spirituality and contemporary art to make a booming statement about resistance and reclamation.
---
Le Cri des Méduses
When: Jan. 27, 28; Jan. 27 – 30, online
Where: Vancouver Playhouse
Western Canadian premiere: Taking inspiration from the artist Théodore Géricault's famous painting The Raft of the Medusa transposes elements to the live stage. Canadian Choreographer Alan Lake blends ambient music, shifting scenes and tones with a nonet of dancers interpreting.
Article content
---
Lontano + Instante
When: Jan. 26 – 28; Jan. 26 – 29 online
Where: Scotiabank Dance Centre, 677 Davie
Utilizing the Cyr wheel, a weighted metal ring designed for continuous motion, the acrobats in this show demonstrate the dynamic and physical interface between human and object. This is a great all-ages presentation for anyone with a taste for contemporary circus arts.
---
Selfie Concert
When: Feb. 2, 3
Where: Left of Main, 211 Keefer St.
Bulgarian cabaret crooner and camp crap disturber Ivo Dimchev brings audiences a performance with no stage, no hierarchies and, well, no show. Until people are taking selfies with him, when the synth pop ditties begin to flow. Deconstructing contemporary performances asking "who is the focus of the show?"
---
sderdeyn@postmedia.com