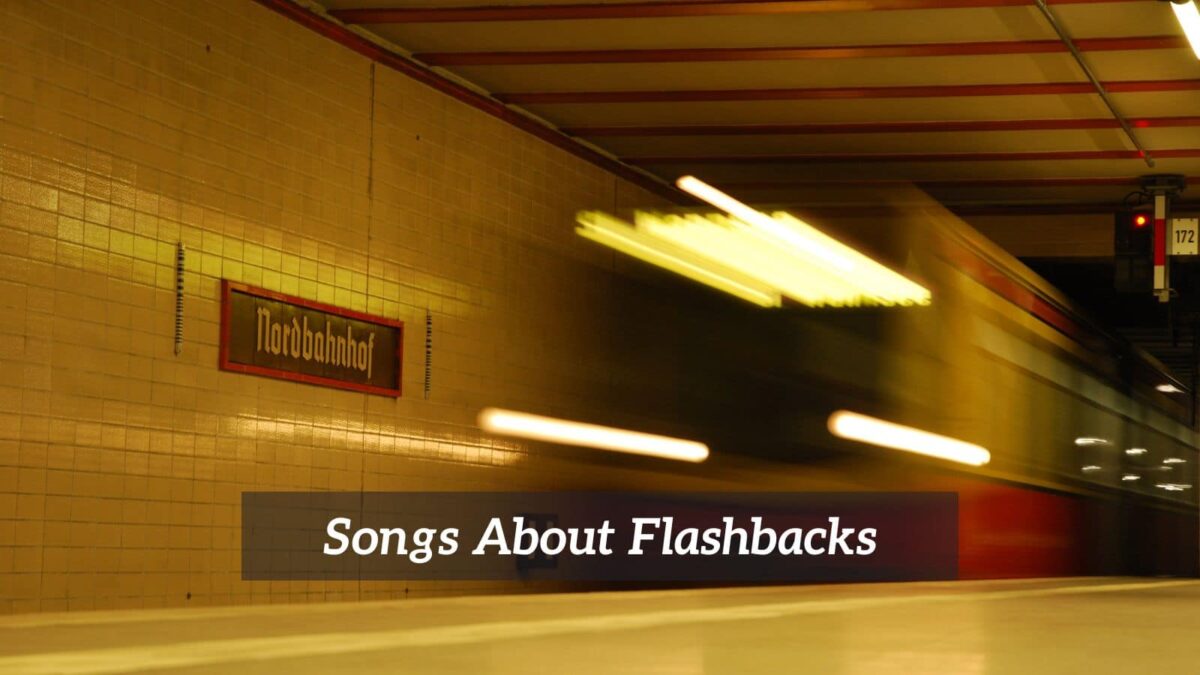 Flashbacks are a signature side effect of trauma, dissolving your present and placing you firmly within a past situation you're most likely trying to escape from.
But not all music about flashbacks summons the darkest parts of us. An overwhelming number of songs metaphorise the mind-altering occurance as the torture of moving on from a relationship whilst tormented by grief and regret.
We've collected some stand-out songs about flashbacks to showcase how different genres deal with the disastrous concept whilst affirming that seemingly insurmountable emotional struggles aren't faced alone.
Songs About Flashbacks
1. Deante' Hitchcock ft. Miguel & St. Beauty – Flashbacks
Deante's Flashbacks is a lush R&B / hip-hop track threaded with an irresistibly smooth rhythm and a captivating, jazzy harmony.
Lustworthy bassline flourishes accent the track, its last verse unexpectedly transformed, giving a unique illusion of a brand new song having started.
Deante's rapped verse is so profusely swarmed with verbose lyrical wordplay that it conjures a double-layered metaphor to the track; his rampant, tormented vocals clouding thickly upon the track, like the blind haze of a traumatic flashback which severs you from reality and plunges you into a pit of your spiralling, obsessive thoughts.
2. Chris Brown – Flashbacks
Chris Brown's 2019 R&B track, Flashbacks, describes the emotional residue that litters your mind after a break up.
This clean-cut pop track illustrates the flashbacks of love which creep back and devour your mind whenever you least expect it, crafting a song for anyone trapped regretfully in the memory of the past;
"It's all these flashbacks, make me wish I had you back, I ain't tryna backtrack, I shouldn't have put my all into that."
3. Ministry – Flashback
Ministry's 1988 industrial metal track, Flashback is a twisted predecessor to Chris Brown's message; igniting deep regret over an old lover with brutal, searing rage.
This murderous anthem is inspirited by pure hatred for a cheating ex, every line carved with torturous plans aimed towards the other man and the ex-girlfriend.
Ministry's death-hungry lyrics are buried amid torrents of harmonic distortion, bringing the blood-curdling agony of flashbacks to full bloom;
"I'm gonna break his legs off, I'm gonna rip his head off, and then s*** down his neck, and then I'll laugh like a motherf***** … I'm gonna make her suffer, I'm gonna make her cry, I'm gonna watch her die, cause I hate her.. I'm gonna flashback."
4. Celine Dion – It's All Coming Back To Me Now
Celine Dion's single It's All Coming Back To Me Now is a flashback in itself; its lyrics guiltily reminiscing upon an ex, whilst convincing herself, "I've banished ever memory you and I had ever made."
Her choruses demonstrate the tainted serenity of falling back into moments laden with pain and comfort, "But when you touch me like this, and you hold me like that, I just have to admit, that it's all coming back to me."
Celine hints at an abusive relationship, crafting a song that empowers anybody overshadowed by Stockholm syndrome and other flashback-like effects that follow an abusive relationship, "But you were history with the slamming of the door, and I made myself so strong again somehow, and I never wasted any of my time on you since then."
5. Ram Di Dam – Flashbacks
Ram Di Dam's Flashbacks harbours an irresistible indie rock / Brit pop sound, drawing glimmers of its inspiration from the iconic post-punk sound. This track is absolutely addictive and sonically optimistic despite the shadows that befall its subject matter.
It's fresh sound is laced with a certain sense of nostalgia, a tiny flashback hidden within the very track, jolting you into the memory of eras when fresh new bands topped the charts rather than the plethora of US solo artists.
6. Zach Hood – Flasbacks
Zach Hood's acoustic pop track, Flashbacks, carries a beautifully soothing ambience, backlighting his troubled lyrics with a sense of newly found peace, interlaced with melancholic reminiscence.
This song harbours a heartbreaking message of a grown son having flashbacks about his parents' broken relationship, leaving him haunted by the deep-rooted feeling of distrust towards his father.
The narrator evocatively illustrates flashbacks of feeling proud of his father as a child, before he and his mom were abandoned after a growing stream of abuse, "I've been getting flashbacks, of hearing you fight behind the door, know you'll never call back, I don't even miss you anymore, 'cause I've been doing fine without you in my life."
Zach crafts a song for anyone struck with resentment for a parent's unforgivable actions, uplifted by a calm undertone encouraging us to let go of paralysing trauma.
7. After School – Flashback
K-Pop sensations After School craft their dance track Flashback around missing a boy and being driven crazy by the dreamy thought of him anxiously pervading every second of your life.
They hint at hurt feelings and history between the couple, putting a bubbly pop twist on flashbacks laced with Stockholm syndrome. After School's track is addictively colourful and strangely optimistic for a track impassioned purely by guilt.
8. Uppermost – Flashback
This pop hit by Uppermost is striped with the vibrant influence of pixel music, with an ambience of a retro video game soundtracks brought full-blast into the modern age, and layered with a soft hint of early-2010s dubstep.
Featuring as the backing music to an abundance of Minecraft playthroughs on YouTube, amongst a plethora of other internet cameos, this is another track that's a flashback in itself; this time to the earlier days of bright and creative internet content.
9. Calvin Harris – Flashback
Reaching #2 on the UK Dance charts, this 2009 Calvin Harris hit is a plush anthem bearing sparse yet telling lyrics detailing the dissociation of being caught in a flashback, appearing as real as true, material reality;
"This is like a flashback, this is like a dream, this is like all the things you can fit inside a memory."
Calvin Harris weaves many hypnotic elements into his hit, layering padded synths with trance-like arpeggios and rhythms to create a subtly mind altering effect within Flashback's harmony.
Its cyclicality captures the pure nature of flashbacks; an endless occurrence doomed to repeat itself for better or for worse. Calvin cleverly crafts his lyrics with a sense of vagueness, letting you place your own memories firmly at the heart of the song.