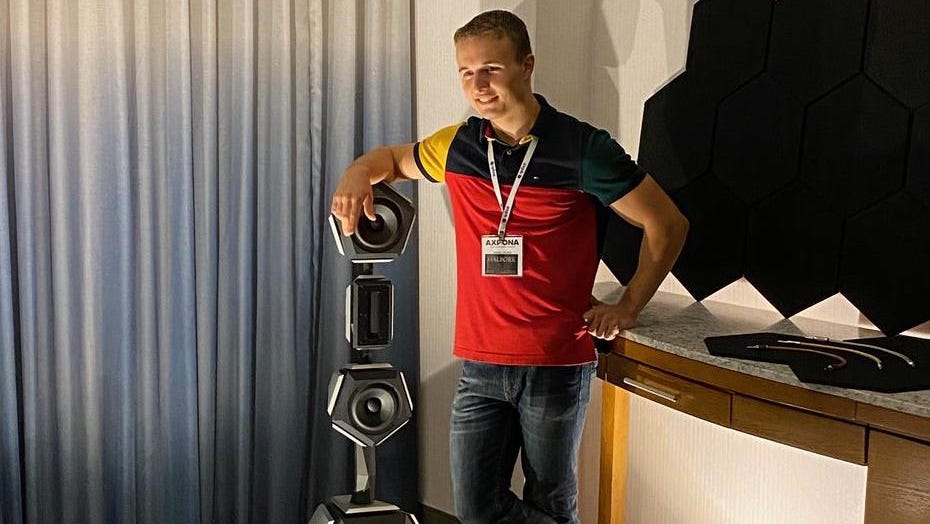 In the eyes of Founder and CEO of Malbork Designs Daniel Fajkis, the luxury lifestyle sector is one of boundless potential and innovative product development. Malbork Designs manufactures premium, high-end audio systems unlike others on the market.
His journey in the audio industry began four years ago. "I'd always been fascinated with music and acoustics, so I decided to start my own business," says Fajkis. "There is a niche market for high-end audio out there — similar to watches and cars, there are connoisseurs for expensive audio." Impassioned by his niche interest, he conceptualized a super-futuristic, ultra-modern audio system with unprecedented quality.
"The problem is you can't see sound," he continues. "You can't measure the sound of a speaker over your computer. This is something different — a unique level of audio that, 'if you don't hear it in person, you don't even know exists.'"
Incomparable to a standard box speaker, Malbork audio systems are made entirely of aluminum, weighing roughly 123 pounds a piece. They showcase very complex geometry and attention to detail and are designed to double as works of art, conversation-starters, or "statement pieces" for wherever they are on display.
For Malbork Audio, the most vital aspect of his business is meeting in person with clients and investors. Here are three of his go-to spots for wining and dining his business associates.
BoatYard
One of Daniel's favorite go-to restaurants is BoatYard, a breathtaking waterfront restaurant in Fort Lauderdale, the yachting capital of the world. BoatYard offers diners a refined, upscale atmosphere that's both classy and laid back. BoatYard serves food to guests aboard their docked yacht which includes freshly caught seafood, a premium raw bar, and locally sourced ingredients. With the slogan "Eat Local, Be Coastal," much of its seafood is caught by local fisherman.
An avid lover of seafood and sushi, Daniel finds that every dish on the menu never fails to impress himself or his clients. His favorites include the Pan Roasted Chilean Sea Bass with black garlic soy glaze, coconut scented rice, and panca tomato broth and the Grouper Piccata with wilted spinach, cured tomato, caper berries and lemon chardonnay butter. The restaurant also features impressive seafood towers and sharable dishes like the Yellowfin Tuna Tacos with mango-jicama relish and the Charred Spanish Octopus with cauliflower purée, wilted escarole, onion duo, blistered tomato and pancetta chimichurri.
Cars and Coffee at Prestige Imports
Most often Daniel meets his clients and investors at spaces that embody their shared passion. One of the best places for this is at the Cars and Coffee event at Prestige Imports. Located in North Beach Miami, Prestige Imports is a dealer of used premium vehicles and luxury exotic assets.
Cars and Coffee is a get-together put on by Prestige Imports, connecting some of the finest supercar enthusiast in the South Florida area for networking, storytelling, and car enthusiasm — all taking place at the break of dawn. With a buzzing atmosphere, the Cars and Coffee experience evokes a sense of professionalism and zeal. It's an event meant mingling, enjoying the morning air, and admiring supercars. Daniel's morning drink of choice here is the macchiato.
Supercar Rooms Miami
For a more formal dining experience, Daniel takes investors to Supercar Rooms Miami. Located on the edge of Wynwood, this opulent automotive venue takes a creative approach to socializing and entertainment, showcasing dinner parties stylized to fit the supercar theme of the day.
Each event at Supercar Rooms Miami is dedicated to mouthwatering food, lively music, and luxury supercars. They often feature high-end artwork, ambient lighting, and unforgettable experiences for guests. Daniel recommends to clients his favorite culinary masterpiece: chocolate dessert sprayed with Ferrari Red edible paint. For entrepreneurs with an affinity towards luxury vehicles, there is no better place to leave clients with a long-lasting impression than at Supercar Rooms Miami.