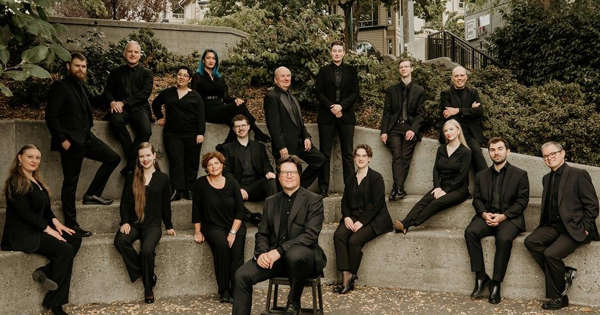 © Provided by Vancouver Sun
The Vancouver Chamber Choir hosts a November extravaganza.


A Choral Feast
When: 2:30 p.m., Nov. 27
Where: Orpheum Theatre, Vancouver
Info and tickets: vancouverchamberchoir.com
The Vancouver Chamber Choir has assembled a remarkable new event for this waning year's choral calendar, a multi-choir extravaganza featuring a half dozen ensembles singing in the Orpheum.
The idea for a grand choral get-together has been in the works for over a year, initially a somewhat dreamy notion of what might be possible when musical life established some sort of normalcy.
"VCC artistic director Kari Turunen and I came up with the notion well over a year ago, when it was just wishful thinking: Why don't we do something choral and invite as many of our friends as we can?" said executive director Steven Bélanger.
As months passed, wishful thinking evolved into a definite possibility and now a practical reality.
The Chamber Choir has long enjoyed priority user status at the Orpheum and receives a civic grant to rent the theatre for special occasions.
"The pandemic has been really lethal for choirs," Bélanger said.
And the concept of a grand choral mash-up which showcased ensembles who rarely sing in the Orpheum seemed especially appropriate after two-plus-years of struggle. An opportunity to mark the resurgence of choral music after difficult times, and to reflect on the diversity of our choral scene, became a way to truly celebrate.
The idea was to invite choirs, give each a segment of the afternoon program to present a sample of its particular repertoire, then conclude with a piece or two which involved all the singers.
Of course there were a few practical considerations.
"There is a limit to the number of people we can fit onto the Orpheum stage, so it became a sort of tasting menu," said Bélanger. "We'd be singing for each other with no audience if we had absolutely everyone."
This time around, just smaller and medium-sized ensembles are involved. And in the future?
"If this proves successful, we will have established a framework for future collaborations," said Bélanger.
The afternoon will begin with all the singers and the Vancouver Youth Choir's Carry Tennant leading Nitohtamok Askîy by Sherryl Sewepagaham, a composer of Cree-Dene ancestry from the Little Red River Cree Nation in Northern Alberta and a graduate of Capilano University's music therapy program.
Then Tennant's own group stays on stage to sing a folk song from Indonesia and Northern Lights by Eriks Ešenvalds. The subsequent set by Lars Kaario's Laudate Singers includes the oldest work on the program, Claudio Monteverdi's Zefiro torna e'l bel tempo rimena from 1614.
The Vancouver Cantata Singers directed by Paula Kremer round out the first part of the program with three 21st-century works by Tracey Wong, Arvo Pärt and Hussein Janmohamed.
After the interval there will be more contemporary music by Leslie Uyeda and Andrew Balfour from musica intima, then Mahler and Hrušovský from the Phoenix Chamber Choir, conducted by Dave Rosborough.
The Vancouver Chamber Choir's set features a piece by Michael Dellairamore and one by Edmonton-based Laura Hawley.
Then it's time for the grand finale as Turunen conducts music by Mendelssohn and Rheinberger.
"We end with two pieces in which everyone sings together," said Bélanger. "Two hundred singers in the finale!"
ENCORE: There's more choral music at the Orpheum in early December. Christmas with the Bach Choir (2 p.m., Dec. 4) is another extravaganza with eight VBC choirs. And then it's the Vancouver Bach Choir's turn to present Handel's Messiah (7:30 p.m., Dec. 10), Leslie Dala conducting the choir, with a quartet of soloists and members of the Vancouver Opera Orchestra. Go to vancouverbachchoir.com for details.