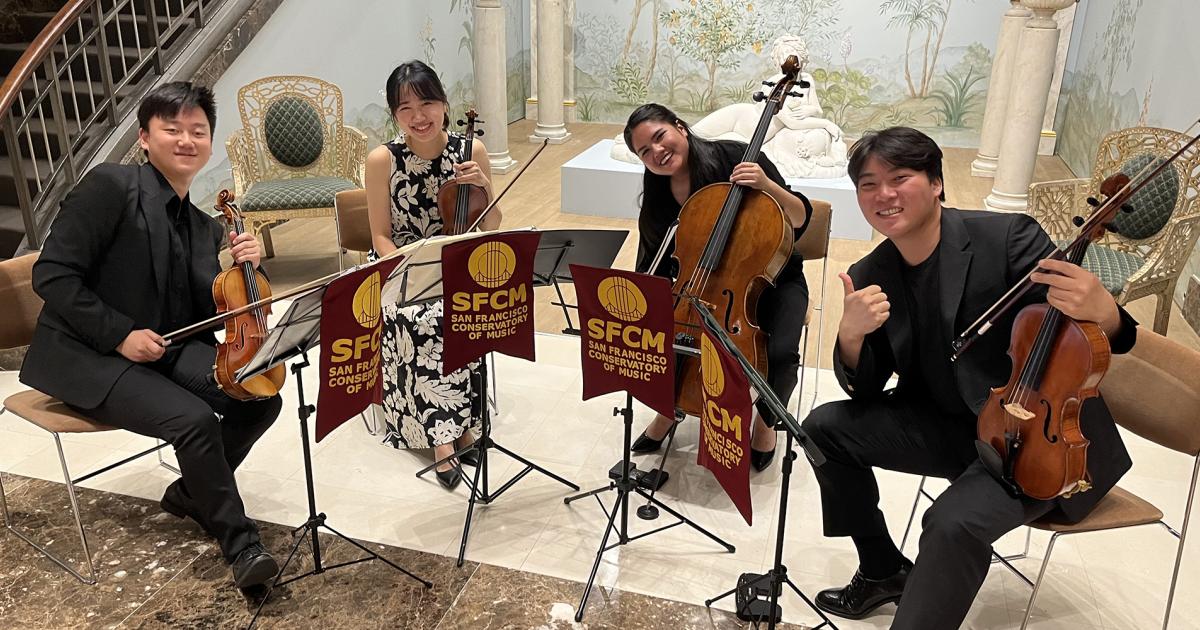 Proceeds from the multi-million dollar sale of the Ann and Gordon Getty Collection has been gifted to the school, adding 120 "Founders Scholarships" for its students
In October this year, over 1,500 pieces of fine and decorative art objects, jewelry, and textiles from the Ann and Gordon Getty collection were auctioned off at Christie's auction house in a historic record-breaking sale of over $200 million.
Directed through the Ann and Gordon Getty Foundation for the Arts, proceeds from the event became a philanthropic gift to the San Francisco Conservatory of Music (SFCM) — one of the largest and most significant donations to any music school. 
The funds will support SFCM's business model and provide 120 scholarships over the next four years for outstanding SFCM undergraduate and graduate students in any area of study — all in the spirit of the school's pioneering female founders, Ada Clement and Lillian Hodghead. 
In 1917, Clement and Hodghead became pioneers in music education with their creation of the Ada Clement Piano School which later developed into the SFCM, and included noted pedagogues such as composer Ernest Bloch. 
An SFCM alumnus and advisor to the school's Board of Trustees, Gordon Getty is an active classical music composer and is celebrated for his patronage of the arts. Getty had requested that the awards honor Clement and Hodghead and that they be known as the "Founders Scholarships." Ranging from $20,000 to full tuition, each scholarship will complement SFCM's existing financial aid programs. 
Some of the Founders Scholarships will also include a service component to expand SFCM's outreach programs, such as the Bridge to Arts and Music, which pairs collegiate students with underprivileged young people in school. 
"Music unites our communities, inspires us to achieve, and reminds each of us to be the best version of ourselves. It is essential to our existence, and I hope my investment will inspire others to join us in these efforts," Getty said. "The next generation of highly diverse and exceptional artists deserves our support, just as our shared future needs the tremendous gifts they will return to the world."
"This monumental act of generosity expands more than a decade of support from the Getty family, who are friends of countless cultural organizations," added SFCM President David H. Stull. "It represents a profound dedication to art, to education, and to fostering tremendous opportunities for a new generation of musicians and scholars — all characteristics shared with SFCM's founders."
Other designated beneficiaries of the Ann and Gordon Getty Foundation for the Arts include SFCM partners: the San Francisco Opera and San Francisco Symphony.
A video about the SFCM founders can be viewed below.