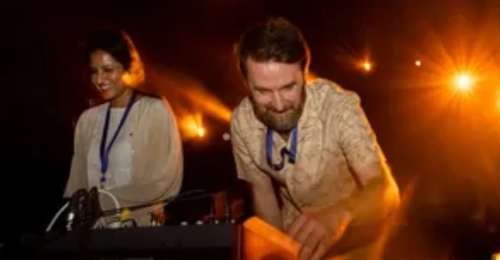 Delhi to Derry- Together in Sound, a cross cultural collaboration between India and the UK that celebrates the fusion of contemporary and electronic music, is on its India leg at the moment. 
"As part of our India/UK Together Season of Culture, this collaboration between boxout.fm and Celtronic Festival has allowed six emerging EDM artists from India to perform live in the UK for the first time and six artists from Derry in Northern Ireland have performed in India." said Jonathan Kennedy, Director of Arts- India, at the British Council. He added that through this platform, they aim to facilitate the development of cross-cultural practices and new artistic work between the two countries. 
Among the many performances, one such collab is between one of India's highly-regarded women DJs, Harshita Kalee who goes by the stage moniker Kaleekarma, whose evocative sets feature music interwoven with theatrics, and Jonathan Delaney aka The Fully Automatic Model, a multidisciplinary Ireland-based artist exploring ambient soundscapes and techno beats. Here is what they had to say about their music and what the future holds. 
Tell us about your new show in India? How was the process of conceptualisation?
TFM: The show is a completely new audio-visual performance piece which is the outcome of a cross-genre / country collaboration project which started in June 2022. Sonically, it's varied and takes influences from electronica to dub, Detroit Techno to Krautrock Ambient music to traditional aspects of both cultures. 
Kalee: There wasn't much planning or thinking around the concept for me personally. If any, the idea was the work of team Boxout.fm and British Council. To share just the beginning of it all, I pulled out pieces that I had jammed out for fun almost two years back. I had thought of discarding these at some point but am so glad I didn't. 
What is the story behind your stage name Kaleekarma?
Kalee: This is a story I'm still saving to share.
What kind of music did you grow up listening to and who all have influenced the kind of music you now do?
TFM: From a young age, I was obsessed with knowing how things worked (music technology-based things, especially). I used to take things apart and see how they ticked, then hack or fix them to suit my needs. I started to mess with speakers, record players and amplifiers, as I loved to make a racket. This led onto getting into the physics and magic of music and how it was created, amplified, and played to a crowd. My music history is varied but mainly influenced by early leftfield electronic pioneers such as Kraftwerk, Laurie Spiegel, Edgar Froese, AFX, Cinematic Orchestra, the list is endless. 
Kalee: I grew up listening to a lot of A R Rahman. Popular Bollywood was the only space of music we were exposed to, and I saw myself being drawn to all of his works. I do not remember listening to, or even knowing any other kind of music till I got to cities like Delhi, Pune, and Mumbai later in life.
Your music reminds me of Brian Eno, would you say he has influenced you?
TFM: I'd say I'm more influenced by the early German Krautrock pioneers that actually inspired Eno, such as Harmonia and their work with very basic equipment and tape machine loops. Especially the Musik Con Harmonia Album. 
What made you decide you wanted to make music?
TFM: Everything is a vibration. Music is no different. Music was and still is an escape for me. And it helps me understand my place within the world.
Kalee: A day of sitting down with myself on a quiet evening and realizing that there are tunes playing in my head that I want to put out on a board. That's all it took.
How has your journey been in India so far? Has it been difficult breaking into the music scene here since there are relatively few takers for house music and indie artists here?
Kalee: I have travelled to places to play music, to do what I love to do. The journey so far has only added to my experience and growth. Every kind or form of work comes with its set of investment, dedication, and madness. I knew I was making a choice that isn't the most conventional but I have always known that if I get my mind and heart straight on what I really want to do, I will have it work for me in time.
Dream collabs?
Kalee: Would love to work with anyone who is here to spread the joy and peace that comes with music. 
TFM: Based on musical heroes, I'd love to sit down with AFX, Boards of Canada, FourTet, or maybe Colin Benders if it was a modular synth jam. 
What is next in your music journey?
Kalee: More music, more magic! 
TFM: Next I'm heading home to play with friends for our annual synthesiser festival in Derry- Ireland, called Oscillations & Modulations. It focuses on affordable DIY synth and modular building workshops from local synth engineers, visual installations, generative art installations and workshops, live AV performances across the city, and open days at some of Derry's world class studios. Then maybe a new album and visual show.
What do you want your listeners to experience through your music?
Kalee: Just ease yourself into feeling and enjoying the moment with music. 
TFM: I think we all get something different from music, so I'll leave the journey up to them. I hope they get as much from it as I do though. 
Any word of advice for young aspiring musicians?
Kalee: Listen to your heart. And let your brain mindfully support and nourish that which the heart wants. 
TFM: My advice to anyone thinking about getting into the music scene would be to be true to yourself and what you aim to achieve creatively. Be open to new possibilities and give it time and space to grow. Learn as much as you can and surround yourself with creative people. Keep it PUNK!