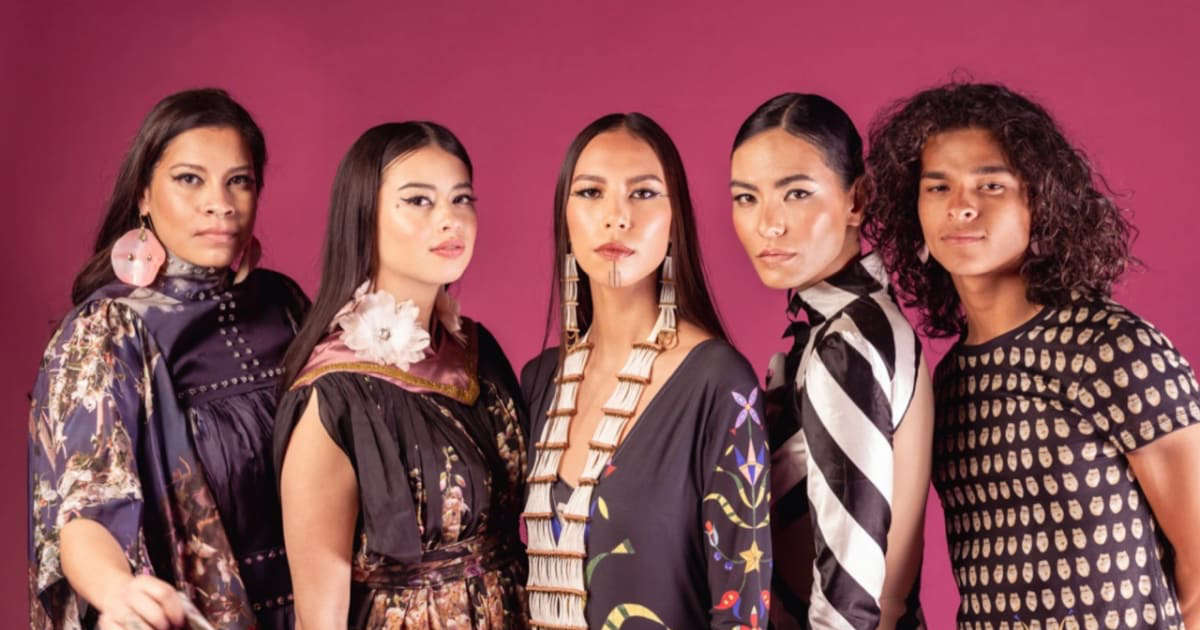 A biweekly column from ICT with the latest news from the arts and entertainment world
Sandra Hale Schulman
Special to ICT
It's been a busy year in the arts and entertainment world for Indigenous artists, filmmakers, actors, musicians and writers.
The Comanche girl-meets-alien Hulu film, "Prey," broke streaming records, and hit series including "Reservation Dogs," "Dark Winds," "Rutherford Falls" and "The English" drew praise from critics and viewers alike.
SUPPORT INDIGENOUS JOURNALISM. CONTRIBUTE TODAY.
Indigenous art and artists were featured in major shows at museums coast to coast, and acclaimed musicians such as Buffy Sainte-Marie and Susan Aglukark took home top awards while new artists drew fresh attention to traditional works.





© Provided by Indian Country Today
The "Prey" movie, which started streaming in August 2022 on Hulu, features Amber Midthunder as the heroine. (Photo courtesy of Disney Studios)


And Indigenous fashion had a big year as well, with designer clothing featured in museum shows at The Metropolitan in New York City, at a buzzy show at the Museum of Contemporary Native Art in Santa Fe, and in the pages of Vogue magazine.
Here are some of the year's highlights.
FILM: A breakthrough year
After decades of buildup, streaming services exploded with original Indigenous content, making stars of newcomers — Amber Midthunder, Fort Peck; Kiowa Gordon, Hualapai; Jessica Matten, Metis Cree — and giving veteran actors such as Wes Studi, Cherokee; Gary Farmer, Cayuga; and Tantoo Cardinal, Cree Métis — a chance to show them how it's been done since the 1980s.
"Prey" was the big hit of the summer online, breaking records by taking a traditionally macho movie series and replacing a weapon-toting Arnold Schwarzenegger with a Comanche girl, played by Midthunder, and her dog.
Read more about films:

—Comanche Nation vs. Predator

—Jhane Myers Q&A

—'Reservation Dogs' fetches a sister act

—'The English' thrills with Pawnee authenticity

—Tribes open film studios to lure movie, TV productions
Loaded with fresh Indigenous faces, the film was guided by creative producer Jhane Myers, Comanche, who "just wanted to make a good film with a Native woman hero." Indigenous actor-turned-politician Jesse Ventura, who starred in the original 1987 "Predator" film with Schwarzenegger, said "Prey" is a "thoughtful, creative and wonderful film."
"Reservation Dogs" made several best-of-the-year lists in mainstream media with its smart, cutting-edge depiction of contemporary life on the rez. Director/producer Sterlin Harjo, Seminole, cast new actors – D'Pharaoh Woon-a-Tai, Oji-Cree and Devery Jacobs, Mohawk First Nation – who shined alongside Gary Farmer's pot-loving veteran Uncle Brownie and rival sculptor Bucky played by Oscar-winner Studi.





© Provided by Indian Country Today
Zahn McLarnon, Hunkpapa Lakota, exudes authority as Officer Joe Leaphorn in the series, "Dark Winds," based on Tony Hillerman's writings. The part was originally played more than 20 years ago by Oscar-winning actor Wes Studi. (Photo by Sandra Hale Schulman)


"Dark Winds" took an established series by author Tony Hillerman and blew fresh air through it with sharp storytelling and deep dives into characters. The Natives are not always the good guys or the victims — a plot thread that shows modern characters in the real world on and off of reservations.
Twenty years ago, Studi played Officer Jim Leaphorn and Adam Beach, Saulteaux, played Officer Jim Chee. Now Kiowa Gordon, Hualapai, is winning accolades for the Jim Chee role and Zahn McLarnon, Hunkpapa Lakota, exudes authority as the senior Leaphorn.
Tribes also ventured into the film business in a big way in 2022, with the Tesuque Pueblo opening Camel Rock Studio in a former casino in Santa Fe, where "Dark Winds" is filmed.
The Cherokee Nation opened a new virtual soundstage in Oklahoma and is offering major incentives for filming on its vast, scenic lands. The upcoming 2023 "Killers of the Flower Moon" was filmed there, and with major funding from Apple TV, recreated an entire 1920s village. The cast was filled out with Osage citizens.
And the Cherokee Nation Film Office won a British Academy of Film and Television Arts award for its groundbreaking directory featuring Native citizens, the only finalist from the United States to be nominated for the international honor.
MUSIC: Carrying on with Indigenous sounds
The legendary Buffy Sainte-Marie, Cree, was honored in September with a Tribute Award at the Toronto International Film Festival, which kicked off with the world premiere of a new documentary film, "Buffy Sainte-Marie: Carry it On," examining her life as an Indigenous musician and activist.
And in May, Susan Aglukark – the most celebrated Inuit musical artist in Canadian history – received the Canadian Academy of Recording Arts and Sciences' Humanitarian Award for her charitable work with the Arctic Rose Foundation, which she founded in 2012 to support arts-based programming for Inuit, First Nations and Métis youth in Canada's north. It was her fourth Juno award in 11 nominations.





© Provided by Indian Country Today
Legendary performer Buffy Sainte-Marie, Cree, was honored with the Tribute Award at the Toronto International Film Festival, which kicked off on Sept. 8, 2022, with a documentary about her life, "Buffy Sainte-Marie: Carry It On." (Photo by Matt Barnes, courtesy of Eagle Vision & White Pine Pictures)


Among the new releases was a lilting collection of music, "Tokyo at Midnight," released in September by flutist Cody Blackbird, Cherokee, featuring the late poet John Trudell reciting on three tracks. Trudell will be honored in a portrait show next year by his son, Wovoka Trudell, in New Mexico.
Read more about music:

—Toronto festival honors Buffy Sainte-Marie

—'Arctic Rose' Susan Aglukark continues her epic journey

—New radio show taps into Native youth culture

—World's Ugliest Dog turns bleary eyes on helping rez dogs
And Wabanaki artist Mali Obomsawin released a new record, "Sweet Tooth," that combined field recordings, old hymns, stories and Indigenous jazz.
The charming, animated Netflix series, "Spirit Rangers," about three Indigenous siblings who use secret powers to turn into animals and protect the national forest where they live, has a lively musical score by Raye Zaragoza, Akimel O'otham.
And Navajo sibling band Sihasin had a busy year touring Peru as part of a cultural exchange, recording a radio show Indigenous YOUth Nation. And during her spare time, Sihasin bassist Jeneda Benally adopted an old unwanted pooch in Tuba City and made him globally famous as the World's Ugliest Dog.
ART: Widespread recognition
It was a big year for Indigenous art and artists as well.
Brad Kahlhamer had a blockbuster year, with four decades of his work showcased at two museum exhibitions in Arizona — a deep and wide retrospective, "11:59 to Tucson," at the Tucson Museum of Art, and "Swap Meet," a wildly imaginative installation at the Scottsdale Museum of Contemporary Art that featured a broken-down trailer retrofitted as a gallery/ performance space.





© Provided by Indian Country Today
Artist Brad Kahlhamer is shown here with a painting, "Buffalo Girl." (Photo courtesy of Brad Kahlhamer)


He followed those up with a solo show of new, large-scale paintings at Garth Greenan Gallery in New York.
Read more about artists:

—New exhibits explore Native identity, myth, ceremony

—Pulitzer winner Chacon honored and humbled

—Museum of Graffiti features Taino art exhibit
His art is a search for self — he calls it "yondering," since he was adopted at birth and blocked from knowing his tribe and his family. The void allows him free rein to imagine an Indigenous visual world he calls the third place.
Nanibah Chacon, Diné/Chicana, had her first museum show, "Spectrum," at Site Santa Fe. The show had 10 newly commissioned large-scale paintings along with a survey of Chacon's many public murals and her personal archive.
She draws inspiration from traditional Diné creation mythology stories involving spiders and hummingbirds. Her exquisitely rendered figures and geometric patterns use a lush palette in unexpected colors, giving new life to her hybrid border art.
Talent runs in the Chacon family. Her brother is Raven Chacon, a Pulitzer Prize-winning composer, performer and installation artist who was featured in the Whitney Museum Biennial.
He composed a series of 13 scores he called portraits dedicated to various contemporary Indigenous women working in the fields of music, composition and sound art.
Raven Chacon uses music as color in light and dark shades to create aural soundscapes that examine the ever-changing mood of the present. He performed live in July at the Whitney at a sold-out show.
Indigenous art even caught the attention of the Museum of Graffiti in Florida, which featured a show in March on the Puerto Rican Taino art.
FASHION: Taking center stage
Indigenous fashion was in the spotlight on several fronts, including the featured presentations at The Metropolitan in New York and the Museum of Contemporary Art in Santa Fe and in Vogue.
Top designer Jamie Okuma, La Jolla, was a crowd favorite at the Santa Fe Indian Market Fashion Show, as her smart, sophisticated designs for men and women graced the runway and the museum mannequins.
Read more about fashion:

—The Indigenous goddess we all need(ed)

—Model moves from runway to the boxing ring

—Osage artist uses AI technology for latest works
Lauren Good Day, Mandan, Hidatsa and Arikara Nation who is also Blackfeet and Plains Cree, mixed bright patterns in flowing dresses and sporty streetwear, and one of her models, Jayli Fimbres, also Mandan, Hidatsa and Arikara Nation, moved from modeling to boxing and back again.
Sky Eagle Collections artist/designer Dante Biss-Grayson hosted a blowout runway show at the La Fonda Hotel during Art Market Week, and his market booth sold out within hours on opening day. And Biss-Grayson then unveiled a new line of artwork using Artificial Intelligence.
Celebrity models at the various events included breakthrough model Quannah Chasinghorse, Hän Gwich'in and Oglala Lakota, with her tattooed face and nose rings; Eugene Braverock, Blackfoot, the tall lanky actor seen in "Dark Winds" and "Montana Story"; actor D'Pharaoh Woon-A Tai, Oji-Cree, of "Reservation Dogs" and IMG Models; Stephanie Big Eagle, Sioux, the hand-poke tattooist; and Ashley Callingbull, Enoch Cree, a former Mrs. Universe.





© Provided by Indian Country Today
Our stories are worth telling. Our stories are worth sharing. Our stories are worth your support. Contribute $5 or $10 today to help ICT (formerly Indian Country Today) carry out its critical mission. Sign up for ICT's free newsletter.