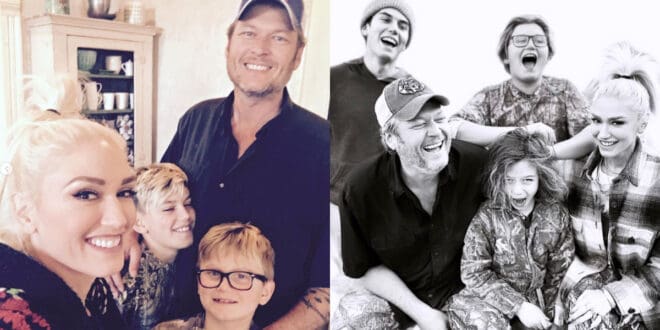 Blake Shelton is shifting his priorities. The country music superstar, who is set to coach his final season of NBC's The Voice, says he's ready to focus on the personal aspects of his life.
"I've accomplished more than anything I would ever imagine and made plenty of money, but you can't buy time back. [Family] is what I want to invest in now," Shelton, who is married to pop superstar Gwen Stefani, reasoned during an exclusive cover story with PEOPLE.
Shelton has spent 22 seasons as a coach on The Voice – the same show that sparked his romance with Stefani – minus the upcoming season, which will mark his 23rd. Since becoming a step-dad to Stefani's three sons Kingston, 16, Zuma, 14, and Apollo, 8 (Their dad is Bush frontman Gavin Rossdale, Stefani's ex-husband), he says his perspective on what matters most has changed.
"Just having kids, you know…. It truly does make you go, 'Wait a minute. This isn't about me anymore. It never will be again.' If you don't say that to yourself, I think you're only hurting yourself because you're going to miss out," Shelton explained, adding that all three boys will notice when he is absent from life events. "They've taught me something about myself that I never knew: I'm more than just a country singer or a goofy guy. I'm someone they actually lean on, and that's not a responsibility that I ever had and not something I ever considered even being into."
"Even though I'm a stepparent, I take that job very seriously. The kids see me as a very important person in their life," he continued. "[When they ask], 'Why isn't Blake here?' I take that stuff to heart… It's just a different self-worth. Maybe, it's the opposite of self-worth because you kind of put yourself way down on the rung, and they move up, ahead of you."
Along with enjoying time with his step-children, Shelton, 46, says he feels content in slowing down and is happiest when he's around family in Oklahoma, where he grew up. In fact, he and Stefani, 53, have already taken up a hobby together in the Sooner State.
"You just be a family when you go there," Shelton, who now has grown multiple gardens with the "Hollaback Girl" singer, said of Oklahoma. "Our biggest bonding besides music has to be gardening. We go way over the top. If there's a splurge that is embarrassing, it would be how much we probably spend on, like, seeds, like, boxes of seeds."
Shelton, who wed Stefani in the summer of 2021, says the lovebirds have managed to grow zinnias and sunflowers, but the tough flower to grow, so far, has been the Icelandic Lily.
"Knowing that you're married makes me feel settled," Shelton added of his relationship with Stefani, which he calls the "easiest thing I've ever been a part of in my life." "We've done so much traveling, touring and work the first half of our lives that now, we're just like, 'Hey. I'm good with 6:00p.m. to put my sweatpants on and watch Ozark eight times tonight. I'm good with that. That's our life now, and we love it."
That doesn't mean Shelton is quitting his career altogether. Folks can still find him on the small screen as he recently debuted his new game show on the USA Network called Barmageddon, which features Carson Daly as a co-host. Shelton will also return for the 23rd season of The Voice when the show returns in March of 2023.
"It's such a fun show to make. I can make it with people I care about, have fun and do a whole season in a couple of weeks," Shelton said of Barmageddon. "I wasn't looking for The Voice when I found it, and it's exciting to know what else may be out there."
"When I started The Voice in 2011, that was ten years into my career as a country artist. I never really made it to the A-level of country artists until I became a coach on The Voice. There were way bigger artists in country music that they could've offered this job to, and I'm sure they would've jumped at it… I don't think it's a risk to leave the show. I don't think if I walked away from my career at this point – you know, the only thing I run the risk of is having regrets. You don't know what those are going to be until you look back one day," Shelton said. "Maybe, I'll look back one day and say, 'man. That was it. That was my moment'…. For now, I know, at this moment, it's time for me to step away as a coach. But, I'm glad I stayed as long as I did."