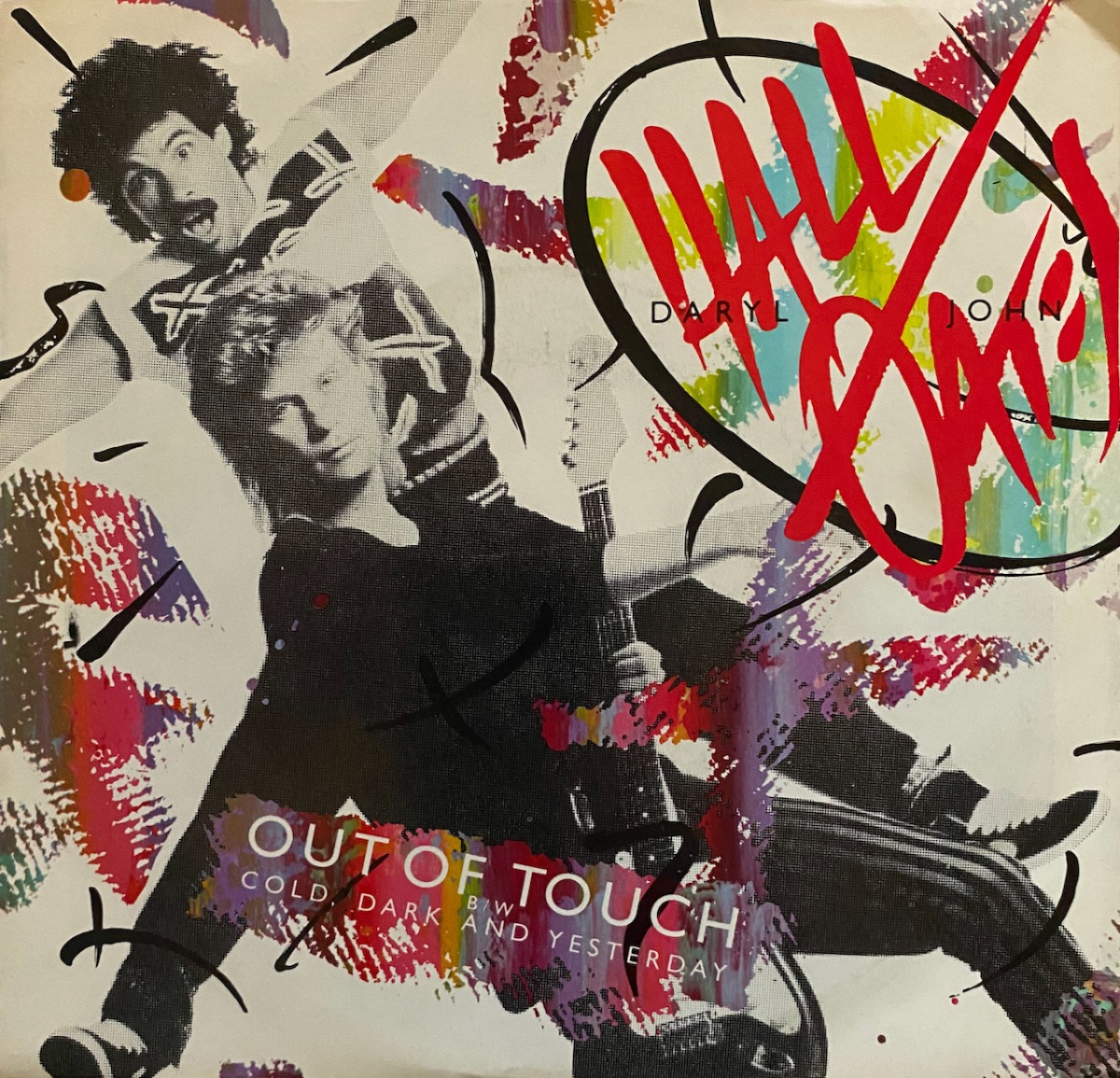 In my journey through the 7″ Singles in my collection, we are to one I don't know when or where I ever bought this one. The single is for Hall & Oates song "Out of Touch". I do like Hall & Oates and this song so I'm sure I bought it, but for the life of me can't remember anything. I do know this was the first single off the band's 1984 album 'Big Bam Boom'. It was the band's last #1 song and it was their 14th Consecutive Top 40 hit since 1980. That was a pretty impressive run.
The song was written by Daryl Hall and John Oates. The chorus had come to John when he was playing around on his synthesizer and thought it would be great for the band The Stylistics since had this whole Philly swing to it. The producer of their album, Bob Clearmountain, thought differently the next in the studio and said they have a hit. Well, he was right, they did.
My copy is the standard U.S. version and the B-Side is another album tracks called "Cold, Dark And Yesterday". What I find interesting about my copy is the wear & tear on the piece of vinyl. Is that circular fading a result of being played a million times in a Jukebox or regular turntable. I would think a Jukebox as whatever was grabbing it wore off the label. But it still plays beautifully with no pops or any other noises.
A-SIDE:
The song is about two people who have drifted apart and no fault of their own, they are just growing in different directions. The line…"We're soul alone / And soul really matters to me /Too much"…sums it all up. For Hall & Oates, "Soul" is important and a big theme for the band. If you are alone and soul isn't growing, then it is time to move on and that is basically the theme to the song. The couple aren't good for each other's soul anymore and they out of touch with each other despite that they still love each other. Time to move on.
"Out of Touch" is a great little pop song. This is 1984 and it is full of synthesizers but the guitar work is still great as you have G.E. Smith on the guitar. There is a Philly, soulful sound and Daryl Hall masterfully delivers the lyrics with his smooth vocals that hit you in your soul. It is a great pop song
B-SIDE:
The B-Side is the song "Cold, Dark And Yesterday" off the 'Big Bam Boom' album. It is more synthesized out than the "Out of Touch". John Oates sings this one and he was the sole songwriter as well. The drum is electronically programmed as well and it is an irritating beat in my opinion. There is nothing catchy about it, the chorus is weak and the electronic elements really turn me off from this one. Not a great song to compliment the A-Side in my opinion.
And there you have it, another 7″ Single in the collection. I am starting to run low, so might need to buy some more when I see some good ones. Thanks for stopping by and have a great day!