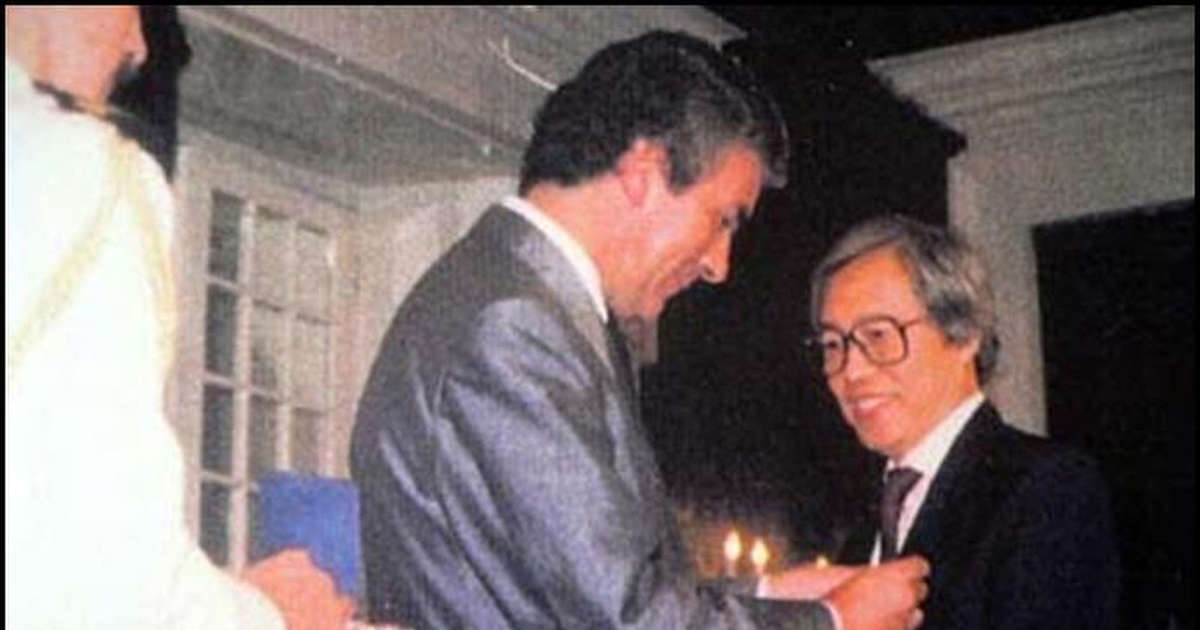 Creator of music 'full of imagination and colour', Doming Lam studied composition in Canada and film music in California before forging his career in Hong Kong
A composer, broadcaster and educator, he helped found the ensembles that became the Hong Kong Philharmonic Orchestra and Macau Orchestra
Prolific composer Doming Lam Ngok-pui, known as "the father of Hong Kong modern music", has died at the age of 96.
Lam's family said the death occurred early on the morning of January 11.
On Thursday friends and long-term collaborators paid tribute to Lam, praising his contribution to the Hong Kong music scene as well as his creative talent.
Do you have questions about the biggest topics and trends from around the world? Get the answers with SCMP Knowledge, our new platform of curated content with explainers, FAQs, analyses and infographics brought to you by our award-winning team.
Yan Huichang, artistic director and principal conductor of the Hong Kong Chinese Orchestra, recalled Lam's support for the ensemble as well as his compositions, and expressed deep condolences on its behalf.





© Provided by South China Morning Post
Doming Lam Ngok-pui is conferred a medal of distinction for cultural contribution to Macau, where he was born, by the then Portuguese territory's governor in 1988, one of several awards he earned in a long career. Photo: Handout picture


From 1977 to 1993, Lam was an honorary consultant to, and guest conductor of, the orchestra.
Grace Lang, programme director at the Hong Kong Arts Festival, told the Post: "Doming was a master of contemporary music. His music is full of imagination and colour, [with melodies that are] clear, precise and easily accessible for players and audiences."





© Provided by South China Morning Post
Doming Lam acknowledges the applause in the Musikverein in Vienna following a performance by the Hong Kong Chinese Orchestra of his work The Insect World in 2002. Photo: Handout


Lang is in the process of obtaining for future festival performances the score for Lam's 1979 work The Insect World, which the Hong Kong Chinese Orchestra notably performed at the Musikverein in Vienna, Austria, in 2002.
Throughout his career, Lam was celebrated for his contribution to Hong Kong's performance culture and his commitment to modernising Chinese music by fusing influences from East and West.
Adopting the creed "search for roots in tradition, find ways in the avant-garde", he was a musical maverick, and one of few among his generation of Chinese musicians to earn an entry in the authoritative Grove Dictionary of Music and Musicians.





© Provided by South China Morning Post
Doming Lam as a young violinist in 1948 shortly after he left Macau for Hong Kong to study music and look for more opportunities. Photo: Handout


Born in Macau in 1926, Lam moved to Hong Kong in 1947 and helped found the Sino-British Orchestra, for which he played the violin. It was later renamed the Hong Kong Philharmonic Orchestra.
In his thirties, he moved abroad to further his knowledge, earning a diploma in composition in Canada in 1958 and studying film music under the three-time Academy Award winner Miklos Rozsa at the University of Southern California from 1960 to 1964. He interned in Hollywood alongside his studies.
After his North American stint, Lam returned to Hong Kong, where he worked as a producer of cultural and entertainment programmes for Rediffusion, which operated a radio station and launched the first television station in Hong Kong.





© Provided by South China Morning Post
Doming Lam worked for the now-defunct Rediffusion Television after his return to Hong Kong in the 1960s. Photo: Handout


In the 1980s, he produced a series of programmes about classical music for public broadcaster RTHK, a period during which he was also instrumental in the founding of various music groups and communities in Hong Kong. In 1981, he organised a conference to bring together composers from mainland China, Taiwan, and Hong Kong.
Lam taught music at the University of Hong Kong and was its composer in residence from 1989 to 1994. He also served as music director of the Macau Chamber Orchestra (which later became the Macau Orchestra) and the Hong Kong Children's Choir.
In 2020, the Hong Kong Academy for Performing Arts awarded Lam an honorary doctorate.





© Provided by South China Morning Post
Doming Lam in 1985, when his roles included honorary music director of the Hong Kong Children's Choir, which he had earlier served as its music director. Photo: SCMP


In his final years, Lam enjoyed a tranquil yet productive life, spending time with his grandchildren while devoting himself to writing music.
One of his last compositions, titled Calm, was a chamber work for a Chinese ensemble, with clean musical lines that conveyed a sense of peace and being at ease.
It seemed to sum up Lam's ethos, which he once explained by saying: "Nothing should bother one's mind. One is not affected by gain or loss. When faced with the external world, one always stays rational, grounded, and merciful. This is the natural state of mind."
More Articles from SCMP
'He has destroyed my life': Chinese doctor who claims her physician ex-husband poisoned her into disability gets day in court — 6 years on
K-drama Brain Works: Cha Tae-hyun, Jung Yong-hwa lead duff procedural comedy-drama
Tesla's heavy price cuts could revive sales growth as rivals Nio, Xpeng and Li Auto hold back on discounts
PBA Commissioner's Cup: Powell leaves bench to power Bay Area Dragons to victory, forces decisive Game 7 in finals
This article originally appeared on the South China Morning Post (www.scmp.com), the leading news media reporting on China and Asia.
Copyright (c) 2023. South China Morning Post Publishers Ltd. All rights reserved.