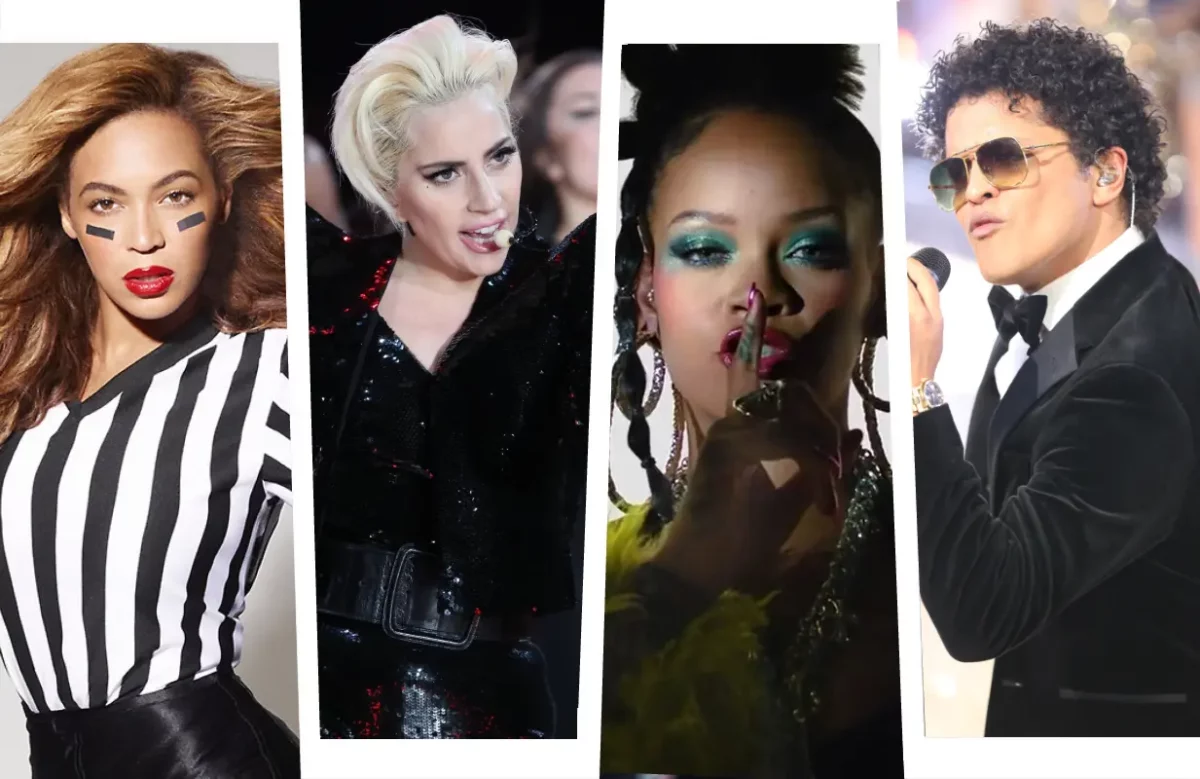 Photos: Beyoncé (courtesy of artist), Lady Gaga/Bruno Mars (Andres Otero/Everett Collection), Rihanna (Apple Music)
On February 12, sports fans around the globe will crowd around their TV screens to see if the Kansas City Chiefs or the Philadelphia Eagles will claim the Super Bowl LVII trophy as champions of the National Football League. Pop music fans, though, will be waiting for Rihanna to take the stage for the halftime show, which, over the last decade, has generated enough buzz to rival the Big Game itself. From the moment that Rihanna was announced as this year's halftime entertainment, her fans began doing what they do best: clamoring for a new Rihanna album. The chatter became so prevalent that it was the theme of the promo Fox released a few weeks ago:
This is just the latest bit of proof that the Super Bowl halftime show has become one of the most significant events of the year in pop music. In the last 10 years, these pop extravaganzas situated in the middle of football's biggest night have turned into an arms race. How did we get here, and what does that mean for Rihanna this Sunday?
A look back at the early days of the Super Bowl halftime show
Early on, the Super Bowl halftime show was mostly made up of marching bands and cheerleaders: Up with People was featured in five Super Bowl halftime shows between 1971 and 1976. Somehow, the event managed to stay alive, and in the 1990s, organizers dipped a toe into pop performances with New Kids on the Block and Gloria Estefan. But few besides Michael Jackson at the Rose Bowl in 1993 delivered on the spectacle. With the widest possible audience to program for, the Super Bowl halftime show hopped around different genres: country, classic rock, Motown-style R&B. Younger viewers were targeted only sporadically, with a few MTV-produced shows in the late '90s and early aughts. The last of those was the most notorious, of course. The 2004 halftime show featured pop acts Kid Rock, P. Diddy, Jessica Simpson, and Nelly, but the part everybody remembers is when Janet Jackson and Justin Timberlake duetted on Timberlake's "Rock Your Body" and committed the wardrobe malfunction that rocked a nation.
Post-"Nipplegate," the halftime show makes safe bets on classic rockers
Much has already been made of "Nipplegate" – including news reports and docuseries — but in terms of how it affected the evolution of the Super Bowl halftime show, it ushered in an era of incredibly safe, dad-targeted rock acts (with one quite notable exception). Over the next several years, the halftime show was headlined by Paul McCartney, The Rolling Stones, Tom Petty and the Heartbreakers, Bruce Springsteen and the E-Street Band, and The Who, and if any of those guys even had nipples, you'd never know it from watching them perform. The exception to this string of low-risk classic rock was when Prince performed in the middle of a Miami downpour in 2007, an iconic — and, yes, oftentimes sexually suggestive — performance that was widely acclaimed and probably went a long way towards calming down FCC-wary executives going forward. At the time, The Smoking Gun reported a scant 150 complaints to the FCC (over 93 million people watched that year's Super Bowl), and some of those were about a Snickers ad that featured two men kissing.
Madonna sets a new standard
The next watershed halftime show moment occurred in 2012, when Madonna was tapped to perform at halftime for Super Bowl XLVI in Indianapolis. Up until this point, even when the Super Bowl veered towards pop, the producers made sure to present a wide swath of acts that might appeal to as broad an audience as possible — and in particular, straight men. NSYNC and Britney Spears were offset by Aerosmith. No Doubt was tempered by Shania Twain and Sting. Handing the entire halftime show to Madonna was a tacit change of direction, counterprogramming the halftime show with an act that unabashedly courted women and gay men.
And Madonna did nothing to butch up her act. Dancers dressed as Roman centurions carried her en masse on a winged throne as she kicked off the show with "Vogue." And while M.I.A. kicked up some controversy with a middle-finger gesture during her and Nicki Minaj's guest appearance during "Give Me All Your Luvin" (M.I.A. and the NFL sparred in court for two years over breach of contract, before coming to a confidential settlement), the Madonna halftime show's true legacy was kicking off a decade of escalating pop dominance.
Beyoncé followed Madonna just one year later with a performance in the New Orleans Superdome that was so spectacular, it was followed by a stadium power outage that suspended play in the second half for 34 minutes. In an impressive flex of her star wattage, Beyoncé's only guest collaborators were Kelly Rowland and Michelle Williams in a Destiny's Child reunion that only served to underline how far she's come since her early days. The performance was the most Tweeted-about event to date and stands as one of Beyoncé's standout live concert performances.
After Madonna and Beyoncé delivered back-to-back pop-diva spectaculars, the standard had now been set. All subsequent performances had to at least strive to meet that level of, if not star power, than at least spectacle. Bruno Mars brought his "hardest working man in show business" act to the Big Game in 2014, followed by a Katy Perry show in 2015 that included Missy Elliott and Lenny Kravitz, and stands as the most-watched television performance in history. Of course, what everybody really remembers is the Left Shark phenomenon, where one of two dancing shark mascots was noticeably out of sync with the performance, setting the internet ablaze.
The sky-high expectations of this new era of Super Bowl halftime shows were never better exemplified than when Coldplay was announced as the halftime act for Super Bowl 50. Fairly or not, the English rock act had become synonymous with milquetoast, vanilla, so-10-years-ago music by much of the young, vocal, very online pop fandom. Coldplay as the successor to Madonna, Beyoncé, and Left Shark felt all kinds of wrong (and macho football fans weren't exactly happy about it either). When it was subsequently announced that Bruno Mars (who was already signed on as "curator" of the halftime show) and Beyoncé would join Coldplay's performance, it seemed obvious who would overshadow whom. And indeed, Beyoncé's eye-popping, Republican-infuriating performance of "Formation" completely stole the show.
Lady Gaga performed at halftime in 2017 — the 80 For Brady Super Bowl, to put it in context — getting the pop-diva vibe back on track and providing fodder for her in-the-works Netflix documentary Five Foot Two (Jennifer Lopez would later make the Super Bowl halftime show the focal point of her Netflix documentary).
Today's halftime show arms race
The 2018 halftime show wasn't received as warmly, with the return of Justin Timberlake. The people — and Janet Jackson fans, in particular — hadn't forgotten, and Timberlake caught a wave of bad press, as he does every time Nipplegate comes back into the cultural conversation. Timberlake actually invited Jackson to perform alongside him, though she declined, and his subsequent performance with the Tennessee Kids was received as tepidly as his Man of the Woods album was that same year.
The reaction to the Coldplay announcement in 2016 was more or less repeated when Maroon 5 was announced as the headliner for 2019. That year, several artists declined to perform in solidarity with Colin Kaepernick, the former 49ers quarterback who was blackballed from the league for his "take the knee" protests against police shootings of unarmed Black Americans. A Change.org petition called on Maroon 5 to drop out, but the show went on.
2020 saw the return of pop excess to the halftime show, with a Jennifer Lopez-Shakira double bill that was tremendously energetic and served as a tribute to the performers' Puerto Rican and Colombian heritage, respectively. The Weeknd performed gamely during the 2021 socially-distanced halftime show, and last year diverged a bit from pop icons to deliver a masters-of-hip-hop extravaganza featuring Snoop Dogg, Dr. Dre, Eminem, Mary J. Blige, and Kendrick Lamar.
And now: Rihanna. There's no obvious reason why she would debut her first new non-soundtrack music since releasing Anti at the 2016 Super Bowl. Her Oscar-nominated ballad "Lift Me Up," from the Black Panther: Wakanda Forever soundtrack, is enough of a peg on which to hang a halftime performance of greatest hits. But that's the current state of the Super Bowl halftime show arms race. Rihanna isn't just reckoning with her own legacy of pop hits with this performance. She's up against a Cecil B. DeMille-styled "Vogue" performance, a Destiny's Child reunion, and an off-script shark mascot that was watched by the biggest audience in TV history. She's up against a rendition of "Formation" so anthemic that it broke half of America's politicians. Even if every subsequent Super Bowl halftime performance doesn't outpace all of those, that's the mountaintop they're all reaching for now. Even without new music, there's every chance Rihanna can deliver something that can be mentioned in that same breath. But she'll be in rarefied air if she does.
Joe Reid is the senior writer at Primetimer and co-host of the This Had Oscar Buzz podcast. His work has appeared in Decider, NPR, HuffPost, The Atlantic, Slate, Polygon, Vanity Fair, Vulture, The A.V. Club and more.