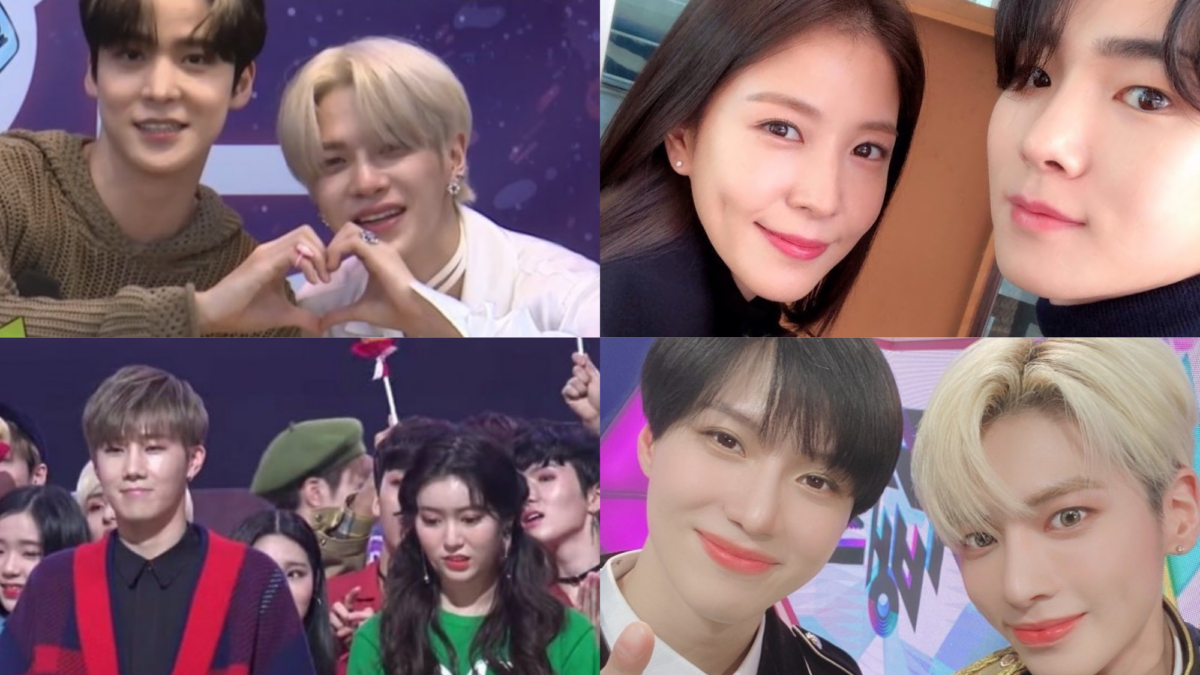 Before becoming idols, there are many idols who are K-Pop fans themselves, and that's how most of them sparked their dream of becoming idols. They dream of being like the people they look up to, and it's the cutest thing to see how similar they are to us as fans, when they get all excited about their favorite idols! Here are some idols that are K-Pop fans themselves.
SHINee Fans
SEVENTEEN Hoshi
Hoshi has never been shy about admitting that he's a huge fan of SHINee, and everyone knows it. Fans would buy him a SHINee lightstick and give it to him as a gift at SEVENTEEN fan sign events. Hoshi's been a fan from a young age and specified that he is Key's fan in particular. Hoshi revealed in a fan cafe post that it was the SHINee's SHINee World and the repackaged AMIGO albums that sparked his dream of becoming an idol.
TXT Taehyun
Despite being only six years old when SHINee's song "Replay" was released, Taehyun said that he was inspired to become an idol after watching the music video of the hit song. Taehyun also became a successful fanboy after receiving an invitation from Taemin to eat out together. The invitation would have to wait a little longer until Taemin is discharged from his mandatory military service.
Enhypen Ni-Ki
If only we all could be as lucky as Ni-Ki, who is such a big fan of SHINee from a young age. He even had the chance to perform on stage with SHINee at the Tokyo Dome. After performing, Ni-Ki became so overwhelmed with emotion that he began crying, but sweetheart Key gave him a reassuring hug. 
Monsta X Fans
WEi Yongha
Yongha, who introduced himself as a "Monsta X" fan as one of his charming points, is also nicknamed "Yongbebe." To show his love for the group, he even suggested that his group perform "Love Killa" for the Weekly Playlist" segment during their appearance on Weekly Idol.
ATEEZ Jongho
Jongho is also another proud Monbebe, and a successful one too! He received an autographed "Shoot Out" album, and his members said that he has been a fan long before that and was excited to have received the gift.
BTS Fans
IZ*ONE & IVE Yujin
Here's a life glow-up story. Before attending the Melon Music Awards as an IZ*ONE member, she attended the award show as an ARMY back in 2016. She was seen in the audience with a BTS lightstick as she screamed with joy when the boy group won the Daesang for that year. For those who may be skeptical if that is truly Yujin, she has personally addressed it herself.
ATEEZ Wooyoung
If fans have to take a shot every time Wooyoung fanboyed over BTS, we'd all be so drunk. There are so many moments where Wooyoung proves that he is the biggest ARMY yet. From only remembering Jimin's birthday, and not his fellow members, to getting excited seeing a Jungkook poster hanging in a fan's room during a video call fan meet, he is relatable when he turns into an absolute fanboy for BTS!
Stray Kids Seungmin – DAY6
It's no secret that Stray Kids member Seungmin is the biggest DAY6 fan. To show his love for his sunbaenims, he has uploaded many covers of their songs and cutely fanboy about the group in different interviews and VLIVEs. It must also make him feel over the moon that fans often say that he looks like Wonpil from DAY 6. 
The Boyz Juyeon & Eric – EXO
Both Juyeon and Eric are known to be huge EXO fans, and they proved it when they did a VLIVE of just them dancing to several EXO songs. What was more surprising was that Eric danced to "They Never Know," an underrated gem unknown to non-EXO-Ls or even some new fans. Eric even performed Sehun's solo dance to the song, which only true fans can remember.
Mirae Junhyuk – ATEEZ
Junhyuk has been very vocal about Yunho being his role model. He even wrote him a sweet letter after learning that his favorite group would be on a radio show the following week that his group was on. A year after, Junhyuk's dreams as a fan came true when he got to meet and talk to Yunho in person on Idol Radio 3! He was so overwhelmed he could not hold back his tears.
The Boyz, Kevin & Jacob – Sam Kim
How would you react when you're casually working, and the very person you look up to as an artist just walks in? That is exactly how Kevin and Jacob were when they saw Sam Kim walking into their snack shop. These two Canadians are such huge fans of the very talented singer, and they even got the opportunity to perform for him. 
Momoland Jane – INFINITE
When you go from taking photos of your favorite idols and rooting them on to standing next to them for a music show, you'd be as nervous as Jane too. Prior to debuting with Momoland, Jane used to be a fansite master for the group INFINITE. She used to run the account 'Baby's Breath' for INFINITE members L and Sunggyu under the nickname 'Pudding.' 
SHINee Key – BoA
Just because Key is looked up to by many does not mean he does not have his own idol that he looks up to. Key is a huge fan of the undisputed queen of K-Pop, BoA. Being in the same label has given the opportunity two of them to grow closer than ever. Key is living all of our dreams to be best friends with his idol.