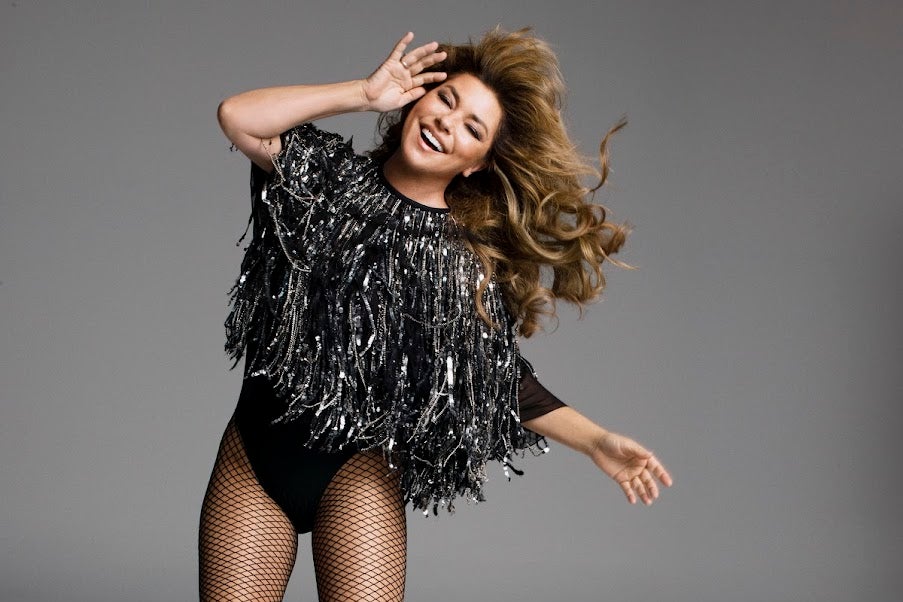 It happens again and again on Shania Twain's new album, Queen of Me, only her second new release in the past two decades: a vocal touch, a melodic cadence, or a lyrical stratagem that makes one think, "Wow, it sure seems like Shania's been listening to a lot of Taylor Swift."
On "Best Friend," it's the intimate details of mildly scandalous barroom antics: "Let's go out to Vegas/ I bet they hate us/ At that casino bar/ But it made us who we are." On "Brand New," it's Twain's sudden vocal swoop upwards on "you'll," followed by a cascade of jammed-together words on the descent—"always-be-the-same-old-you"—capped with the triumphant proclamation, "But I'm a brand new me!" On "Waking Up Dreaming," the exhortation to "dress up crazy like superstars" can't help but summon a certain someone wanting to "dress up like hipsters" back in 2013. Much less charmingly, it's also the way the clunky title track couches its forced self-affirmations in shouty unison vocals, echoing Swift's cringey 2019 single "Me!"
Some of these borrowed new clothes suit the former country-pop empress better than others, at the age of 57. But set that aside for a moment and appreciate the sound of Twain, at long last, reclaiming what she is owed.
It's not simply that Swift and innumerable other younger artists across genres adopted a whole repertoire of stylistic gestures from Twain's enormous late 1990s hits, like her conversational lyrics and her tendency to punctuate songs with sassy spoken interjections, laughter, or pauses for dramatic effect. Last year, Harry Styles brought Twain on stage with him at Coachella; he's said that thanks to his mom's fandom, he counts the Canadian-born country star as one of his North Stars of music and fashion. A few months later, one of England's most interesting young cross-genre pop creators, Rina Sawayama, lifted Twain's classic salvo, "Let's go, girls!" to launch her single "This Hell," and had an in-depth chat with the icon for Rolling Stone. The year before, Twain teamed with the masked queer Canadian crooner Orville Peck for a song and video. And the list of Twain's Millennial and Gen-Z acolytes does not end there.
But more broadly, as Swift herself has always acknowledged, the whole template for careers like Swift's was set by Twain. They both began as prodigies in their hometowns and arrived in Nashville as outsiders. Despite chauvinistic opposition, each came to dominate country music on her own terms, forging non-traditional sounds and images while insisting on writing her own material. Each then pivoted towards pop and global, multimedia superstardom, in Twain's case partly in the footsteps of Dolly Parton but even more ambitiously on the mainstream models of Michael Jackson, Madonna, or Bruce Springsteen. (Twain even brought aboard Springsteen's longtime manager.)
It's hard to comprehend today the sheer scale of Twain's commercial success, coming as it did during the peak CD era, when music still made real money. From 1995 to 2002, she became the only solo woman artist ever to release three consecutive "diamond"-certified albums, meaning they each sold more than 10 million copies. Her 1997 album Come On Over, with 12 singles among its 16 songs, is by most accounts still the best-selling album by any solo woman artist ever in the U.S. and worldwide, and among or near the top 10 best-selling albums, period. It was only last year that Swift finally surpassed Twain's record for cumulative weeks atop the Billboard country-album chart.
Twain's larger cultural impact is less easy to quantify. She stood alongside Garth Brooks in revolutionizing country's sound and sensibility in the 1990s, dispensing with most of the previous obligatory down-home trappings and making it more arena-ready, with the kinds of big studio productions and stage spectacles that prevail in the genre to this day.
Of course, they weren't the first country artists ever to cross over to pop. For Twain, another key precedent might be 1970s Olivia Newton-John, whose ability to find new directions in country-pop might partly have stemmed from her distance, as an Australian, from Nashville insularity. Twain had that kind of perspective too: As a Canadian from northern Ontario, she was enough of a stranger to the scene that when she arrived in Tennessee, she was surprised to find that people there actually spoke in Southern accents. She'd thought that was just a Hollywood invention. (As a fellow Canadian, I'd bet she was misled by how many of our country-singing compatriots do fake a twang, consciously or not.)
Twain's attempt to adapt to Nashville thinking lasted only as long as it took to make a 1993 debut album full of second-string material by Music Row writers. It pretty much ended when she decided to bare her midriff in the video for the album's first single, with figures like Madonna and Janet Jackson on her mind. Coming up in clubs and hotel revue shows in Ontario, Twain had performed and listened to plenty of styles beyond country, and she wanted to bring it all to bear.
Like Brooks, Twain started importing the mainstream-rock sensibilities of the previous decade to country. In her case, the import was literal, through her partnership with (and soon marriage to) South African-born producer "Mutt" Lange, previously better known for his work with AC/DC and Def Leppard. This got Lange mistaken for a string-pulling Svengali, while Twain's songwriting was discounted, the way it often was for Parton before her and for Swift after her. But as demo recordings and collaborators attest, the couple contributed roughly equally to the core material: The studio arrangements were Lange's, while most of the melodies, lyrics, and zeitgeist were Twain's.
Her songs were first and foremost delivered as a woman for other women, translating the approaches of country forbears like Loretta Lynn and Reba McEntire for a more youthful and cosmopolitan audience. She was country's representative among the pantheon of 1990s divas, as evidenced by her appearance in the first VH1 Divas special in 1998, alongside Celine Dion, Gloria Estefan, Mariah Carey, and godmother figures Carole King and Aretha Franklin. Much more than someone like Dion, though, the insouciant sex-positivity and stress on personal autonomy in Twain's music partook of the prevailing mood of third-wave feminism, however much she might avoid the term. Her version lay somewhere on the spectrum between Lilith Fair and the bubblegum girl-power of the Spice Girls.
For Nashville, that was more than subversive enough. There was abundant carping from traditionalists. But she didn't get much more of a break from self-styled country nonconformists—outlaw songwriter Steve Earle notoriously called Twain "the highest-paid lapdancer in Nashville"—or from music critics, who slammed her as manufactured and manipulative. It was true that Twain put no premium on authenticity and self-expression. If she wrote a song full of truly personal meaning, as she told Rolling Stone in 2003, she'd prefer to keep it to herself, and move on to something more universally appealing. That interview was around the release of Up, an album where maniacal marketing morphed into a kind of bizarro experimentalism, as it came in three different versions—country, pop, and "international," meaning a Bollywood-accented remix, for a time when bhangra was trendy and South Asian sounds were appearing in rap and dance productions like Missy Elliott's with Timbaland. No matter, it went diamond too.
That Twain and Lange's work managed to convey so much personality while holding the genuinely personal at a distance is part of its camp appeal, helping to spawn her loyal LGBTQ fanbase. (They probably also read more than she'd anticipated into the gender play of "Man! I Feel Like a Woman!", and the ever-changing costumed personae of her music videos.) But her withholding stance also came from a working-class ethic that being an entertainer is above all a job; in her prime Twain was easily one of the hardest-working women in showbiz. And on another level, I think, it served as self-protection.
This is the sense in which Twain's path actually seems worlds away from Taylor Swift's. The story was told and retold from the start of her career of Twain's upbringing in poverty in the northern mining town of Timmins, Ont., of her mother having her sing as a child in local bars for tips, and of the death of her parents in an accident in her early 20s, which left her supporting her younger siblings. (As a result she was already entering her 30s when she made it to Nashville.) It emerged only gradually how violent and abusive that home truly had been, and only much later that her alcoholic stepfather's abuse was also sexual.
So perhaps there was a more charged undercurrent to the way her songs lightheartedly engaged the "battle of the sexes." But she wasn't about to divulge that in the music. In a 1998 interview, talking about her adolescent discomfort with her sexuality, and her relatively tepid libido as an adult, she said, "I've got a song on [Come On Over] called 'If You Wanna Touch Her, Ask!' … I could have made it a much deeper, darker song. But that's not the way I go."
This urge to sidestep the really hard stuff is at once the grace and the flaw in all the karaoke-ready anthems and sentimental ballads of Twain's peak. Perhaps it was inevitable that something had to give way. In the mid-2000s, living in her and Lange's mansion in Switzerland, not long after she became a mother, Twain developed dysphonia, meaning that she lost her ability to sing. It was eventually diagnosed as a neurological symptom of Lyme disease, and treated with surgeries, but that took years. Meanwhile, she found out that Lange was having an affair with her best friend, and the marriage imploded. That crisis brought her close to that friend's ex-husband, who she in turn would eventually marry.
In the ensuing chaos, Twain all but disappeared from the music world. She would show up sometimes on duets with other artists or as a presenter on an awards show, and she had an eccentric reality series on the Oprah channel. As her voice strengthened, she made the ultimate aging-diva move and took up a residency in Las Vegas, where she performed from 2012 to 2014. And in contrast with her years of guardedness, in 2011 she published a memoir.
But it was not until 2017 that she finally released a new album, her first body of work without Lange since her first record. It was called Now. And despite an audible tug-of-war between Twain's evolving impulses, between privacy and self-disclosure, it was more vulnerable than any of her past work. That confiding tone was sometimes tricky to take in, though, because Twain's post-Lyme voice was much altered. It was noticeably lower, and in places conspicuously processed in ways that could be off-putting to someone seeking the sparkle of Twain's past. The same was true of the stripped-down feel of the production, which couldn't match the crackling perfection of the Lange years, but inventively investigated up-to-date alternatives. In retrospect, the album seems underappreciated.
It's hard to guess whether Queen of Me is, partly, Twain's over-corrective reaction to that reception. It's certainly explicit in its ambition to get back to the self-empowering tone fans are supposed to love. "Enough of that dreary self-pitying stuff," it seems to declare. Don't mistake me, I have no desire to confine Twain to confessionals, nor to the tabloid-baiting techniques that Swift so long made her specialty, which I often wish the younger star would leave behind. But Twain ricocheting back to the themes of her greatest hits, especially after the two decades of self-empowerment pop she left in her wake, feels overly self-conscious and redundant. She's said that she wrote four albums' worth of material during the pandemic. If only she hadn't decided to select the most pandering parts.
The album opens, for instance, with a proudly dumb party anthem called "Giddy Up!" (making sure to use an exclamation mark, in classic Shania style). Twain pretty much invented the drunken bachelorette banger, which plenty of lesser, sillier songs imitated (along with a precious few very smart ones), and now she's imitating them in turn. Elsewhere, such as on "Queen of Me" and the kiss-off "Pretty Liar"—which strains to conjure a double entendre out of repeating "your pants are on fire"—the empowerment clichés accumulate to near Meghan Trainor levels. And "Number One" may be a passable love song, but the way it's recorded here, in a blind listen I'd never have guessed it was Shania Twain.
There are spots where it all comes together. Along with a few of the songs I mentioned at the top of this piece, "Not Just a Girl" effortlessly conveys the wit and spark that's missing from most of the album's acts of self-assertion, seeming to address at once a current partner and the critics who sniped at Twain in her heyday. And "Inhale/Exhale Air," inspired by Twain's own near-fatal bout of COVID-19, is a sincerely eccentric tribute to breathing and all the other things air does for us—filling balloons, making champagne bubbles, giving us a place to throw up our hands. I find it irresistible, like some kind of perversely sunny flip side to Talking Heads' perversely grim "Air" from 1979's Fear of Music, where David Byrne paranoiacally advises, "Some people say not to worry about the air/ Some people never had experience with air!"
Unlike Now, though, Queen of Me lacks a tonal center. Twain hasn't returned to the producers who served her fairly well on the previous album, primary among them Ron Aniello, Springsteen's own most consistent studio hand in the past decade. Instead she has a scattershot group of industry hired guns, mostly from the U.K., and what comes out is a vague array of attempts at contemporaryish country-pop that averages out to "kinda-sorta Taylor." In which case, like her near-contemporaries the Chicks on their last album, maybe she would have been better off just calling in Jack Antonoff himself.
All of which makes me reflect not only on what place today's Twain might find in the world that she helped make, but on how much was lost in the period she withdrew from the field. How much might her continuing presence have helped to stave off the re-machoization of country in the Bush era, which led first to the Chicks' expulsion from the genre and then to the entrenchment of "bro country," which all but shuts women out of mainstream country radio to this day? What kind of further sonic hybrids might she have helped nurture, maybe preparing the way for a world where country would never have reacted with such shock to the novelty of "Old Town Road" a few years ago? Let alone the fact that she missed her chance to make an album with Prince. Prince!
Twain herself would probably shut down that kind of what-if speculation with a who-the-hell-knows shrug. She'd ask me to focus instead on realities like her upcoming tour, with a roster of new-generation opening talent such as Kelsea Ballerini and Mickey Guyton. Whatever she's come through, and whatever might have been, Twain's always wanted to be where the action is, and that's always from this moment on.