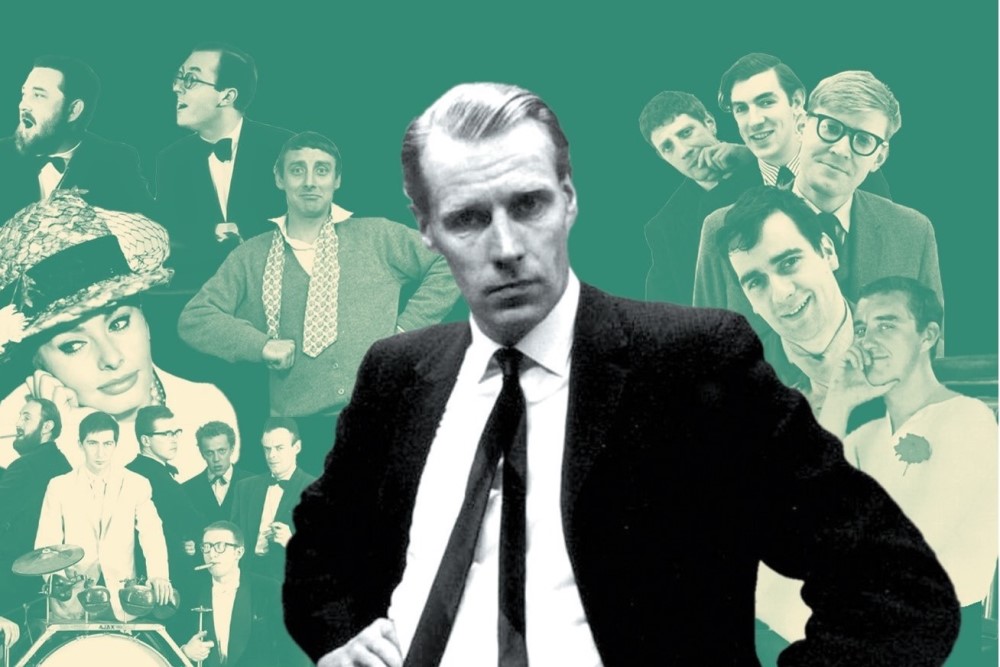 The Ray Cathode single was issued seven months before The Tornados's equally unearthly "Telstar" and was, in time, recognised as a ground-breaking combination of studio-created sounds and pop music. The Ray Cathode handle masked a collaboration between the BBC Radiophonic Workshop's Maddalena Fagandini and George Martin, the EMI employee overseeing Parlophone, the label which issued the single. The Radiophonic Workshop-theme-tuned Doctor Who wouldn't reach TV screens until late 1963, and its title music was released as a single in February 1964. George Martin and Parlophone were musical pioneers.
That wasn't it for George Martin and Parlophone's idiosyncrasies. The label had issued many oddball records, chief amongst which was a stream of comedy releases. In March 1962, before "Time Beat" was out, New Musical Express ran an article headlined George Martin: The A&R Manager Behind the Comedy Successes Forecasts Cribbins, Drake, Sellers, Milligan, Bentine Have Bright Disc Futures.
"With Bernard Cribbins' 'Hole in the Ground' bounding up the best-selling list and Charlie Drake's 'Boomerang' flying high in the American charts, British comedy records are certainly maintaining the popularity they have won in years past," noted writer Alan Smith. "But most of all it's a boom year for the man who's done more than anyone else in putting our own brand of disc comedy well and truly on the map, Parlophone recording manager George Martin. Reel off the comedy stars George has recorded and, apart from Bernard and Charlie, the names include Peter Sellers (with Sophia Loren), Spike Milligan, Michael Bentine, Donald Swann and Michael Flanders." Martin was dubbed an "astute star-finder".
The Beatles would come along in summer 1962 and broaden this perspective without altering the "star-finder" aspect, but it's clear George Martin was no marginal figure before "Love me do" was released. As well as the Fabs, he also went on to work with Gerry and the Pacemakers, Billy J Kramer, Cilla Black and more – mod band The Action too. All of this was covered by the 2001 six-CD set Produced by George Martin: 50 Years in Recording. His jazz recordings were included, alongside Matt Monro, Shirley Bassey, classical material and Seventies work with America, Jimmy Webb and others.
Now, the four-CD slipcase set A Painter In Sound – Pre-Beatles Productions & Classical Influences has arrived. Each disc is themed. The first is titled In All Directions. Disc Two is Experiments With Pop, Disc Three Comedy Surrealist and Disc Four Classical Influences. Both sides of the Ray Cathode single are present but as per the title The Beatles and anything later are not. Despite this, it's not so different in outlook to Produced by George Martin.
A Painter In Sound is a dizzying tribute to this musical polymath. Innovative contemporaries like Joe Meek and Phil Spector never went this far. The first five tracks on Disc One are The London Baroque Ensemble with Karl Haas playing Dvořák's "Serenade for Winds in D minor", "Little Red Monkey" by Frank Chacksfield`s Tunesmiths, Kenneth McKellar's "Corn Rigs are Bonnie", The Kirchin Band's "Bandbox" and "Honeysuckle Rose" by Cléö Laine with the Johnny Dankworth Seven. Bert Weedon crops up, as do The Vipers Skiffle Group, The Temperance Seven and The Alberts. Although pinning down George Martin stylistically is impossible, the thread running throughout is to push boundaries: every recording is as much about the studio and its possibilities as it is the song and the artiste. He shied away from pop singers of the Cliff Richard, Adam Faith, Marty Wilde ilk. No wonder The Beatles flourished.
In the booklet, Martin is quoted as saying "'When I joined EMI, the criterion by which recordings were judged was their faithfulness to the original. If you made a recording that was so good that you couldn't tell the difference between the recording and the actual performance, that was the acme. And I questioned that. I thought, OK, we're all taking photographs of an existing event. But we don't have to make a photograph; we can paint. And that prompted me to experiment".
Correspondingly, A Painter In Sound Pre-Beatles Productions and Classical Influences catalogues pivotal groundwork in the development of modern recorded sound. Without this and George Martin? It's a moot question.