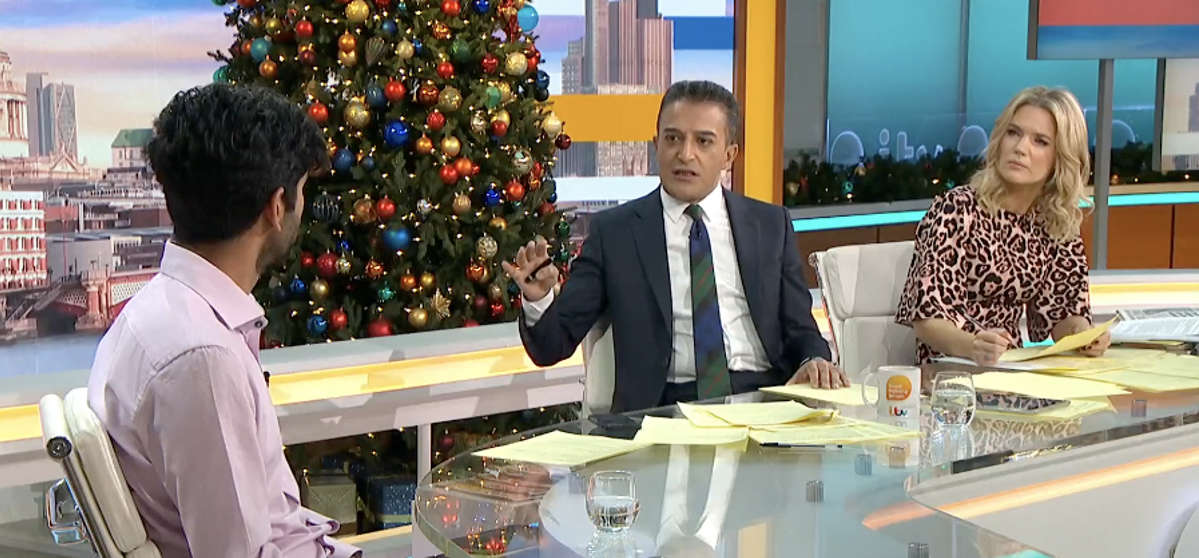 © GMB
Screenshot 2022-12-19 at 12.36.32 PM.png


Good Morning Britain viewers are confused after ambient music played over the NHS strike debate this morning.
The music was played during a panel discussion that included Daily Mail editor Andrew Pierce and Dr Vivek Trivedi, who were speaking about the junior doctor's strike ballot.
Soon after the interruption, GMB's official Twitter page ended up posting original clips of the debate where Dr Trivedi, who is the BMA junior doctors committee co-chair, said: "Poor pay and working conditions are causing doctors to leave the profession or move abroad."
GMB hosts Adil Ray and Charlotte Hawkins have also issued an apology for the glitch.
Many nurses throughout England, Wales and Northern Ireland are striking as they demand a pay rise of 5 per cent above the RPI inflation rate.
The first strike was conducted on 15 December and the second one is set to be held on Tuesday (20 December).
An Ipsos poll shows that 52 per cent of voters support the nurse strikes, with only 27 per cent against.
Nurses on the picket lines said low salaries mean some colleagues have had to turn to food banks to feed their children, while have said staff shortages mean patients are being neglected.
On social media, viewers were confused by what appeared to be a technical glitch, with some joking the GMB discussion was being "censored".
"Can the doctor REPEAT his whole speech? We didn't hear it!" one viewer tweeted.
"I thought it was just me," another wrote. "Bless them they had no idea."
One person wrote: "Someone at @GMB doesn't want us to hear what the Junior Doctor is saying. Pictures ok but sound is being replaced by what can only be described as whale music."
The Independent has contacted ITV for comment.
From news to politics, travel to sport, culture to climate – The Independent has a host of free newsletters to suit your interests. To find the stories you want to read, and more, in your inbox, click here.