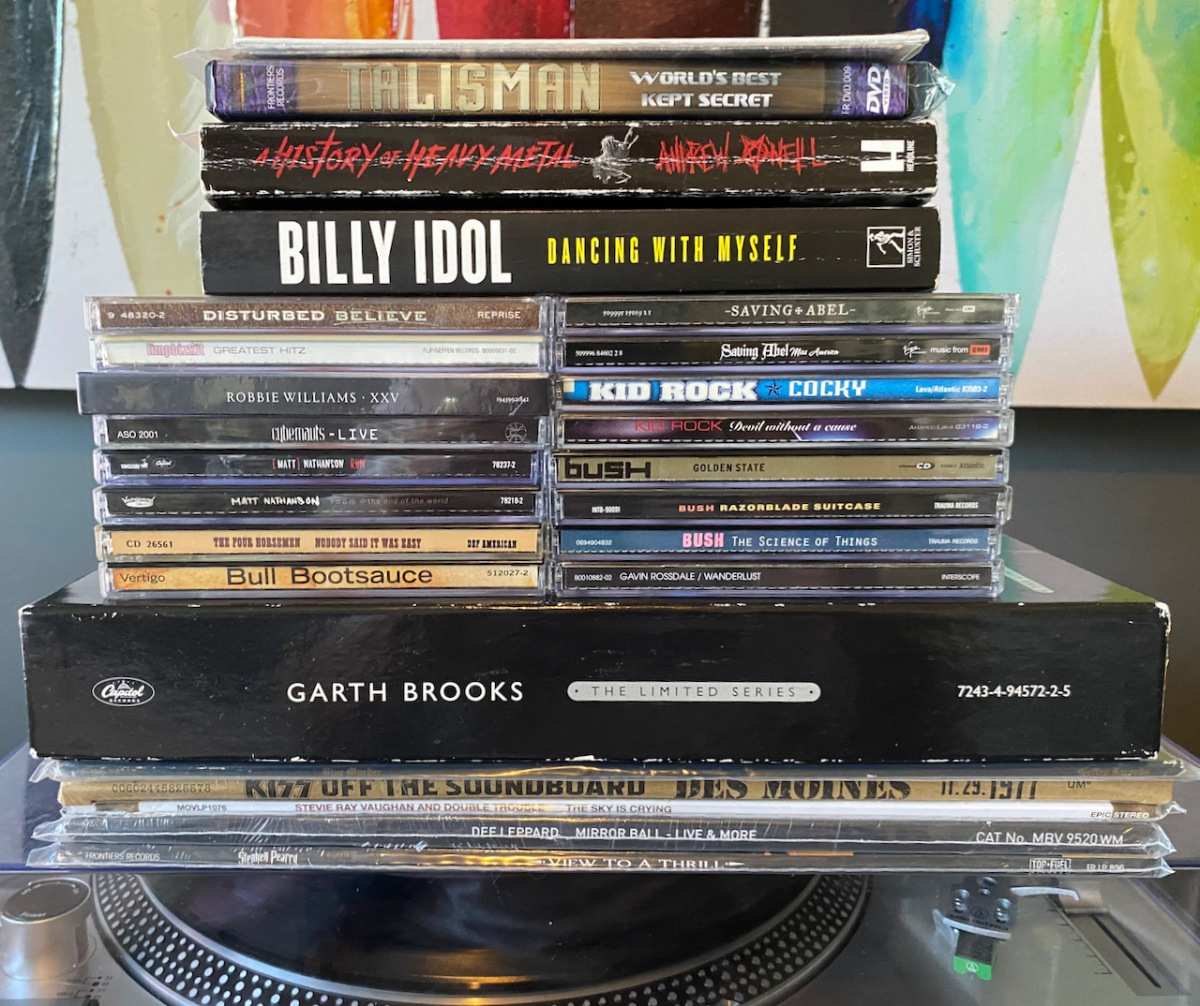 Another month gone by which is good news because it means more Vinyl, CDs, books and even a DVD have been added the collection. And we are kicking this month off a very pleasant surprise from a good friend of 2 Loud 2 Old Music. Mr. Books himself, Aaron, from KeepsMeAlive.com has sent yet another care package. The man believes in giving! This time around we got 2 books and 2 CDs all the way from the Great White North. Be careful what you say in the comments on his site as you are bound to wind up with it. Aaron knows my love for Idol and I have made comments before about the other 3 items…and now I have them. Thanks Aaron…and yes, he left a little note as usual!!
Now to start the month out, during labor day weekend, 2nd & Charles had their buy 5 get 5 free sale and so I hit up the CDs section and stuck to the 5 and 5 rule. Here is the 5 I bought…
And the five I got for free…or vice versa, however you want to look at it…
Then I hit a local record show and picked up a few vinyl and singles. Now, only one single was relatively old. Everything else was fairly new and all three albums were still sealed. Well, they aren't anymore…
The singles…
I got a couple new releases this month as well. First is the 4th in the Off the Soundboard Series for Kiss and might be best one yet. It is from 1977, the classic years…
And then was a new Robbie Williams album celebrating his 25 years as a solo artist. It is a re-imagined/orchestrated collection of his biggest songs. This it the 2 CD deluxe edition that is a little book as well…
I also bought something off eBay…or did I win it…not sure as it makes me feel like I won it but it cost a fortune so not sure what it really is. But I do love it. It is the Cybernauts Live 2 CD set. Very rare, very hard to find. It is Def Leppard's Joe Elliott and Phil Collens with some of the Spiders from Mars guys. Cool stuff…
Then it was ad money spend time. I picked up several items. On vinyl is Blue Murder's debut album which is freaking awesome. It is the gold-stamp promo edition with the hype sticker…
I also picked up a couple more Promo CD singles for Matt Nathanson like I said I was doing last month. 2 more to the collection…
And believe it or not, there are still things for Jeff Scott Soto I am still finding. Here is a 2 DVD set of live shows for his band Talisman which is one of my favorite bands he's been in, if not my favorite…
There was one other thing I bought on vinyl. It was Winger's Pull…well…it showed it up broken…I got my money back, but haven't figured out what to get instead. Here's the broken record…
And that isn't all…I left something off from last month (or maybe the month prior). I know I got it sometime this Summer, but missed it when doing the post. It is a Garth Brooks CD Box Set of his first 6 albums. I like Garth, I'll take it…
And I believe that is everything…well, not really…here is everything…
Thanks for hanging around and visiting the site. I hope you all have a great day!!