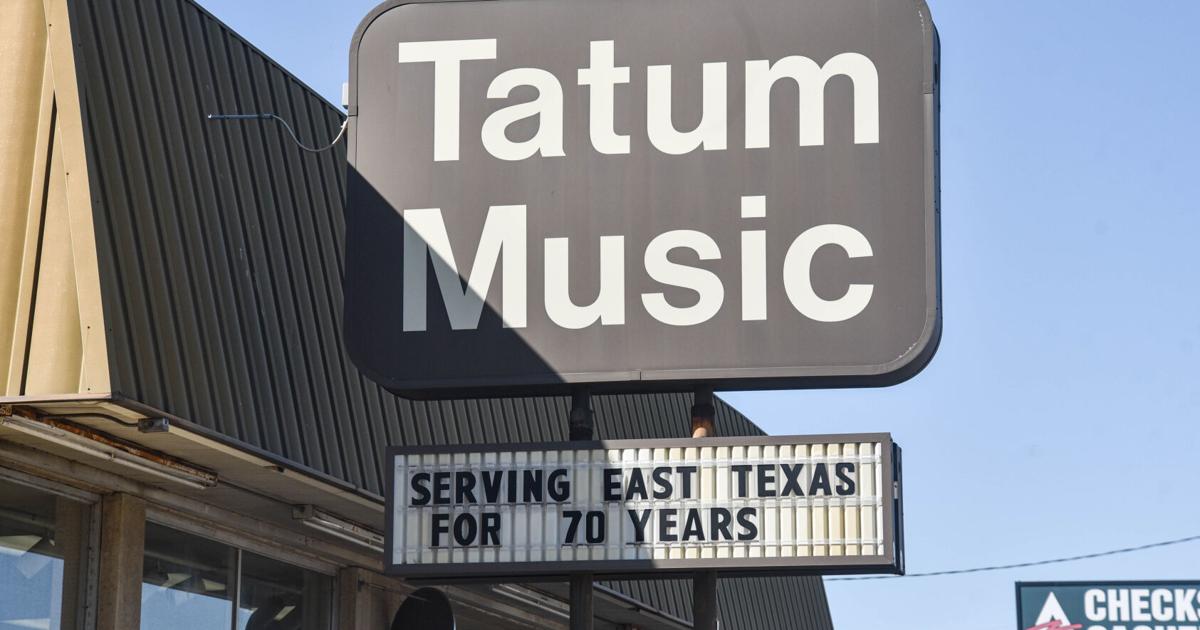 The Tatum Music Company story began when its doors opened for business on Aug. 15, 1948, on East Tyler Street in Longview.
The store, which now has locations at 325 E. Front St. in Tyler and 1501A S. High St. in Longview, was opened by Alto Tatum, former director of the award-winning Gladewater High School band. The General, as Tatum was called by his colleagues, began to call on school band programs in East Texas, determined to use his own experience as a band director to help him meet the needs of area music educators.
The former site of West Melody Shop, which had been owned and operated by the former Longview High School band director Wellborn West, was the original location of Tatum Music Company. West's main focus for the business transitioned to band instruments and repairs, and in January 1949, he hired G.A. Sailor to set up the repair department at Tatum Music Company.
At the time, the nearest shops offering such services were in Shreveport, Dallas or Houston.
In 1955 the company moved to North Center Street in Longview where it remained until 1981.
Neil Grant, former award-winning band director at Troup, Nacogdoches, White Oak and Longview, joined the music store as a partner with Tatum and it became Tatum Music Company, Inc. in 1969.
Due to Tatum's knowledge and influence in the school band industry and growing success, he purchased the former May's Music Company building to expand to the Tyler area. In 1980, the Tyler store moved to its current on East Front Street.
In 2000 Alto Tatum retired from the store leaving Neil Grant as sole proprietor and president of operations.
Grant's eldest son, Doice Grant, a former band director from Carthage and Center, joined the store in 1992, as a school road representative. In 2004, Grant became part owner and vice president of Tatum Music Company, Inc. His father retired in 2010, leaving his son sole owner and president of Tatum Music Company, Inc.
Grant said he knew from a young age he would go on to own and run the store.
"I knew since I was in the fifth grade that I would one day own and operate the store," he said. "I am a former band director and had worked here from age 11 to 18 before going off to college and obtaining a music degree."
Grant said from the beginning, Tatum wanted to focus on the area school bands, which is how Grant continues to run the business.
"Tatum Music has serviced mainly the school's band programs in East Texas for the last 74 years. We sell musical, instruments, supplies, music, and repair musical instruments," Grant said. "Our owners and sales representatives, for three quarters of a century, have performed band clinics free of charge to our school bands."
"Alto Tatum had a great influence both as an educator and businessman. We have not changed the philosophy of the store that he founded. We operate on a very conservative business basis and give our time and talents free of charge to the schools to give back for their business," he added.
Grant said the store has one of the largest and best repair shops in the country, serving more than 100 schools.
"Without these service techs, bands would have a hard time existing," he said.
However, the service to community doesn't stop there. The store continues to give back in the form of free clinics, scholarships, donations and more.
"We have given back to our community by performing free clinics as a 'thank you' for their business. We have also endowed a scholarship with (East Texas Communities Foundation) for an instrumental music major to be awarded each year," Grant said. "We also are giving away $100 per rental purchase contract the beginning of next year to help underprivileged children to honor our 75th year in business."
Grant said the giveaway is currently up to over $50,000.
"The total so far is about $51,000 and will be given out starting next year. My wife and I thought this would be a timely thing to do with the pandemic and inflation putting a great hardship on kids," he said. "We have been lucky for 74 years to have been supported by families who had wonderful support networks. This is a way to get back to the ones you do not."
Tatum Music Company, Inc. continues to have a positive influence on the school band program business by offering top-quality band instruments, accessories and repair service as well as complimentary band clinics by the knowledgeable Tatum Music Company staff.
Tatum Music Company, Inc. is located at 325 East Front Street and can be reached at 903-595-4341.
For more information, visit the Tatum Music Company, Inc. website.