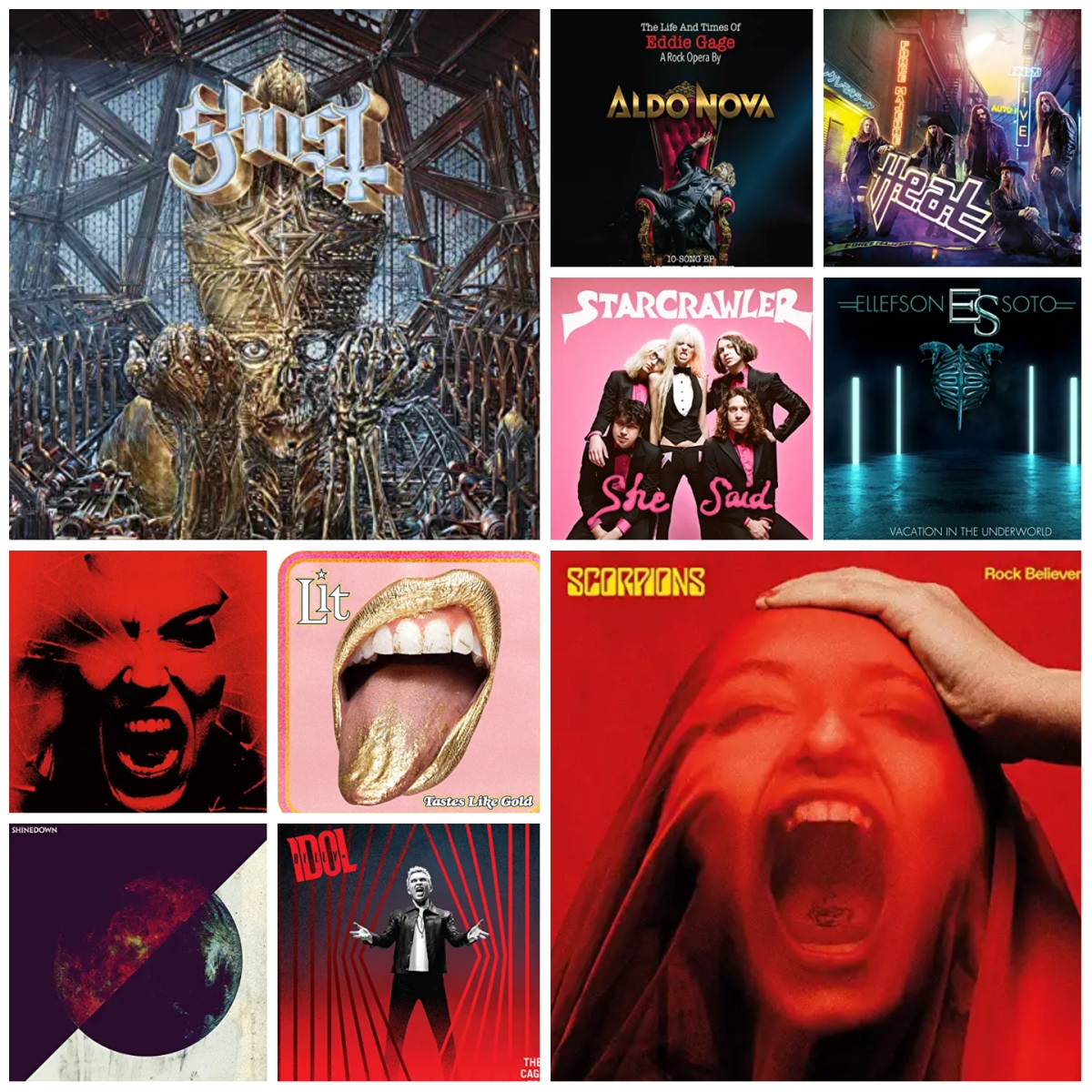 I can't believe we are through with another year. And what a year it was, It saw me complete my goal of one post for every day of the year and it saw me start and still not finish the massive Jeff Scott Soto Series. I still have about 6 months to go on that one. Crazy. It saw some struggles as I had a minor surgery but the two week recovery was hard and then I got sick and was miserable for another two weeks and that put a massive damper on my enthusiasm for writing. For October, I barely wrote anything. Thankfully, I keep ahead so it had no impact on my readers, you probably didn't even notice, but for me, it was hard. But we are way past that now and all is good.
With the Soto series and the Scorpions series, I actually didn't spend much time with new releases, but I did have a bunch that I liked and wish I spent more time with. So, we are going to go through the Top 10 Rock Albums of 2022 and of course there will be some honorable mentions, a worst of album and some of my favorite Non-Rock albums. Sit back, grab a cup of coffee if it is morning, or a beer if it is any other time of day…and enjoy!!
#10 – HALESTORM – BACK FROM THE DEAD: Lzzy Hale and the boys are back from the dead and they are rocking the hell out of you with this one. With the title track, then "Wicked Ways" and "The Steeple", they showed they mean business and are carrying the torch for rock. Listen to this and you know Rock Ain't Dead!! And if you want more great ones, I really like "Psycho Crazy" and the ballad "Raise Your Horns"…oh sooooo good!!
#9 – H.E.A.T. – FORCE MAJEURE: I thought there last album was amazing with Erik Gronwell on vocals, but Erik left and is now with Skid Row who also released an album this year. Original H.E.A.T. lead singer, Kenny Leckremo, returned and they released another stellar release. I like it way better than the new Skid Row…sorry Erik. Such stellar tracks as "Back to the Rhythm", "Nationwide", "Tainted Blood" and "Demon Eyes" to only name a handful.
#8 – STARCRAWLER – SHE SAID: This L.A. pop/punk, rock band exploded on to the scene a few years back and with their new release they caught my attention. What a great record. I love lead singers, Arrow de Wilde's vocals as she has such a great tone. They even played our local record shop, Repo Records, a couple months back. I really enjoy "Roadkill", "Stranded" and "Broken Angels". This is not something I would typically listen, not sure why, but wouldn't. However, there is something about them that drew me in and never let go.
#7 – ELLEFSON/SOTO – VACATION IN THE UNDERWORLD: The first four songs on this thing are just brutal with the title track, "Like a Bullet", "Sharpen the Sword" and "The Reason". A totally killer opening set. But it doesn't wane from there. It is more heavy guitars, bass and pounding drums. An assault on the senses and you won't press charges. Jeff Scott Soto is vicious in his vocal attack and Ellefson shows he means business. A welcome new project from Soto.
#6 – ALDO NOVA – THE LIFE & TIMES OF EDDIE GAGE E.P.: Now, this is a 10 song set so not really an E.P., however, the full album is over 20 songs and two CD set and hasn't been released yet. This was a sample of the Rock Opera that Aldo has in store. This 10 song set sat in my CD player and long time and got played a lot!! I find that the story is great of a guy who sold his soul for rock & roll and what happens to him. Great song such as "Hey Ladi Dady", 'Free Your Mind", "King of Deceit" and "On the Way to the Psycho Ward" were all fantastic and told great stories…Aldo release the whole thing NOW!!!
#5 – BILLY IDOL – THE CAGE E.P.: What two E.P.'s in a row, come on they aren't albums. So what, they are great. Now Billy's is only 4 songs, but they are great. The title track, "The Cage", "Rebel Like You" and "Miss Nobody" are all great Idol tracks and shouldn't be missed. But "Running from the Ghost" is the prize on this one as it is Billy at his best and being introspective on his life and he expressed it perfectly in a song. We might not get albums from him as he seems to like this whole E.P. every year kind of thing. And I'm okay with that if they are as good as this.
#4 – LIT – TASTES LIKE GOLD: This for me was my Summer album as it was a total blast and a great reminder of everything I loved about Lit. It is all right here. Go sit by the pool and crank this baby!! So many great songs including "Yeah Yeah Yeah", "Mouth Shut", "Do It Again", "Kicked off the Plane" and "The Life That I Got". And that is only part of them. I really awesome blast from the past and glad they are back in full form.
#3 – SHINEDOWN – PLANET ZERO: Shinedown are back with another concept album, but for me, it was the songs and not the concept even though it is a good concept about not losing our humanity or bowing to the chaos of life. A 2LP set full of 20 tracks they rock especially "Planet Zero", "Daylight", 'Dead Don't Die" and one of my favorites, "A Symptom of Being Human". If you like Shinedown at all, then this is a must pick up as it will rock you hard as Brent Smith is at his best vocally.
#2 – SCORPIONS – ROCK BELIEVER: Wow!! Did the Scorpions come out of nowhere with their best album in decades and that isn't an exaggeration. They brought back their old school 80's rock sound and in a big way. Klaus' voice just gets better an dhow is that for someone who has been doing this for 50 years! It's insane. Check out such great songs as "Gas in the Tanke", "Rock Believer", "Shining Of Your Soul", "Seventh Sun" and "Peacemaker". This one blew me away with how good it turned out to be. Totally unexpected and totally welcomed!!
#1 – GHOST – IMPERA: Tobias Forge just keeps bringing it album after album with Ghost. Impera is no different although it is. I like the Ghost sound as it is metal, it is 80's rock, it is arena rock and even pop all rolled in to one. How he does it, we don't know just glad he does. This album is now the first Ghost album I have bought and now as a result I am starting to get all the rest so that should tell you something. The best tracks are "Kaisarion", "Call Me Little Sunshine", "Hunter's Moon" and "Darkness at the Heart of My Love" and I could list more but you get the point. Tobias has made me a believer in Ghosts. He can haunt me always now.
HONORABLE MENTION:
In no particular order…
Ozzy Osbourne – Patient Number 9: Ozzy shouldn't be putting albums out this good this late in his career, it is unheard of. This time around he had a lot of guest guitarist including Jeff Beck, Eric Clapton, Zakk Wylde and Tony Iommi. My favorite tracks were "Immortal", 'No Escape from Now, Patient Number 9 and most especially Degradation Rules. It made honorable because I think I liked his last one a little more (if only slightly).
Hollywood Undead – Hotel Kalifornia: After 8 albums, this rap metal, rap rock band out of L.A. is still bringing the aggressive music to the masses. I don't know why I love these guys so much, but I guess it is because I like the aggressiveness of the lyrics and the music. I need a release. Love to listen to them while I'm driving. They keep their greatness going with this one with songs like "Chaos", "World War Me", "Ruin My Life" and "City of the Dead" to name a some. Worth checking out.
The Alarm – Omega: Mike Peters is ill and has been pumping out music. He has done 6 albums in 6 years and all of it has been quality material. He is having a rather prolific moment while he battles chronic lymphocytic leukaemia. Whatever the reason for this output, as fans we are reaping the benefits. I wish him all the best and hope he beats it and is around for years to come. Thanks for all this great music!! On this one I really like "Protect and Serve" and "We Got This" along with "Still Unsafe" and "Gods and Demons" plus many more. This one just missed the Top 10.
Def Leppard – Diamond Star Halos: Def Leppard finally bring us a new album some 7 years after their last one. Is this their best, not by a long shot, but I enjoyed it immensely this year. Any time I can get new music from them, I'll take it. There were a lot of good songs including "Take What You Want", "Kick", "Fire It Up", "Open Your Eyes" and my favorite "Liquid Dust". They had moments of all their albums on here and I think that is why I liked it. Didn't love it, but it deserves an honorable mention at the very least. Glad to have it.
Megadeth – The Sick, The Dying and The Dead: I was never a big Megadeth fan, but with their last album Dystopia, that changed and has continued with their new album. I find these last two to be more accessible for people like me and it has me even interested in their back catalog as well. My favorites on this album are the title track plus "Life in Hell", 'Night Stalkers (with Ice-T)" and "We'll Be Back".
MACHINE GUN KELLY – MAINSTREAM SELLOUT: How the hell did this get nominated for a Grammy as Best Rock Album. Proof one that the Grammy's have lost touch with all reality. This is so not rock and is completely unlistenable. It sounds like a bad Blink 182 ripoff. Total trash. What do people see in this garbage??? The best songs on here are NONE!!!
I always like to mention the albums I liked this year that wouldn't be listed in the rock label. Here they are…
Richard Marx – Songwriter: What I loved about this is how Richard had 5 songs that were pop, 5 that were rock, 5 that were country and 5 that were ballads. They funny thing is there isn't much difference between any of the sounds, but just enough to make that categorization. Whatever he wants to call them, for 20 songs, there were so many great songs on here including "Moscow Calling", "Same Heartbreak Different Day", "One Day Longer", "Believe in Me" and "We Are Not Alone". There are more but I need to write about the other albums now.
Will Hoge – Wings on My Shoes: I am a huge fan of Will. I have all his albums and saw him in concert this past year as well. He can't really do any wrong for me. And his new album did not disappoint. I really loved his dig at Trump with "Whose God Is This?" and live it was even better. The other new songs that were worth grabbing are "John Prine's Cadillac", "Queenie", "All I Can Take" and "It's Just You". Do yourself a favor and check this man out.
James Bay – Leap: James Bay is a pop artist who has some rock tendencies at time. But I love his vocals and his style (I wish I could pull of that hat). This is his third album and he can craft a great, catchy song and again, that tone of his vocal just grabs me. A great pop singer and not a bad guitar player either. I really like "Give Me the Reason", "Nowhere Left to Go", "Everybody Needs Someone", "One Life" and "Silent Love".
Harry Styles – Harry's House: Yes, I like Harry Styles, I can't help. You have my Kids to thank for that. He is a great pop singer and has so many great songs that are like ear worms that burrow in to your head and you can't get the song out of it. So many great tracks on here including the big hit "As It Was", but I really love "Late Night Talking", "Music From A Sushi Restaurant" and even "Little Freak". He is doing something right!
Robbie Williams – XXV: Now this isn't a typical album. It consists of all his classic hits newly orchestrated by Jules Buckley, Guy Chambers and Steve Sidwell, and re-recorded with the acclaimed Metropole Orkest. The copy I got came with a book and a bonus CD of 10 additional songs. I think he did a great job and reconstructing the songs.
Matt Nathanson – Boston Accent: This is a different album for Matt. It isn't as pop as his earlier work. He is taking a slight turn and trying something a little left of center. He is keeping it fresh and trying to grow as an artist. The one thing the album hasn't changed is his brilliant song writing and his lyrical phrasing as it always a delight. I really like "Picture", "German Cars", "Boston Accent" and "Beginners".
And there you have it. All the albums I enjoyed in 2022. Some surprises for me and some that weren't. I am glad each year we do get some great new albums to keep our listening pleasures fresh. It is nice to get new material from newly discovered artist or even from old favorites. Music is the always the best and can get you through any situation and why I love it so. Let me know what your favorites were for the year and tomorrow we will see what is coming for new music in 2023!! Can't wait for that!!
Thanks for always stopping by and spending some time!!