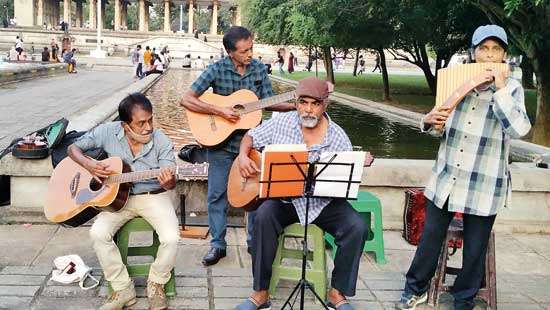 ---
The writer (at the back playing guitar) joins a group of music enthusiasts at Independence Square to form an alliance that believes that music heals  
It all started with a wish to reach out to a world that seems to be slipping away.
After three years of Covid and lockdowns, followed by the nightmare of a crashed economy and political mayhem, everybody's in need of help, sympathy and a degree of comfort.
But it's hard to reach out to people in the streets. There's a lot of mistrust. In a broken society, no one has much faith in anyone or anything. 
But music is a great healer. On Christmas day, I decided to reach out to a bleak world by playing music in a public space.
I planned to go alone, but a friend volunteered to accompany me and also take a few photographs. We selected Vihara Maha Devi Park as our venue. There wasn't the usual holiday crowd; the lack of public transport, fuel prices and cost of living inducing most people to remain home. But it was a beautiful evening and the park and the Town Hall were nicely lit.
The goal was to open a direct communication between me and the fascinating world of music and people who create marvelous sounds with all kinds of instruments, to go beyond being a listener or fan to a more proactive role as a musician
For me, it was a big psychological breakthrough as well. As an adult learner of music, I had to work very hard towards my goal of becoming a musician, and I started with the violin, a difficult instrument.
The goal was to open a direct communication between me and the fascinating world of music and people who create marvellous sounds with all kinds of instruments, to go beyond being a listener or fan to a more proactive role as a musician.
But there was an acute fear of playing for an audience. Playing for yourself at home is one thing. I remember venturing out long ago and then panic setting in.
But there comes a time when you know it's now or never. Either it happens now or it won't happen, ever. On Christmas day, I gathered enough nerve to venture out, and it wasn't the same old world of complacent securities, or comfortable illusions covering up latent insecurities, that I stepped into.
But the sun sets without being overwhelmed by humanity's myriad problems. On a good day, global warming notwithstanding, it will set a great stage for us to step out and do our thing. To go out and reach out, being comforted by the fact that you still have enough resources to offer the world a little listening pleasure.
I took the violin because it can be heard above the din of motor traffic. I played a few short pieces – Hymn for Joy from Beethoven's Ninth Symphony, Greensleeves and my own composition.
I was there for just half an hour, but it made a world of difference to me. A few walkers and even a motorcyclist stopped to listen. I wasn't asking anyone for a favour. But I was doing one for myself; in terms of self confidence and self esteem.
Musicians don't need to retire. My age group was among the worst affected by the pandemic; leading to depression and suicide. Things only got worse last year. But, if you can play any instrument, you still have a great resource. You can go out and play, and disseminate your music via social media. You don't need to be famous or have a band or a contract.  As for antiquated laws, the police often turn a blind eye to a solitary musician on the street. Or you can go to a police station and obtain permission. 
The violin sounds beautiful in the dusky light. But any instrument played well can transport us to other, better, worlds. That's the power of music.
The same night, a friend asked me to come and play near All Saints Church, Colombo 08, after the midnight mass. As I waited on the pavement, a group of policemen came to check me.
They said people inside were alarmed that a stranger with a black case was waiting outside. After checking my ID, and once I explained why I was there, they relaxed a bit, but asked me to leave.
"Go home, have a drink and have a good night's sleep without wasting your time," a senior policeman told me.
It was a stark reminder of the times we live in. I forgot that church audiences have been traumatised by the 2019 Easter bombings. 
Nothing has been resolved, but we need to move on. The healing power of music can help.
The responses to my Face Book post that night was overwhelming and surprised me. There are many people out there so pleased that you have reached out to the world with a little music making in these difficult times.
One thing leads to another. Iqbal Mohomed, driving force behind the Guitar Festival who has done more than anyone else to promote free music in Sri Lanka, called and said he was performing with others at the Independence Square on the first of January by singing Guantanamera and other songs. I decided to join them.
True to his political beliefs, he was celebrating Cuba's national day as well. I don't engage in politics, but I believe in the power and pleasure of music. Shakespeare has said a lot about music – 'If music be the food of love, play on', and 'the earth has music for those willing to listen.' He must have been a big music fan.
Iqbal was there with his wife Gayathri Gananathapillai, and old friend Rohan Silva. Gayathri plays guitar as well as flute, while Rohan can sing and play harmonica. Iqbal brought along his piano accordion.
Again, the dusky weather was lovely as we sat between the two ponds and played. The repertoire included Guantanamera and Bob Dylan's Where Have All the Flowers Gone, Russian and Latin American folk songs and Iqbal's own soulful orginal ballad dedicated to national hero Monaravila Keppetipola.
The crowd wasn't large, but we had an attentive audience. A Malaysian visitor strode over to inquire about Gayathri's Andean flute. He said there is a similar instrument in Malaysia and Indonesia.
Music can get strangers talking. That's the power of music.
Now we plan to get together again at the same venue on February fourth. Music is addictive. I think it's the best thing one can get addicted to. As Bob Marley said, when music hits you, you don't feel the pain.