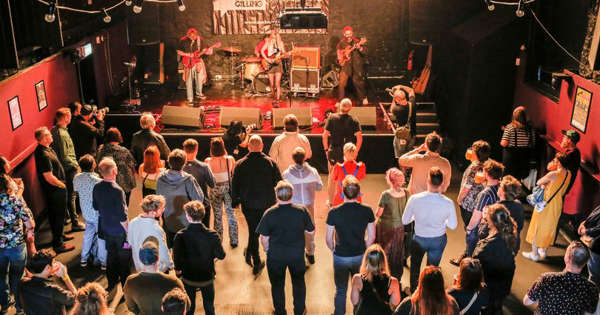 A second wave of artists have been announced for a popular Teesside music festival on Easter Saturday.
Stockton Calling is back on Saturday, April 8 over multiple music venues in the town including The Arc, The Georgian Theatre and Ku Bar. The day festival will showcase both local and national talent, with Teesside-based band Komparrison among the second wave of artists announced following the first line up being revealed back in November.
Cardiff-based punk band Panic Shack are one of the 15 bands announced for the day festival, after playing on Teesside back in October at Middlesbrough's Twisterella festival. Headliners Circa Waves will close the Stockton event, with the Liverpool band well known in the music world for their songs 'T Shirt Weather' and 'Stuck in My Teeth'.
READ MORE: Stockton Calling: Popular music festival announces first headline act for 2023 show
The newest wave artists announced for Stockton Calling include: Dilettante, Eevah, Esmae, Eyesore & The Jinx, Faye Fantarrow, Jen Dixon, Komparrison, Loose Articles, Nice Guy, Panic Shack, Scruffy Bear, Silvi, Sisi, Sugar Roulette, The Collectors and Viia.
Komparrison will headline BBC Introducing stage on the Saturday, set up at Sticky Fingers Late Bar and Burger Joint, with other Teesside bands and artists including Hartlepool's Michael Gallagher, Stockton's Gone Tomorrow and Newcastle's The Pale White also taking to the many stages set up around Stockton town centre.





© Stockton Calling
Komparrison


Festival organiser Paul Burns said: "Our second wave of confirmed artists really demonstrates Stockton Calling's commitment to showcasing fresh and talented artists. It's 100% guaranteed that most, if not all, of these artists will walk away from playing our festival with a bunch of new fans.
"We're stunned at the quality of the line up this year – especially those drawn from the ranks of our amazing local artists, making the selection process incredibly tough."
Tickets for the festival, which takes place on Easter Saturday, are now on sale. Stockton Calling regularly sells out and the 2022 event enjoyed a record attendance following its successful return after an enforced two year gap.
Stockton Calling starts at 12pm on April 8, with tickets priced at £35. To book your ticket or for more information, visit www.stocktoncalling.co.uk.
READ NEXT: