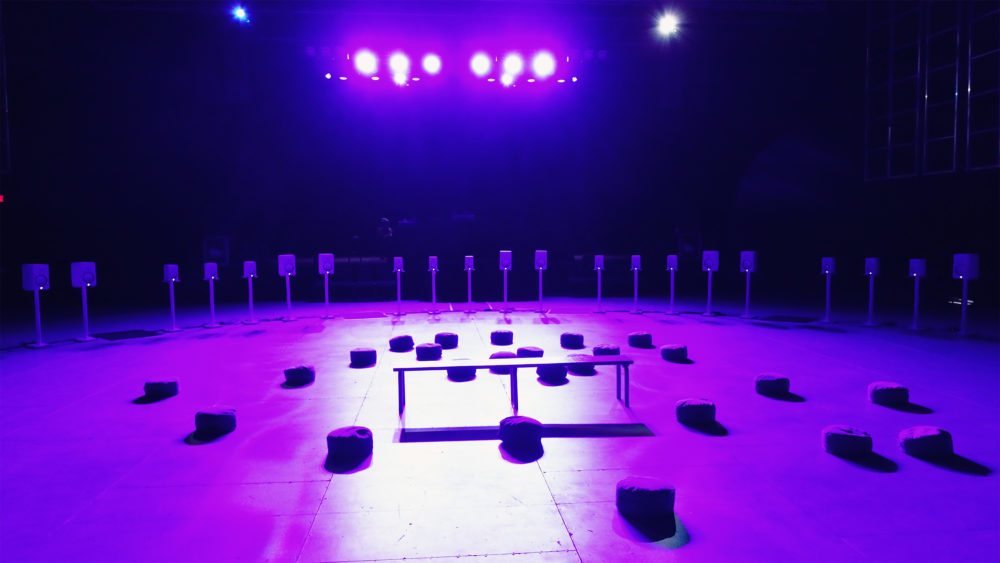 During year one of the COVID-19 pandemic, most of us were trapped inside, unable to do much but stare glossy-eyed at the news, contemplating an uncertain (and terrifying) future.
Composer Murray Hidary had it no different, except that he was productive.
​​Hunched over his piano, Hidary spent his lockdown playing and recording bits of sound that would eventually become "Distanced Together," a new, immersive musical experience at North Adams' Massachusetts Museum of Contemporary Art that invites everyone to briefly slide back to those early pandemic days, reflect, feel, heal, and — hopefully, finally — move on. ​
​​This Friday and Saturday will mark the culmination of Hidary's solo recordings as they morph into a live abstract orchestral timepiece in the heart of MASS MoCA's 10,000-square-foot Hunter Center.​
With 60 musicians arranged in 12 string quartets, taking on the shape of a circular clock, audience members will be invited to traverse Hidary's composition from their own unique perspectives, as they did the pandemic.
"When I conceived of this idea, there was this element not just of the emotional rollercoaster we all went on, but of the experience of time," Hidary says. "Sometimes time felt stretched, sometimes it felt extremely punctuated — there was an elasticity to time."
Fluctuating between unexpected moments of percussive intensity, then wide dilated openness, Hidary sees his score as a portal for people to walk through and re-experience the pandemic's initial effects on time and our collective journey around it.
"You can almost hear in the piece the phases that we all went through, in terms of the initial uncertainty, tension and fear," says Hidary. "Then there's the triumph and hopefulness of the human spirit, and waves that go back and forth.​​"
As the musicians — a mix of players from New York City's Contemporaneous ensemble, and North Adams' local instrumentalists led by conductor David Bloom — do what they do best, audience members are free to roam.
"Some people might be walking clockwise, counterclockwise, going backwards or lying down on pillows scattered across the room, as if time has stopped for them," says Hidary. "They essentially become these abstract hands on the clock."
This is where the true meaning of Hidary's work resonates, in the audience's interaction, as each person individually, and communally, traces the arc of the pandemic.
"No matter what your experience of the pandemic was, either you or someone you know experienced some kind of hardship," says Hidary, who, while composing, was heavily impacted not only by his own hardship — which included the death of an aunt in the first month of the pandemic — but by the stories he heard from friends and witnessed on the news.
"As much as we want to get back to life as normal and usual, until we address the pain, it's always going to be there," Hidary adds. "It's very difficult to heal something we don't feel through."
​​​Hidary has built a career on helping people reflect, heal — even transcend — through music and meditation. In 2014, he created MindTravel, a music experience company that hosts events in which people move through a beautiful landscape and listen to improvisational music created by Hidary himself. MindTravel has since taken thousands of people on musical journeys across the globe. ​​
​​"Part of the experience is about creating a very intimate space for reflection and catharsis so that whatever we push under the surface, we can bring forward, address, and truly put behind us."
Even though Hidary's live show launches Friday, Saturday's two performances, which fall on MASS MoCA's annual "Free Day," may be more indicative of this overarching goal, as upwards of 2,500 people are expected to visit the museum.
"We love to get something that's really spectacular to offer our community when all the barriers are gone," says Sue Killam, MASS MoCA's director of performing arts. "The piece was written amongst the pandemic, but is really about people coming back together."
After Saturday, "Distanced Together" will live at MASS MoCA through Feb. 4 as an installation consisting of thousands of feet of speaker wire connecting 60 speakers that take the place of each musician, effectively playing a specific section of Hidary's lasting composition.
Hidary and his team have plans to bring the installation to major cities across the US, recreating the live performance with local musicians.
On a more personal level, the title, "Distanced Together," refers to Hidary's relationship to his younger sister, who died years before the pandemic, but whose memory resided with him during those long isolated days at the piano, making it clear that this work is also for people who hold long-standing grief.
"For those who don't typically reflect on their experience, something will happen in their lives that thrusts them toward death, challenges, impermanence," Hidary says. "One of the places people turn for answers is the arts, which can provide such solace, an embrace of the emotional condition. Especially music."
---
"Distanced Together" will be performed live at MASS MoCA on Jan. 28 and 29, and will continue as a 60-speaker sound installation through Feb. 4.