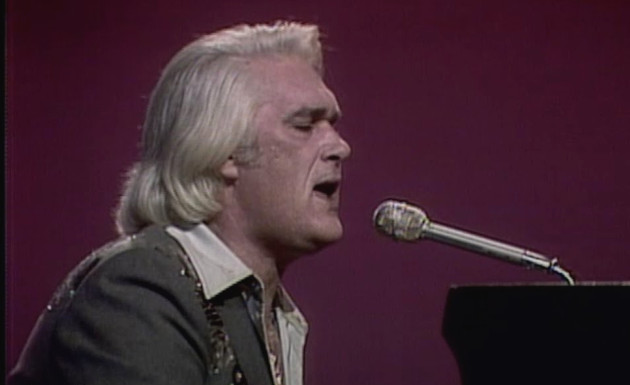 There are many iconic songs in the history of country music. But there are only a small handful that have gone on to define what it means when someone says "country music" to millions of people. The song "Behind Closed Doors" written by Kenny O'Dell, and performed by Charlie Rich is definitely one of those songs, and it might be the most recognizable song in country music where a piano plays the melody. A Top 10 country song of all time? "Behind Closed Doors" most certainly deserves to be in that discussion. And it was recorded 50 years ago today: November 28th, 1972.
Charlie Rich did not start his career in country music. After leaving the Air Force in 1956, he purchased a 500-acre farm in West Memphis, Arkansas, and would drive over the Mississippi River bridge at night to play piano in jazz and R&B outfits in Memphis clubs. Eventually he ended up at Sun Studios in Memphis as a studio musician. Sam Phillips didn't see him as a performer though, chiding that Rich was too jazzy. At one point, Sam Phillips handed Charlie Rich a stack of Jerry Lee Lewis records and told him, "Come back when you get that bad."
For years Charlie Rich struggled as a performer since he wasn't dirty enough for rockabilly or country, and not distinctive enough to make it in the world of pop. But when the Countrypolitan sound became all the rage in country music, it gave Charlie Rich an opening. Where some more hard country artists struggled to perfect the more genteel Countrypolitan approach, Charlie Rich's balladeer style and smoothness fit the era perfectly.
They called Charlie Rich The Silver Fox. Looking at even some of the very earliest promo photos of him during his Sun Records days, silver streaks emanated from Charlie's sideburns and widow's peak. By the time he became a country artist, Rich was pretty much full on grey. But it wasn't just the premature pigment loss Rich suffered from that resulted in the nickname, it was his ability to charm ladies with his delivery. This was part of the calculus when he stepped into the studio to record "Behind Closed Doors" with producer Billy Sherrill.
"Behind Closed Doors" wasn't just Charlie Rich's breakout single. Everything about the song had been meticulously planned out to custom fit it to Charlie and the persona they wanted to present to the listening public. Songwriter Kenny O'Dell wrote the song specifically for Rich, with Sherrill tinkering with a few lines to get it dialed in perfectly. Released in April of 1973, the lyric was a little racy for the time, and some radio stations refused to play it initially, or outright banned it from playlists. But as we've seen from other iconic songs in country history, all that mild controversy did was boost the song's popularity. "Behind Closed Doors" was pure sex, and Billy Sherrill played the public perfectly, while Rich turned in the performance of his career.
One critically important note about the song is that even though Charlie Rich was a piano-based country performer and "Behind Closed Doors" is a piano-based song, it's not Charlie Rich who played the iconic intro and piano part in the studio. Instead, it was Country Music Hall of Famer Hargus "Pig" Robbins that composed and played the simple melody that sets off "Behind Closed Doors" and immediately evokes fond memories whenever you hear it.
In fact, throughout the 80s and 90s, and up to today when Time Life broadcasts their infomercials on network television for their collections of country classics, not only do they lead segments with Rich's "Behind Closed Doors," the "Pig" Robbins piano part is also used as a music bed that plays as the announcer explains what the music collection includes.
"Behind Closed Doors" didn't just hit #1 in country and #15 in pop, the song eventually won both Single of the Year and Song of the Year from both the CMA and ACM Awards. It won the Grammy for Best Country Song, and Best Country Vocal Performance for a Male. Rich also won Best Male Vocalist from the CMAs in 1973, and the album Behind Closed Doors won for Album of the Year.
The song's success also sparked off a succession of seven #1 singles from the Silver Fox leading into 1974. The songs "The Most Beautiful Girl," "There Won't Be Anymore," "A Very Special Love Song," and "I Love My Friend," all fed into Charlie Rich's massive popularity and persona. He was the biggest star in all of country music, and in 1974, along with winning Album of the Year again, the CMA's dutifully awarded Charlie Rich with the most important award that exists in country music, the coveted CMA Entertainer of the Year trophy.
Along with "Behind Closed Doors," what happened the next year at the CMA Awards went on to define Charlie Rich's career. This is when the reigning Entertainer of the Year flipped out his zippo lighter, and while reading the name of John Denver as the new 1975 Entertainer of the Year, burned the envelope with John Denver's name. It's been disputed over the years if Rich was just drunk or did it in protest. But either way, the incident would go on to overshadow the rest of his career, and Charlie Rich soon lost his grip as one of the top performers in country.
Nonetheless, here 50 years later, "Behind Closed Doors" has persevered, and still stands as one of the greatest country songs of all time, telling a patently human story, with just a little bit of risque spice to keep it interesting.