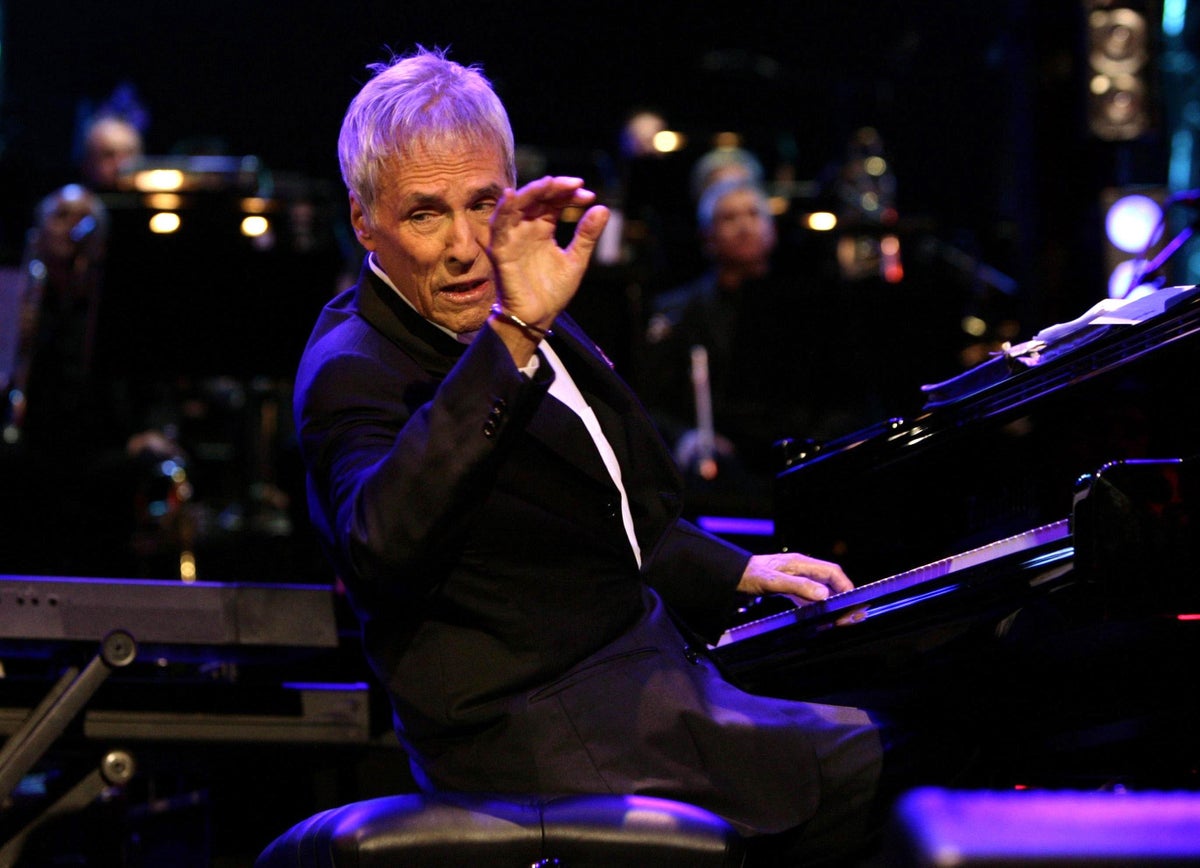 Burt Bacharach was one of the most distinguished and successful composers of the last century.
Working most fruitfully with the lyricist Hal David, his addictively intelligent songs embodied unconventional time signatures, shifting chords and a fusion of pop and rock, jazz, and Latin elements. With Bacharach's adventurous song structures married to David's words, often bittersweet lyrics as though from a cinematic school of realism, the duo were like the personification of New York's Brill Building hit factory.
Although not all these songs were with David, Bacharach, who has died aged 94, enjoyed more than 50 UK Top 40 hits, and more than 70 in his native US. A remarkable 38 of these tunes were with the classically trained former gospel singer Dionne Warwick with whom the pair began working in 1962. Several of Bacharach's compositions were bigger hits in the UK than in America.
The pair first hit the charts in 1957 with "The Story of My Life", a US No 15 hit for Marty Robbins; covered in the UK by Michael Holliday, the song hit the top of the charts. By the end of that year, they had a further UK No 1, with Perry Como's "Magic Moments", entering the top five in the US.
With his silky movie-star good looks and string of beautiful wives, Bacharach seemed almost a Playboy-magazine image of an apparently sophisticated 1960s Manhattan male.
He and Hal David stood at the heart of the cultural paradox of white Jewish men providing hits for several of the era's top black R'n'B acts. But sometimes they drifted apart: during a lean three-year spell from 1958 to 1961 Bacharach toured Europe and America as musical director for Marlene Dietrich. Whilst with Dietrich, Bacharach became a believer in astrology: Dietrich consulted her astrologer who told her not to fly on a plane that was then forced to make a crash landing.
Working briefly with lyricist Bob Hilliard, Bacharach scored in 1960 for The Drifters with "Please Stay" and Gene McDaniels with "Tower of Strength" (a UK no 1 for Frankie Vaughan); the next year, with Mack David and Luther Dixon, he charted The Shirelles' "Baby It's You" – covered by The Beatles on their first album.
Reunited with David later in 1961, Gene Pitney's "The Man Who Shot Liberty Valance", inspired by the John Ford western, was a US No 4. Over the next two years, they gave Pitney further hits: "True Love Never Runs Smooth" and their first classic, "24 Hours From Tulsa", David's lyrics offering almost a film script in themselves.
Following Dionne Warwick's first hit, in 1962 with "Don't Make Me Over", the pair's next three tunes for her flopped. But the next year's "Anyone Who Had a Heart" established her as a chart staple. No 8 in the US, it was a UK chart-topper for Cilla Black. Dionne Warwick's next record "Walk On By" was an even larger US hit.
An only child, Bacharach had grown up in a world in which a certain celebrity in the family was taken for granted. Starting off as a men's fashion buyer for department stores in Kansas City, Newark and New York City, his father Bert Bacharach transferred this skill into becoming men's fashion editor for Collier's and Pic magazines; from 1960 until 1978 he wrote "Now See Here", a nationally syndicated newspaper column; and he was author of a number of books, including Bert Bacharach's Book For Men and Right Dress: Success Through Better Grooming – clear clues to his son's suave appearance.
Given classical piano lessons as a child and teenager, Bacharach soon discovered a love of jazz. Especially taken with bebop artists like Dizzy Gillespie and Charlie Parker, he would sneak into Manhattan clubs whilst underage to watch them. "When I was 15," he said, "some of the guys at school and I formed a band. Ten pieces, with myself at the piano. We played at parties and at the local dances."
Studying at multiple universities, Bacharach studied music, including jazz harmony, an important ingredient of his songs. Of all his teachers, he later said, the violinist and composer Darius Milhaud was most significant; a French Jewish émigré to the US, Milhaud had been appreciably influenced by Brazilian music and by jazz he had heard in Harlem in 1922. "Before I went into the service during the Korean War I studied with Milhaud at the Music Academy of the West which was a summer programme," Bacharach wrote in his 2013 autobiography. "I wrote a 'Sonatina for Violin, Oboe and Piano'."
Having hung out with the likes of John Cage in New York, Bacharach was concerned this piece for Milhaud was "too melodic". "Don't be afraid of writing something people can remember and whistle. Never be afraid to be melodic," Milhaud disabused Bacharach's purist anxiety.
After his national service spell in the army, Bacharach became a professional pianist. "After my army discharge, I played piano in night clubs, including Nino's Continental, on Fifty-third Street, and the Bayview, on Fire Island." This led to him becoming an accompanist for such highly successful singers as Vic Damone (whom he had met as a dance-band arranger with the US army in Germany), Steve Lawrence, the Ames Brothers and Paula Stewart; in 1953 he married Paula Stewart, remaining with her for the next 13 years.
"I started writing my own orchestrations as a kind of self defense," he said. "No matter how good the words or the melody of a song, it has got to be showcased properly. And then, you can write a great song, but you need a successful record if you're going to have a hit. You need that certain magic to happen at a recording session. Much of the feeling of a record – my records – comes from the rhythm section."
In 1966 Bacharach married actress Angie Dickinson: they were together until 1980. Dickinson was a portal for him into the world of movie scores. That year he wrote the title song for "Alfie", a No 1 UK hit for Cilla Black and a lesser US success for Dionne Warwick, and the score for "What's New, Pussycat", Tom Jones enjoying a Top 5 hit with the title tune. For 1969's Butch Cassidy and the Sundance Kid he earned an Oscar and a Grammy for Best Score, as well as a number one hit for B J Thomas for "Raindrops Keep Falling on my Head".
With Hal David he worked with playwright Neil Simon in 1968 on a musical based on Billy Wilder's 1960 film The Apartment. Promises, Promises, the result, ran for three years on Broadway, another Grammy winner.
Also in 1966, Bacharach had himself stepped into the recording studio. Hit Maker! Bacharach Plays the Bacharach Hits presented largely instrumental rerecordings of his best-known songs and was a UK hit. Over the next 13 years, he released five more album collections of his own hit songs. The last of these, 1979's "Woman", was an ambitious song cycle recorded live in the studio with the Houston Philharmonic Orchestra.
During the early 1970s, the Bacharach and David songwriting partnership ended. Their musical version of the Frank Capra movie Lost Horizon led to a knot of lawsuits, with each suing the other, and Warwick suing both of them for failing to provide her with new material. Bacharach worked with other lyricists, but it was not until 1981 that he returned to the top of the charts with "Arthur's Theme (The Best That You Can Do)" by Christopher Cross. The song was taken from the film Arthur, which Bacharach also scored. It brought him a third Oscar; also it united him with lyricist Carol Bayer Sager – he married her the next year, and they adopted a son, Christopher, in 1986.
Professionally the pair were also strong together: as well as Sager's own "Stronger Than Before", there were other hits: Roberta Flack's "Making Love", Dionne Warwick's "That's What Friends Are For" as well as Warwick with Jeffrey Osborne's "Love Power", and Patty Labelle and Michael McDonald's "On My Own".
In 1991, however, Bacharach and Sager divorced. Two years later, he married Jane Hansen, a ski instructor 32 years his junior with whom he had two sons.
In the mid-1990s "easy listening", a supposedly kitsch form into which Bacharach's music had been logged since the underground album movement of the late 1960s, was turned on its head. No longer considered a guilty pleasure, it became recognised as a valid art form, a feature of chill-out rooms at raves. Oasis's Noel Gallagher, the era's biggest group, spoke reverently of Bacharach's work, joining him onstage at London's Royal Festival Hall on "This Guy's In Love With You"; and there were similar tributes from REM, White Stripes, John Zorn and others. There was even a Bacharach cameo role in Mike Myers' 1997 film Austin Powers: International Man of Mystery.
Two years before Bacharach had joined up with Elvis Costello to write the song "God Give Me Strength for Grace of my Heart". It was included on 1998's Painted From Memory, an album containing a further 11 Bacharach-Costello songs, with equal cover credits. The pair undertook a small tour and in 1999 won a Grammy for the album's "I Still Have That Other Girl". The previous year the duo had collaborated on "I'll Never Fall in Love Again" and made a joint cameo appearance in the Austin Powers sequel The Spy Who Shagged Me.
Bacharach's star once again was in the ascendancy. There were tribute concerts to him in London and New York.
In 2007, however, tragedy struck him: his daughter Nikki, born to his marriage with Angie Dickinson and suffering from Asperger's syndrome, took her own life.
Recovered, Bacharach continued to tour globally, though on a smaller scale. In 2013, at the age of 85, he set out on the You Gotta Be Kidding Tour – so called "because that is the only possible response to doing 13 concerts at this time of my life".
He continued to tour past his 90th birthday, performing to crowds in the US, UK and Europe in 2018 and 2019.
Burt Freeman Bacharach, composer, born 12 May 1928, died 8 February 2023