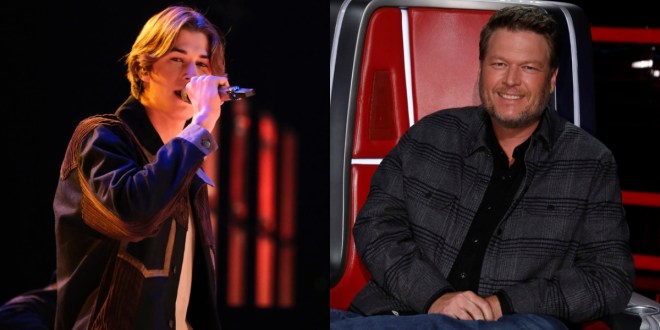 Blake Shelton says 16-year-old Brayden Lape has "a future in Country music" after an epic country cover on NBC's The Voice.
Prior to taking the stage during rehearsals, the small-town Michigan teen recalled the moment that made him fall in love with music and made him realize that a career in country music is the path he wanted to pursue.
"My dad was talking to this band playing at this bar, and they let me go onstage. I think I was 14," Lape explained. "I was so nervous. I got up on the microphone, did a little sound check, and I started singing. That day changed my life. It's made me fall in love with performing and led me to where I am today."
Lape then allowed his unique vocals to shine during Monday evening's (Nov. 21) Top 13 Live Playoff show with an impressive cover of Kenny Chesney's "Come Over," a chart-topping Chesney hit that was co-written by Sam Hunt.
The fast-rising country star, who is the youngest contestant on the show, made his way around the stage as he belted out the lyrics to the massive country hit. 
"I told you I wouldn't call, I told you I wouldn't care / But baby, climbing the walls gets me nowhere / I don't think that I can take this bed getting any colder / Come over, come over, come over, come over, come over," Lape sang on the chorus of the tune. 
Following his performance of the country hit, The Voice coaches Blake Shelton and Gwen Stefani praised his vocal abilities. 
"He's so naturally gifted," Shelton gushed, before his Shelton's wife Stefani added, "so gorgeous and so tall."
"Wow, There's just something about you, you don't really have to do much, and that's rare," Stefani added. "Honestly, you just be you. I want you to remember that about yourself, because you're 16, and you're just gonna get to know yourself better. I think what you do is so pure. That's what people love about you."
"You just have that thing, she's right," Shelton said, agreeing with Stefani's comments.
Blake Shelton went on to rave over his unique vocal range before declaring that he has what it takes to succeed in Country music. 
"Trust me. Other people on this panel really like you, too, just so you know," Shelton added. "Man, you just have that thing. You have a solid country voice that's different and unique. You have a future in country music, not to mention how far you're going to go on this show. You've got it all, man."
Since the show was a live playoff, Lape needs America's vote to move onto the next round of the competition. The fate of Lape's future on the popular singing competition show will be revealed during Tuesday evening's (Nov. 22) one-hour episode of The Voice on NBC.
Lape has been a fan-favorite on The Voice since he first took to the NBC studios stage during his blind audition, where he put a country twist on Niall Horan's "This Town." 
The Voice returns on Tuesday evening (Nov. 22) at 8/7c on NBC.