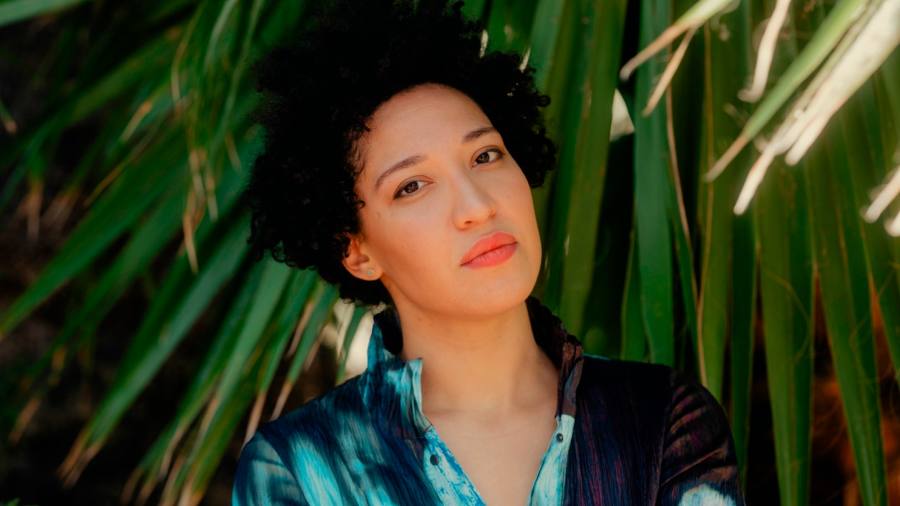 When St Louis-born soprano Julia Bullock was 10 years old, her singing teacher explained that her vocal powers would not mature until she reached her late 30s. "I baulked at that, because who in the world wants to wait that long!" says Bullock, laughing. "But I'm now 36 . . . and yeah, I'm able do more than I was even six months ago. Because it's not just about biological development and technical understanding, it's also about giving yourself space to organise in every respect."
Bullock has progressively emerged as a thrilling talent in the classical and opera world — and beyond it. Her sound pulses with electricity and empathy and she has embodied an array of roles onstage, inspiring US composer John Adams to call her his "muse" (and select her for his 2017 opera Girls Of The Golden West, which returns to LA in the new year). Her devastatingly beautiful lead in Handel's oratorio Theodora at London's Royal Opera House was a highlight of 2022. She has proved a spirited collaborator — with the San Francisco Opera, and as an artist-in-residence at the New York Met — and a singular curator; her recitals reveal a vivid bond between poetry, politics and protest songs. Somehow, all these qualities are encapsulated within just seven tracks on her debut album, Walking in the Dark. She has an elegant way of making things click.
We meet on a crisp afternoon at a Munich biergarten, not far from where Bullock lives with her husband, German pianist/conductor Christian Reif. The pair originally met while studying at prestigious NYC conservatory Juilliard, and Reif, along with the London Philharmonia, accompanies her on Walking in the Dark. She seems warmly settled in Munich, though her home life has been heavily punctuated with international projects. Since we met, she has given birth to her first child.
Bullock barely paused her live schedule; during the brief period when she couldn't be onstage herself, she remotely curated this November's Rock My Soul Festival at the LA Phil — and uploaded a joyous Instagram clip where she shimmies around her apartment to "I'm Every Woman" by event headliner Chaka Khan. Her album, though, taps into a life-long passion for the recorded form.
"I really came to love music through recordings," she says, between sips of fruit soda. The first gig she attended — Tina Turner, when Bullock was eight — set a high bar ("She was incredible; I would weep if I met her now!") and she grew up replaying her musical inspirations through stacks of CDs and film footage. "I watched the video of Tina Turner's Private Dancer tour so many times," she laughs, "and wow, her energy and presence inspired me." 
She has arguably found a kindred spirit label in Nonesuch Records, which was originally established as a classical label with a non-exclusionary ethos, and its contemporary catalogue places Bullock in expansively creative company, alongside John Adams, Philip Glass, Laurie Anderson, KD Lang, David Byrne, Buena Vista Social Club and many more. The label's chair emeritus Bob Hurwitz first met Bullock at a recording of Adams's nuclear opus Doctor Atomic. "It wasn't just her musicality, the clarity of her diction, her ability to embrace a wide range of music she deeply cared for in an authentic way," says Hurwitz. "Above all, Julia produced a sound that instantaneously drew you in." 
"Bob said, 'I think the most important thing is for the album to be a reflection of where you're at right now'," says Bullock, smiling. "I went through tons of material."
While Bullock is rightly praised for her technical range — the intricate coloratura of her vocals for Adams; her gloriously gutsy blues delivery — she also deserves credit for her seemingly infinite playlist of influences. Her parents, without much money, encouraged her to explore dance classes, performing-arts camps, and community theatre. She recalls growing up with her parents' collections of '60s pop, folk and soul; although her father died when she was just nine, his sense of activism and art made an impact. Later, her stepfather would introduce her to classical western European music and indie cinema, while she simultaneously got into '90s girl groups and neo-soul.
She has personal history with each of the songs she has selected for her album. Its track-listing opens with her tender rendition of Oscar Brown Jr's "Brown Baby" (also memorably covered by Nina Simone in 1962, and enduringly resonant in the contemporary Black Lives Matter era); it spans powerful African American spirituals and symphonic works, including a startling excerpt from Adams's 2000 "nativity oratorio", El Niño, and closes with her dreamy take on Sandy Denny's 1969 classic "Who Knows Where the Time Goes?".
Walking in the Dark derives its title from lyrics in another of its tracks, "One By One", originally by 1950s NYC singer-songwriter Connie Converse. Bullock has previously drawn parallels between Converse's poignant melody and the emotional directness of 19th-century lieder songs; on record, she seems to unfurl every detail of its meaning.
"Converse writes so much about solitude, isolation, self-protection, and needing connection, without casting darkness as negative, frightening or ugly, and lightness as the optimal force, as it's often been positioned culturally," she says. "Instead, darkness is a place of protection, intimacy, desire." 
For Bullock, raised with mixed heritage in what she describes as a segregated St Louis and rising through what remains a frustratingly homogenous industry, this strikes an undeniably heavy chord. "Whether conscious or not, the racist, prejudiced, oppressive, sexualised, exoticised messages I received, both within my home and outside, were social-conditioning tactics that took me years to recognise and process as damaging," she says quietly. "Going into the arts was a real space of release and relief for me."
When she first discovered that she could immerse herself in texts and scores and start making connections, the effect was illuminating. "Synapses in my brain just started to fire," she beams. "And it excited the hell out of me." 
It still sounds revelatory. Bullock's voice and identity resounds; her creative routes feel limitless. "Music helps you channel very clean emotions in super direct ways, and to go through transitions very quickly," she says. "The emotional metabolism of music is so fast." But her expressions stay with you — and they are always worth waiting for.
'Walking in the Dark' is released by Nonesuch Records on December 9, juliabullock.com