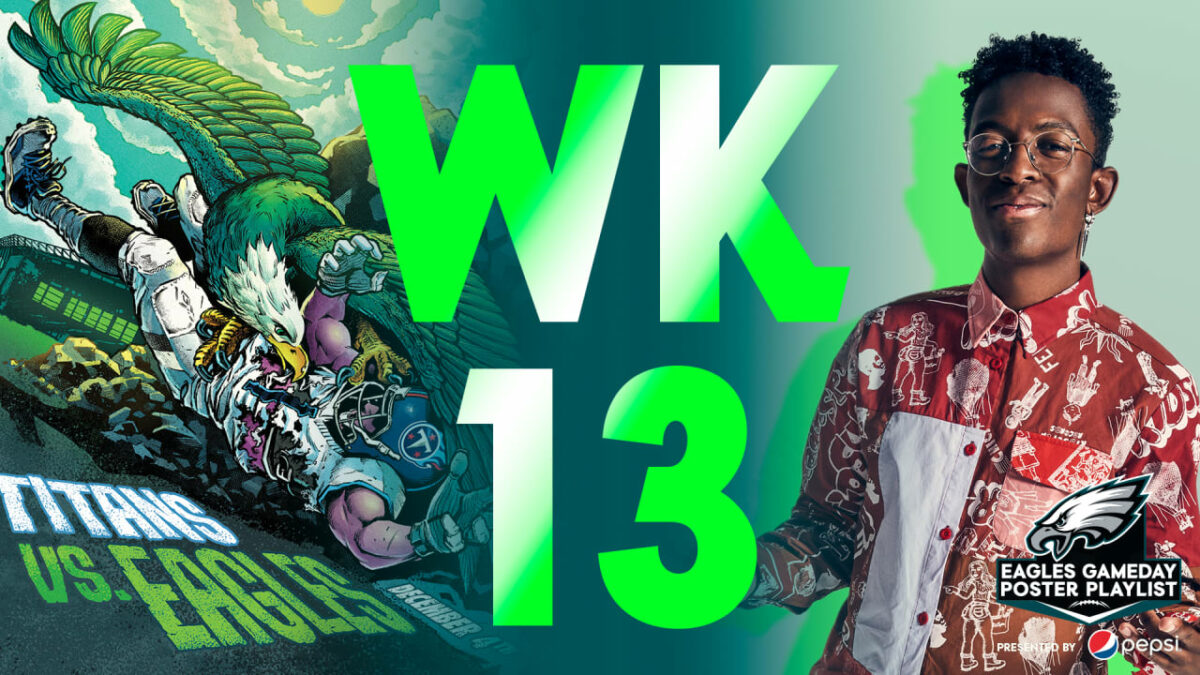 For the Birds: Channeling Personal Success
BRELAND revealed the full extent of his crazy Eagles fandom last January when he created an unofficial playoff anthem called "For the Birds." The song went viral on TikTok and earned him an invitation to walk the field with his dad prior to the Eagles-Cowboys game in Week 18. That was an extra special moment considering his midnight green roots.
"I've been an Eagles fan my whole life. My childhood room was green," BRELAND said. "I haven't missed a game in over 20 years. Me and my dad text every Sunday if we're not in the same city, and we go to one game together every year."
The hype song he created for Eagles vs. Titans pays tribute to the heroes of previous eras on the first verse, then jumps forward to what has been an unbelievable 2022 campaign:
Going savage on my Brian Dawkins;
We fly high but they still gonna try and underdog us;
We always finish harder than the way we started;
They don't talk about us now the way they did in August.
There are timely references to Jalen Hurts and Nick Sirianni, plus an ode to the Liberty Bell:
NFC East can't compete these days, we the reason the league loses sleep these days;
In the midnight threads or the Kelly green, I be willing to bet we the better team;
Got the Liberty Bell, we gonna let it ring, we don't need no one else, that's on everything.
"Hopefully, it gets everybody fired up about a season nobody really anticipated," BRELAND said. "In my lifetime, the only years I could say the Eagles were definitively the best team in the league were the two Super Bowl years (2004, 2017). Just trying to channel some good karma."
Good karma for himself and for the Birds. You see, BRELAND has noticed an interesting parallel between his own successes and those of the hometown football team. His debut album "Cross Country" released back on September 9 to rave reviews while peaking at No. 15 on Billboard.
"If the Eagles are winning — maybe it's placebo or maybe I'm crazy — but if the Eagles win on Sunday, I expect my week, in my personal life, to be a great one," BRELAND said. "I feel like we're aligned in that way, if that makes sense. This has been the best year of my life professionally, and the Eagles are off to their best start in franchise history."
This summer, BRELAND will join legendary songstress Shania Twain for select tour dates all over the United States, including a stop in Camden, New Jersey on June 9. Look for the skinny local kid with the infectious voice tearing up the stage, possibly wearing a No. 20 Eagles jersey. One thing he won't ever be is definable.
"Some of you may not know that BRELAND is actually my last name," BRELAND wrote on Twitter. "It was a name we inherited from slavery and each generation in my family has largely struggled since. I wanted the BRELAND name to be associated with greatness."