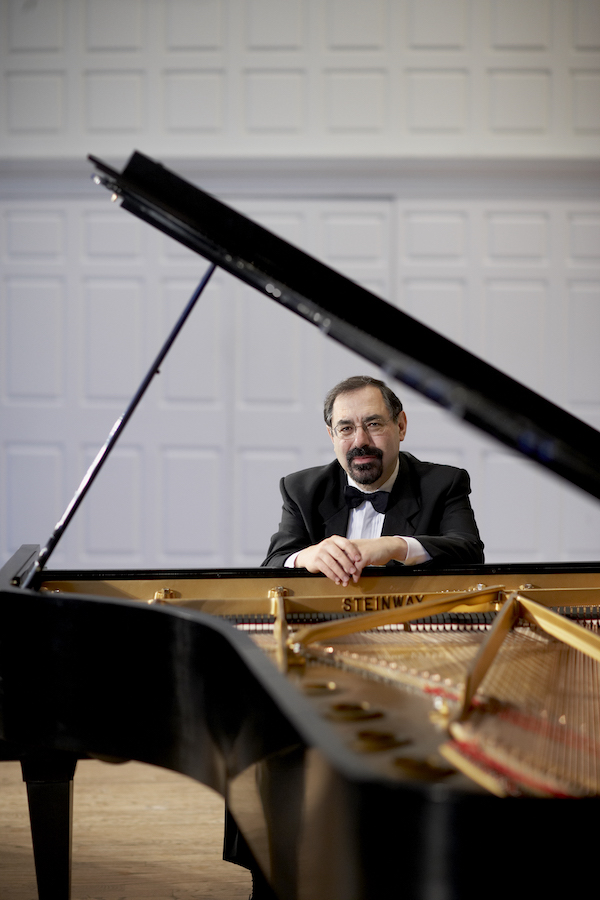 Valentin Silvestrov is the most prominent Ukrainian composer of the last 100 years. He is also one of the important voices that came out of classical music in the last years of the Soviet Union, working his way through and past the orthodoxies of both East and West.
Silvestrov met pianist Boris Berman, a decade his junior, in the Soviet Union in the 1960s. It was then that Berman began exploring Silvestrov's music, a decades-long process that culminated in a sublime concert Tuesday night at the Baryshnikov Arts Center, where the pianist played music from the composer that spanned 60 years.
This was clearly just as much a personal as musical project. Berman spoke about each piece, delivering his own insights as well as passing along Silvestrov's previous comments and explanations of his work.
Berman's playing was deeply dedicated to the music. His touch was light and clear and also had a sense of determination to have the music sound as transparent and beautiful as possible. Berman spoke about the inherent delicacy and gentleness in Silvestrov's aesthetic, which was merely one part of this performance—there was no concession to the expressive weight of Silvestrov's composing. (Silvestrov is currently living in Berlin while Ukraine fights off Russia's invasion.)
That quality was clear in the earliest work, Triad, from 1961-66, through Five Pieces (2021) and Three Pieces, March 2022. No matter the tonality, mood, or structure of the piece, there was a powerful sensation—something Berman brought out that one doesn't often hear on recordings—of a deep expansiveness that came from an inward contraction. That was not a paradox; Silvestrov's music has an introverted focus while also being completely open to the listener, he is like a performance art figure going about private tasks while featured in a display window.
The opening Triad switched between a skittering atonality and quizzical tonality, contrasting quickness and stillness. While post-Schoenberg atonality was the orthodoxy in the West, it was avant-garde among Silvestrov's peers. The composer's gradual move to tonality (also echoed in various ways by Alfred Schnittke and Arvo Pärt) disappointed them but Silvestrov followed a path that sounded clear in Triads and the following work, Sonata No. 2. The music seemed to explore multiple paths, but consistently teased out luminous, lyrical phrases that centered the expression and the listening experience.
Kitsch Music (1977) was a clear and palpable transition in this concert. Through Berman's introduction, and especially his playing, one heard Silvestrov exploring both personal and cultural memory—tonality was more than a formal and structural means, it was a way to live inside, and at the forward edge of, history. That meant music with a fundamental simplicity, the goal to state a single idea, but that also kept recalling fragments of Brahms and Chopin.
Berman's playing, which was already lovely, became special here and completely absorbing in its beauty and focus. This ran through the final two works (and the encore, Postludium), collections in a larger set of bagatelles.
Berman quoted Silvestrov as saying the bagatelles were "full of lofty insignificance," and no critic could describe them better. The music's recursive phrases were again fundamentally simple, but the way they came in repeated waves created accumulating, and gripping, sensations. The music insisted that even the smallest thing deserved attention, that the most private experiences were as profound as the most public utterances. This was profound musical art.
Leave a Comment