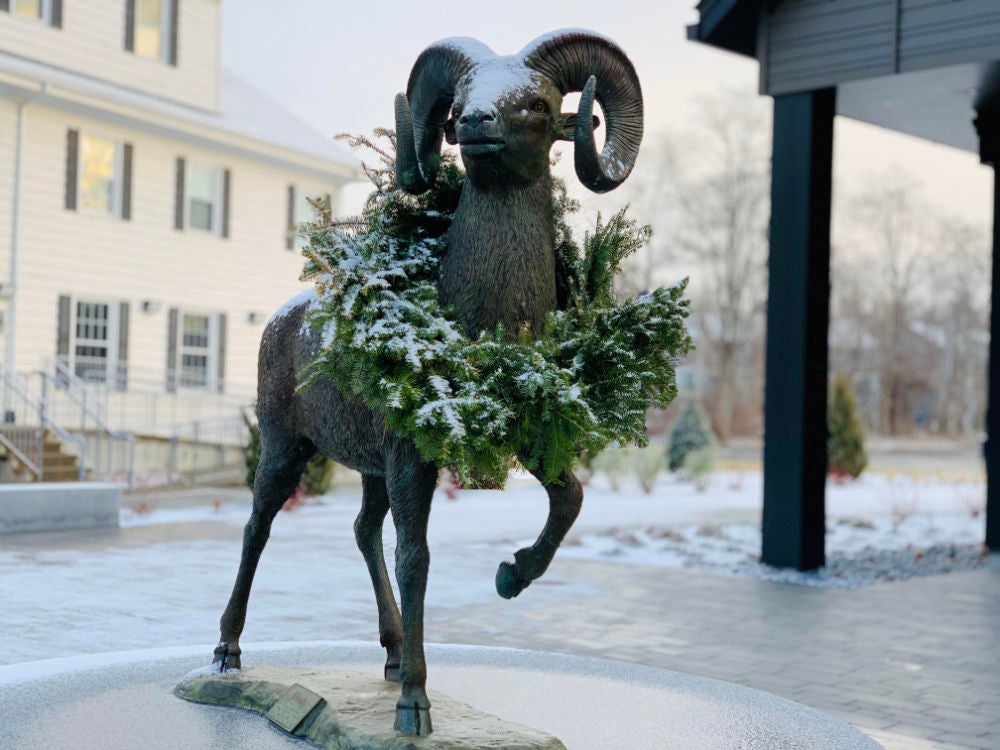 KINGSTON, R.I. – Dec. 2, 2022 – 'Tis the season of holiday concerts and the University of Rhode Island is featuring two shows that will ring in the season in their own way.
For those looking for offerings other than holiday tunes, there is also a full slate of semester-ending shows from the University's Concert Band, Wind Ensemble, Concert Choir, and more. All concerts will be held in the Fine Arts Center Concert Hall, 105 Upper Collage Road, Kingston. Tickets are $15 for the general public; $10 for students and seniors 60 and older.
The always-popular holiday concert featuring the Symphony Orchestra and University Chorus opens the season Saturday, Dec. 3, at 8 p.m. For tickets, go to the event webpage.
The chorus, backed by pianist Nathaniel Baker, will present "Peace and Light," a concert of traditional spirituals and classical and contemporary pieces by such masters as Mozart and Mendelssohn and contemporary composers Joan Szymko, Elizabeth Alexander, and Susan LaBarr. The chorus will open with Szymko's "Myr, Zaraz" (Peace Now), which was written in response to the war in Ukraine.
The orchestra will perform Tchaikovsky's magical Symphony No. 1, movement 1. Nicknamed "Winter Daydreams," the symphony has the "charm and spirit" of the composer's famous "Nutcracker" ballet, said orchestra director Sam Hollister. The concert will also feature a suite of piano pieces by Elfrida Andrée, Scandinavia's first female cathedral organist and Sweden's first female orchestral conductor. Hollister arranged the Romantic era piano pieces for orchestra.
"Andrée wrote prolifically for the organ and piano, yet her gorgeous works are often unheard in the orchestral world," he said. "I am honored to bring some of her works to life in an orchestral format so that we may appreciate their warmth, creativity, charm, and ability to capture the holiday spirit."
The orchestra and chorus will join forces on Mendelssohn's "Verleih' uns Frieden" (Grant us Peace). "The message of 'Verleih' uns Frieden' is a beautiful reminder of peace during the holiday season," said chorus director Elizabeth Woodhouse. "It is one of my favorite pieces and it is especially exciting to be able to perform it with the orchestra."
'A Soulful Holiday Celebration'
If you're looking for a more jazzy, R&B or soulful twist on the holiday season, the Jazz Big Band is teaming up with the Jazz Vocal Ensemble on Saturday, Dec. 10, at 8 p.m. in the Concert Hall for a show of holiday classics and a few musical surprises. For tickets, please go to the event webpage.
Atla DeChamplain, a jazz vocalist who was mentored by the legendary Jon Hendricks, joined URI in August 2021 as an assistant teaching professor in the new amplified voice program. This fall, she launched the Jazz Vocal Ensemble, which performed with the Big Band for the first time earlier this fall.
"I am thrilled for the opportunity to collaborate with the Big Band," she said. "It's something I wanted to do at every institution I've taught, but URI is the first to pull it off. I'm grateful to be part of URI music because we're not afraid to try new things, and the students are thriving."
Ricki Rizzo, a music major in amplified voice and jazz studies, has performed with the Big Band as a member of the ensemble and as a soloist. "Being able to sing with such a talented group of individuals has allowed me to experience what it would be like performing with a professional big band," she said. "Not only have I had a great time playing with them, but they have provided me feedback that has allowed me to grow as a vocalist."
The concert will include new gospel compositions from resident artist, composer and pianist Alton Merrell, and a number of instrumental pieces by the Big Band. 
"Doctor Merrell has worked with our jazz students this semester on the relationship between jazz and gospel music," said Emmett Goods, director of the Big Band. "He's also taken our students through his own highly complex arrangements. This is a concert not to be missed."
The rest of the lineup
Along with the holiday concerts, the next few weeks will host performances by other University ensembles:
On Friday, Dec. 9, the Concert Band and Wind Ensemble will present back-to-back concerts starting at 7:30 p.m. in the Concert Hall. Both ensembles are under the direction of Brian Cardany, URI's director of bands.
The Wind Ensemble will perform works by American composers, including "Chester Overture" by William Schuman, "Fantasia for Band" by Vittorio Giannini, "Variation on a Medieval Tune" by Norman Dello Joio, and "Suite of Old American Dances" by Robert Russell Bennett. The Concert Band's program will include some of the most popular composers of the medium – James Curnow's "Fanfare and Flourishes," David Holsinger's "Three Tapestries," Michael Mogensen's "Evókatah," and Franco Cesarini's "Greek Folk Song Suite."
Tickets can be purchased at the concert webpage.
 On Sunday, Dec. 11, the music of URI student composition majors will be featured starting at 7 p.m. in the Concert Hall. The concert is free and open to the public.
The concert will feature 11 works by 10 student composers, ranging in styles from jazz and popular music to such classical periods as contemporary and baroque. Along with the work of the composers, the show highlights the talents of more than 40 student vocalists and musicians who bring these original compositions to life.
"Having a composers' concert every semester is an immensely rewarding experience for the composers," said Eliane Aberdam, music professor and teacher of composition. "Along with helping composers build their portfolios, they get to hear what their music actually sounds like, how the balance between parts work (or not), and see for themselves the level of feasibility in actual performance by humans, as opposed to the playback of a computer. Composing is a lonely experience, so the concerts and rehearsals offer a way to connect with people – performers and the audience."
On Monday, Dec. 12, the Concert Choir will present an encore performance of its mid-fall concert, "Do Not Leave Your Cares at the Door," which features new works by Aberdam. The choir, under the direction of Mark Conley, will also perform an additional movement of Aberdam's "Doors," along with a piece by Renaissance composer Josquin des Prez and a chant by medieval mystic and composer Hildegard von Bingen. The concert starts at 7:30 p.m. in the Concert Hall. Tickets can be purchased here.
For other Music Department performances – such as convocations, recitals, and smaller ensemble concerts – check out its events webpage.