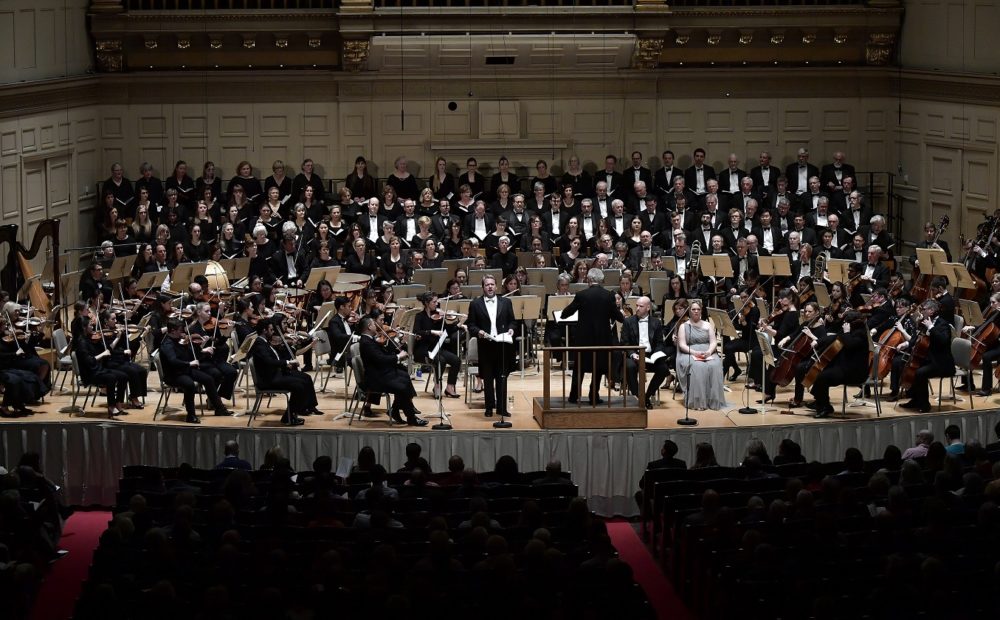 There's nothing like being in a warm concert hall on a cold winter afternoon or evening. Here, in chronological order, are what seem to me some of the most warming and heartwarming musical events of the winter season. If I've left out some of your favorite groups, the reason may be that they have nothing scheduled before the arrival of spring.
Let me end with my usual advice: Be on the lookout for concerts (often free) at the schools and conservatories. Remember that Yo-Yo Ma first caught everyone's attention when he was still an undergraduate. And that some of your own favorite musicians might have missed my eye, which is already on some of the exciting events that are coming after the first day of spring.
Emmanuel Church | Weekly through May 14
Emmanuel Music's celebrated weekly Sunday morning cantatas continue through May. Come at 10:00 AM to hear authoritative and loving performances of Bach's large spiritual enterprise, performed as part of the Sunday service. Emmanuel's music director, Ryan Turner, conducts most weeks, but regular guest conductor John Harbison takes over on March 12 for Cantata 54, "Widerstehe doch der Sünde" (Just resist sin). The late Craig Smith, who started the whole series back in 1970, calls the first aria one of the most astonishing pieces in all of Bach.
---
Pickman Hall | Jan. 20-22
The Boston Opera Collaborative will be presenting a new program in its popular "Opera Bites" series in partnership with the Longy School of Music. I'm not familiar with any of the composers, singers or members of the creative team. The only librettist whose work I know is the poet Enzo Silon Surin, whose powerful collection "When My Body Was a Clinched Fist" won the 2021 Massachusetts Book Award for Poetry. Still, I'm more than curious about this year's "Opera Bites," which will consist of eight new 10-minute operas in English. Will any of these young composers become the next Puccini?
---
Jordan Hall | Jan. 27
The exciting Danish String Quartet has been missed, but returns to Boston, c/o the Celebrity Series of Boston, in an appealing program beginning with Haydn's Op. 20, No. 3, Shostakovich's No. 7, Britten's Three Divertimenti, and a group of Nordic folk tunes arranged by members of the quartet.
---
Symphony Hall | Feb. 2 & 4
We don't get to hear much Wagner in Boston, but an ambitious concert by the Boston Symphony Orchestra this winter is devoted entirely to music from Wagner's "Tannhäuser." I haven't previously admired music director Andris Nelsons's sluggish Wagner, but we live in hope. The impressive vocalists are tenor Klaus Florian Vogt in the title role of the minnesinger-knight struggling with his inner conflict between sacred and profane love, Amber Wagner as the pure Elisabeth, and the expressive German baritone Christian Gerhaher as the minstrel Wolfram, who gets to sing Wagner's exquisite aria to the evening star.
---
Jordan Hall | Feb. 3
A Far Cry, the brilliant chamber orchestra that performs without a conductor, offers a compelling program depicting the alleged romance between Clara Schumann and Johannes Brahms through the music of both of these composers (arranged by "criers" Rafael Popper-Keizer and Sarah Darling) as well as music by the mysterious contemporary Finnish composer Kaija Saariaho.
---
St. Paul Church, Cambridge | Feb. 10
The Boston Early Music Festival's big semi-annual international extravaganza begins later in the spring, but we don't have to wait till then for the annual concert series. BEMF's first winter concert sounds extremely appealing: the Bach Collegium Japan, under the direction of Masaaki Suzuki, with elegant guest baritone Roderick Williams. The program is music by Bach and Telemann, including one of Bach's most profound cantatas, "Ich habe genug" (I have enough), with Williams.
---
New England Conservatory's Brown Hall | Feb. 19
Thirteen years ago, super violist Kim Kashkashian was one of the original founders of a program called Music for Food. The idea was that distinguished musicians would give free concerts that would also encourage the audience to donate money to feed the hungry. This winter's concert, called "Notes from Across the Sea: Voices from the United Kingdom," includes Kashkashian and nine other musicians playing music by three of my favorite British composers, Charlotte Bray's "Replay for Piano Quartet," George Benjamin's viola duet "Viola, Viola," and Benjamin Britten's String Quartet in D and "On This Island."
---
Symphony Hall | Feb. 24
It's hard to believe that the ever-youthful Benjamin Zander is celebrating his 50th year as a conductor of exciting and revelatory performances. No coward, he leads his Boston Philharmonic Orchestra in one of the most monumental works of classical music (and one of his specialties), Beethoven's Ninth Symphony.
---
Symphony Hall | March 9-11
The Boston Symphony Orchestra is presenting what sounds like a powerful and moving series this winter. It's called "Voices of Loss, Reckoning, and Hope" and includes two programs over two weekends of music that will be "exploring complex social issues." Most of the music is by African-American and African-British composers, all under the direction of African-American conductors, and with mostly African-American soloists. The first concert, led by André Raphel, will feature Philadelphia jazz pianist and composer Uri Caine and the Uri Caine Trio, multi-dimensional vocalist Barbara Walker, and the Catto Chorus in Caines's jazz/gospel/classical oratorio "The Passion of Octavius Catto" (postponed, if I'm not mistaken, from the BSO's COVID lockdown in 2020), about the life and death of the important 19th-century African-American educator and civil rights leader (Symphony Hall, Mar. 3-5). The second program features Thomas Wilkins conducting the outstanding clarinetist Andrew McGill (remember him from President Obama's first inauguration?) in Andrew Davis's concerto "You Have the Right to Remain Silent.
---
Jordan Hall | March 4
Igor Levit, whose recordings the "New York Times" has called "astonishing," is the Russian-born child piano prodigy who now lives and teaches in Germany and will be celebrating his 36th birthday the week after his eagerly anticipated Boston recital. He'll be playing one (or is it three?) of the Everests of classical music, Beethoven's final three piano sonatas: intimate and heroic, inventive and sublime, infinitely touching and equally confounding.
---
Symphony Hall | March 10
Benjamin Zander returns to lead the Boston Philharmonic Youth Orchestra, a phenomenal ensemble of superlative younger musicians. The winter program includes Bartok's scintillating Concerto for Orchestra (a piece I never tire of hearing) and the Tchaikovsky Symphony No. 5, for which I wish I could say the same, though Zander will inevitably find something fresh to express in this familiar score.
---
Sanders Theatre | March 12
If you're up for a doubleheader, you could start Sunday afternoon, March 12 with the Boston Chamber Music Society, in a concert that includes the splendid ensemble of clarinetist Romie de Guise-Langlois, violinist Yura Lee, and pianist Max Levinson in one of the supreme Brahms masterpieces, his Clarinet Trio, along with the Adagio from Berg's "Kammerkonzert." Then cellist Edward Arron changes places with de Guise-Langlois to close the program with yet another masterwork, Schubert's haunting Trio in E-flat—maybe especially familiar to fans of Stanley Kubrick's "Barry Lyndon."
---
MIT's Killian Hall | March 12
That evening, if you're not out of breath, you could attend Collage New Music, Boston's longest-running contemporary music group, which has been providing us with concerts of new music for 50 years, with many of its memorable events organized and conducted by its esteemed music director, David Hoose. Collage's winter concert includes Boston or world premieres by Jihyun Kim, Boston's Marti Epstein (about whose as yet untitled work the press release promises "subliminal mystery"), and Richard Festinger (a new Collage commission), along with the late James Primosch's 2017 Collage commission, "A Sybil," with Mary Mackenzie, the soprano who introduced it.
---
Pickman Hall | March 18
Last year the Boston Camerata streamed a new production of Henry Purcell's operatic masterpiece, "Dido and Aeneas." The music is easy enough for undergraduates, and yet Purcell's nuanced combination of wit and tragedy, including one of the greatest tragic arias ever written, Dido's suicidal "When I am laid in earth," is very hard to pull off. The greatest production in my living experience was Mark Morris's, especially when the same dancer—especially Morris himself—danced both Dido and her fatal fiendish nemesis, and the heart-stopping Lorraine Hunt Lieberson sang Dido. I had mixed feelings about the Camerata production I streamed on my computer. But this year, the Camerata is doing it live and in person, and I'm very curious about experiencing it in the format for which it was originally intended. Also, the opera will be introduced by the delightful and knowledgeable MIT Professor Emerita Ellen Harris, so I encourage you to come early.