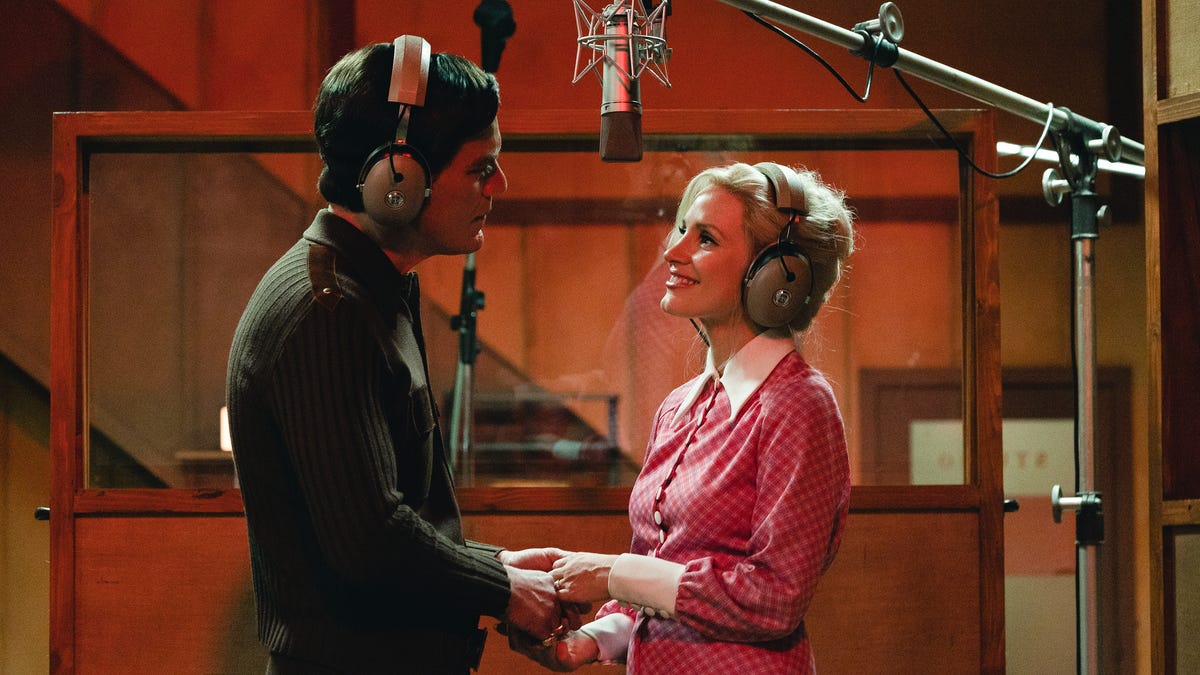 — Recommendations are independently chosen by Reviewed's editors. Purchases made through the links below may earn us and our publishing partners a commission.
If you've been reaching for cowboy boots and hats lately, you're not alone. With the long-awaited return of Yellowstone and debuts of spinoffs like 1923 and 1883, designers and consumers alike have been inspired to shop functional, well-made clothes with a western flair. Among the list of shows making waves is Showtime's latest miniseries, George & Tammy, starring Michael Shannon and Academy Award winner Jessica Chastain as legendary country artists George Jones and Tammy Wynette.
Watch George & Tammy on Showtime
So, what are we wearing? Subscribe to Reviewed's weekly Style Check newsletter to get the answers from stylish people.
As an intimate portrait of the life and love of Jones and Wynette, the series also serves as an interrogation of some of their most iconic style statements. Below, costume designer Mitchell Travers shares his top points of inspiration from four decades of fashion and how he chose to honor the work of these country music icons.
Stepping back in time with vintage country western style
Designing on-screen—and on-stage—styles for Chastain and Shannon was no easy feat, given the still-dedicated fans of the two historic singers the actors portray. "Building the costumes for this took a tremendous amount of research," says Travers. "Anytime you're working with a built-in fan base, it's really important that you understand them and respect what came before you." That research involved watching every recorded interview he could find of the duo, watching copious documentaries about '60s country music culture and interviewing stylists and tailors that dressed Jones and Wynette. Travers even did deeper research through conversations with Georgette Jones, daughter of the famed couple. 
What results is a careful study of what Jones and Wynette wore on stage and in their private moments, what their fans wore to their concerts and the role of color and style in mythmaking. Travers' costumes are not just a historic recreation, but a lesson in how performance wear can be incorporated into even the most simple everyday outfits. "There's a fearlessness that comes from country music that I think we could take a lesson from," says Travers. "Rock and roll gets a lot of credit for having its own aesthetic, but I think country is an equal match."
Recreating Tammy Wynette's iconic looks for a modern audience
Dressing Jessica Chastain as the "Stand By Your Man" songstress meant that Travers went deep into a Tammy Wynette wormhole while working on this project. It was essential to the designer that he wasn't just looking at photographs and videos, but really trying to get a grasp on who Tammy Wynette actually was. "I wanted to understand the different performances because listening to Tammy sing 'Stand By Your Man' through different eras of her life—it's a different song that takes on very different meanings for her. It was really important to get to know the song like she got to know the song."
An equally complex understanding of Wynette's sense of personal style was also deeply important to Travers. Plagued by health issues throughout much of her later life, the way Tammy Wynette chose to dress was often a reflection of a fraught relationship with her own body. "It was really important to understand how she saw her body," says Travers. "She was obviously a very sensual woman. She loved really simple styles that had a little bit of form and a little bit of skin, but never anything racy."
For the screen, Travers portrays Wynette in dynamic costumes including monochromatic ensembles with glamorous textures for stage performances and classic silhouettes with timeless style during intimate scenes. Each costume serves as a time capsule of period-appropriate trends combined with Wynette's own perspective, highly stylized and designed for visual impact.
Interested in adding some Tammy-inspired style to your wardrobe? Start with a classic ruffle dress like the Dokotoo Women's Deep V Neck Ruffle Long Sleeve Floral Print Mini Dress. Available in 35 feminine prints in women's sizes XS to XXL, the dress features ruffle details, a chic mini length, along with full, billowing sleeves that'll add drama to any look. Pair the dress with leather cowboy boots and dainty accessories for a look that's classic county without being too on-the-nose. Fans of the dress suggest sizing up for extra comfort and coverage, but the majority of the over 18,000 reviews are overwhelmingly positive.
From $40 at Amazon 
It's hard to imagine a country performance that doesn't incorporate fringe, but according to Travers, it's a style element that Wynette really only relied upon in her later years. "One of the stylists I'd spoken with did a lot of work with Tammy in the nineties and he was telling me that everything had fringe. And it's funny when you look at those photos—she was really in her fringe era." 
If a fringe era feels right for you, look no further than the Twist & Shout Vegan Shacket from Blank NYC. This jacket comes movement-ready with dynamic fringe across the back that extends down both sleeves. Pair the jacket with jeans and sneakers for an easy day look, or wear it with a form-fitting dress for an evening look that's stylish and contemporary. Shop the Twist & Shout jacket in six colors in women's sizes XS to L.
$128 at Free People
For a twist on a classic blouse, try the Reclaimed Vintage Inspired cropped embroidered shirt with collar from Asos. Made in a cropped style with an oversized collar and puffed sleeves, pair this sweet top with denim and boots for a western flair or with a high-waisted dirndl skirt for a more demure elegant style. Shop the shirt in women's sizes 0 to 12.
$46 at Asos
Bold and dedicated: George Jones' undeniable style
In speaking with the image-makers who dressed Jones, Travers discovered just how committed the singer was to crafting his own idea of country-star style. One of Jones' tailors recalled an instance where the star came into the shop and ordered 30 identical suits in different fabrics and colors. "He was definitely a man who took a lot of pride in his appearance," says Travers. "A legendary story that I was told from Peanutt Montgomery himself is that they used to have go-bags ready for George. Outfits that were put together just in case they got on a plane or a bus."
And yet, the most interesting point of entry to Jones' dynamic wardrobe wasn't when he was at the height of his fame, but in the moments when he was challenged. "Who is George Jones without the color-coordinated rhinestone-embroidered suits?" asks Travers. "Or, what is Tammy like when she's making a birthday cake for the kids?" The intimate moments that were hidden from the public are where Travers had the most fun with this project, resulting in a cadre of costumes that feature Jones' classic and famous performance style contrasted by well-made basics for off-stage moments.
To sprinkle some of Jones' country flavor into your own clothes, Travers suggests investing in dependable wardrobe stalwarts. "I think having really great, well-made staples can give your closet a long way to go; staples that you can put basics around like your go-to coat, your go-to belt and your go-to boots. That's the sort of stuff that makes it really feel like a signature." 
A dependable pair of boots is the ideal place to begin building a George Jones-inspired wardrobe. Try on The Cartwright from Tecovas for size, which uses a classic cowboy boot design that will look just as elegant decades from now. Available in soft calfskin, bovine, or goat leather in men's whole and half shoe sizes 7 to 15, these boots aren't just attractive, but they're functional too. Don't be afraid to rough them up as work boots, or dress them up with a pair of bootcut jeans for a classic country twist. Fans of the boots praise their soft leathers and short break-in period.
$275 at Tecovas
If there's one style lesson to be learned from George & Tammy, it's that the fellas can have as much fun with their clothes as women. The Coofandy Men's Western Cowboy Embroidered long Sleeve Button Down Shirt offers a classic embroidered western shirt profile in 32 different colors and patterns in men's sizes S to XXL. With a shirt this bold, it might be best to tone down the rest of your ensemble so the embroidery can really shine. Keep things simple with a pair of black jeans and boots. Don't be afraid to throw a blazer on top so the shirt's embellishments can be more of a treat that peaks through rather than overwhelm the entire look.
From $30 at Amazon
We get it: An embroidered western shirt might be too much of a commitment. But there are easier ways to add Jones' classic style to your wardrobe—like donning a well-tailored suit in a non-traditional color. It may be a far cry from the Nudie suits that George Jones made famous in the 1960s, but we love the Paisley & Gray Slim Fit Suit Separates Coat from Men's Wearhouse. The medium-hued brown is a total throwback while still feeling entirely contemporary. Pair the coat with the matching Slim Fit Suit Separates Pants to complete the ensemble. Opt for a simple vibe with a classic white oxford shirt, or go with a bolder print to make more of a statement. Shop the blazer in men's regular sizes 36 to 56, and the pants in men's waist sizes 29 to 52.
$190 at Men's Wearhouse
$80 at Men's Wearhouse
The product experts at Reviewed have all your shopping needs covered. Follow Reviewed on Facebook, Twitter, Instagram, TikTok or Flipboard for the latest deals, product reviews and more.
Prices were accurate at the time this article was published but may change over time.