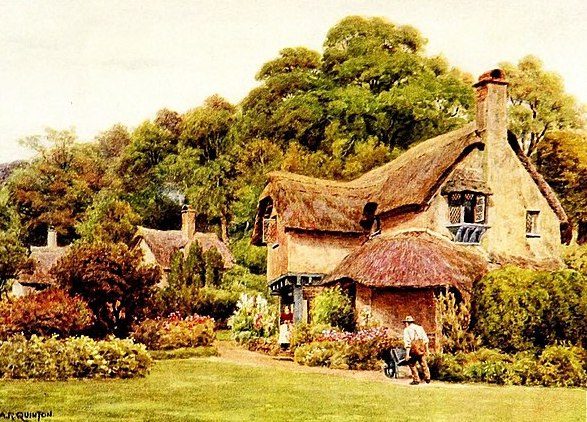 With such a wide choice available, how can we possibly narrow down the entire body of English folksongs to just ten of the best?
Answer: with a great deal of head-scratching. See for yourself what you think of our selections, and whether we've left any crucial contenders off our list.
Best English folk songs
Scarborough Fair
Though many people know this song from Simon & Garfunkel, it actually predates them by several hundred years, with roots that go all the way back to the Middle Ages.
Its lyrics, referring to an old market fair in Yorkshire that started sometime in the 14th century, are beautifully poetic: a young man delegates impossible tasks to his former lover, demanding that she complete them before she comes back to him.
In return she requests impossible things of him, saying she will perform her tasks when he performs his. It's an eloquent expression of yearning, of insecurity, of lovers talking and acting at cross-purposes. But the soul of this song really rests in its haunting melody.
Blow the Wind Southerly
This folk song from Tyneside, Northumberland, tells of a woman desperately hoping for a southerly wind to blow her lover over the sea back to her.
Its text first appeared in 1834 in the collection 'The Bishoprick Garland' by Sir Cuthbert Sharpe. But it was the English contralto Kathleen Ferrier who drew widespread attention to it with her famous 1949 recording. Since then it has had a number of well-known advocates, among them the Welsh operatic bass-baritone Bryn Terfel and the English cellist Sheku Kanneh-Mason, who recorded an exquisite cello version of it for a music video in 2020.
Greensleeves
There is a lot of uncertainty surrounding this folk song. Many believe that it was composed by King Henry VIII for his lover and future Queen Consort Anne Boleyn, even though it's based on an Italian style of composition that did not reach England until after Henry VIII's death.
Others argue about its meaning, with some insisting that Greensleeves was a prostitute ('green' being a word with sexual connotations that often referred, at the time, to the grass stains on a woman's clothes from having sex outdoors). Whatever your take, it is undeniably one of the most enduringly popular English folk songs, and one that has been regularly harnessed over the years by artists from all sorts of disciplines ranging from the composer Ralph Vaughan Williams to the team behind the American television series Lassie.
The Whitby Lad
This song about a young thief sentenced to life in a penal colony in Australia is one of a number of transportation ballads – a genre rooted in the 18th century that served as a warning against crime and bad company to young men and women.
With its spiky melody and lyrics ('Oh to see me aged father a-trembling at the bar/Likewise my own dear mother, she's a-tearing her grey hair), this one is as spooky as the chilly north Yorkshire seaside town that gave birth to it.
Sweet Nightingale
Thought to have been imported to England by Cornish Tin Mining lads in the 1800s, this ostensibly innocent ballad was first published in Robert Bell's Ancient Poems of the Peasantry of England, 1857, with the note 'this curious ditty – said to be the translation from the ancient Cornish tongue…we first heard in Germany.' Telling the story of two lovers, who listen to the sweet song of the nightingale – a euphemism for making love – it's a typical example of a chorus song, in which verses from solo singer are alternated with a repeated refrain sung by the community.
The Four Loom Weaver
This song, originally called 'The Poor Cotton Wayver', was originally published in the depression years following the Napoleonic Wars. It tells of the economic crisis of 1819-20, when many handloom weavers lost their work due to the rise of the steam-driven weaving machines. With its stark, affecting melody, it's probably the most celebrated industrial ballad, a genre documenting the struggles of people working hard in increasingly obsolete jobs.
More like this
Bobby Shafto
Robert Shafto – an 18th British politician who served as MP for County Durham between 1760 and 1790 – is probably the subject of this North East English song.
He doesn't come out of it altogether well: we learn how he broke the heart of his fiancée, Bridget Belasyse, when he married Anne Duncombe, heiress to one of the richest commoners in England at the time; how poor Belasyse was so distraught that she died of a broken heart. But how much can we believe? According to facts, Belasyse died of tuberculosis a couple of weeks before the wedding, not after, as the song maintains. So who knows. Either way, though, Bobby Shafto owes much to this bouncy folk song for keeping his memory alive.
Oh No John
With its mention of tying garters, wandering hands and crowing cocks, amongst other indiscretions, this saucy little song was originally deemed problematic.
It wasn't until Cecil Sharp, the famous Edwardian folksong collector, came along, that it won widespread favour with the public. He cleaned it up, removing its two naughtiest verses, then published it in Novello's School Songs. It has since become one of England's most popular folk songs, sung in multiple arrangements and recorded by a wide range of pop and folk artists.
The Water of Tyne
First printed in Bell's Northern Bards, in 1812, this beautiful love song is sung from the perspective of a woman separated from her lover by the Tyne river that divides Durham and Northumberland.
The original dialect is Geordie, but like many folk songs, it has been sung in many variations, by both men and women. We love this one, recorded by Sir Thomas Allen during the height of the pandemic, when the song's words about separation seemed more poignant than ever.
Pastime with Good Company
Now this song really was written by Henry VIII, and is regarded as the most famous of his compositions. It was composed shortly after his coronation and is thought to have been intended for Catherine of Aragon. With its catchy tune and jaunty rhythm, it quickly became popular, and was regularly heard at fairs and taverns, as well as at court, where it allegedly held a special place in Queen Elizabeth I's affections. It remains a favourite piece in choral repertoires.