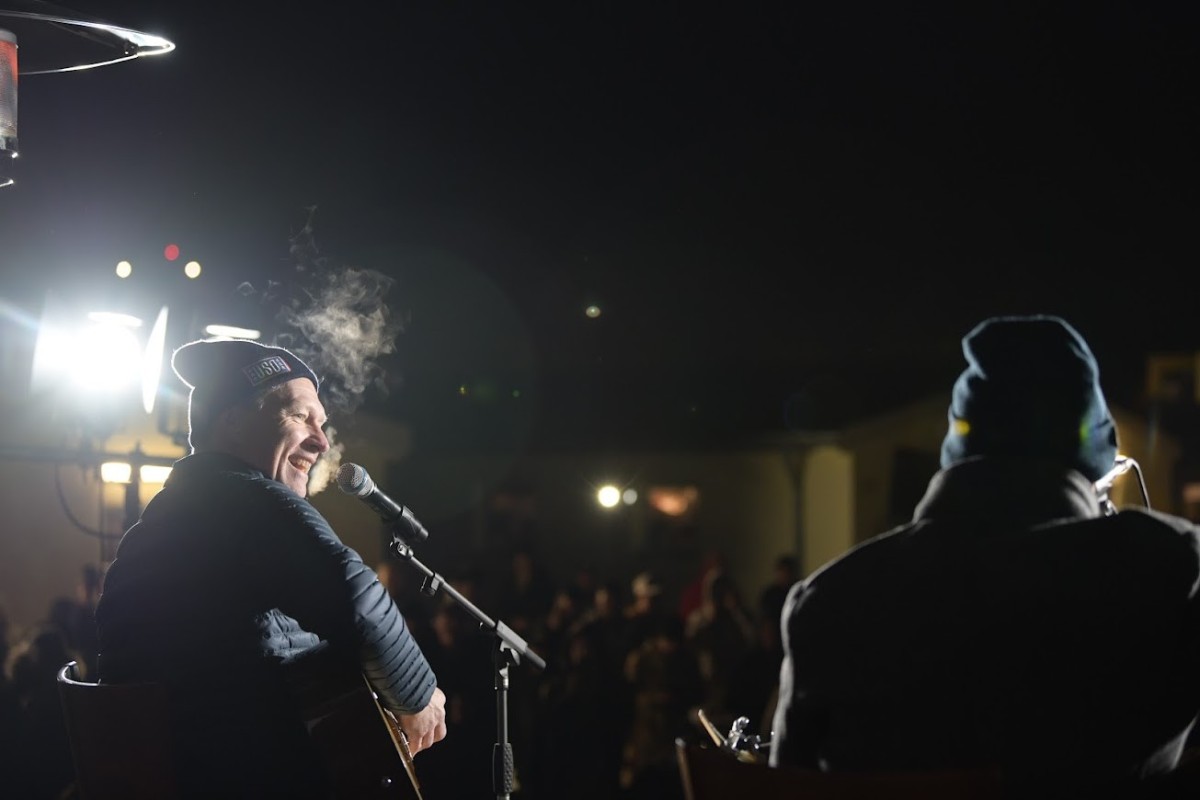 GRAFENWOEHR, Germany – Country singer and 17-year Army veteran Craig Morgan visited U.S. Army Garrison Bavaria to bring a "Taste of home" to Germany during the holidays.
During his three-day trip, Dec. 19-21, he performed three concerts for troops and their families stationed at USAG Bavaria.
His Germany trip started off with a meet and great, Monday, Dec. 19, followed by an outdoor performance for Soldiers in Camp Algier.
"He performed outdoors in 25 F (-4 C) weather and took time out before and after his concerts to meet with troops to share his experiences as a former Soldier," said George Morel, concert attendee and U.S. Army civilian employee. "That made this concert really special and lets our troops know that although they are far away, they are not forgotten."
Morgan served in the Army before becoming an American country music star. He was active duty for 10 and a half years and a member of the Army Reserves for 6 and a half years. While here at USAG Bavaria he was reunited with the 101st and 82nd Airborne Divisions, both of which he was a part of during his years of service.
"When I get to hang out with Soldiers from the 101st and 82nd [Airborne Divisions] it's like hanging out with family," said Morgan. "Those are my brothers and sisters and it's exciting to see them again. Imagine you haven't seen your family in a long time, and you get to go home and see them. That's what that's like for me. Most of them are younger family. But it's family nothing the less."
Morgan used to be a Joint Fire Support Specialist (MOS 13F). Even today, he proudly looks back to those days.
"I was a 13 fox, we got to experience a lot and it was just a real privilege," Morgan explained. "I got to go all over the world an experience multiple cultures, working with multiple armies from all over the world, until this day I consider it as one of the greatest jobs I ever had."
On his second day in Germany, he performed for the USAG Bavaria community and friends in the Tower Barracks Theatre.
"Craig Morgan being a veteran himself made the concert ever so special, he knows what the troops are experiencing and expressed his appreciation for all their sacrifices," said Terri Lerma, concert attendee, and U.S. Army civilian employee. "Undoubtedly, it's a great way to show our appreciation and boost troop morale."
His Christmas concerts in Germany were possible through the annual United Services Organization Entertainment Tours. Morgan started doing USO tours back in 2002 and while he has been to Germany several times this is the first time he has been to Bavaria.
"It's important and special for me to give my time and talents to support the troops here because I was a Soldier once and I remember being deployed during the holidays and how important it was for me to have someone come visit us," explained Morgan. "So, it's important for me to be able to give back in any way that I can."
During the holidays the USO tries to bring home to service members and their families that can't be home for the holidays.
"Bringing a taste of home to our service members and their families when they can't be home is a small way to let them know we are grateful for their sacrifices," said Jennifer Wahlquist, vice president, USO Global Entertainment.
The three-day Bavaria trip ended with a trip to Hohenfels, Dec 21.