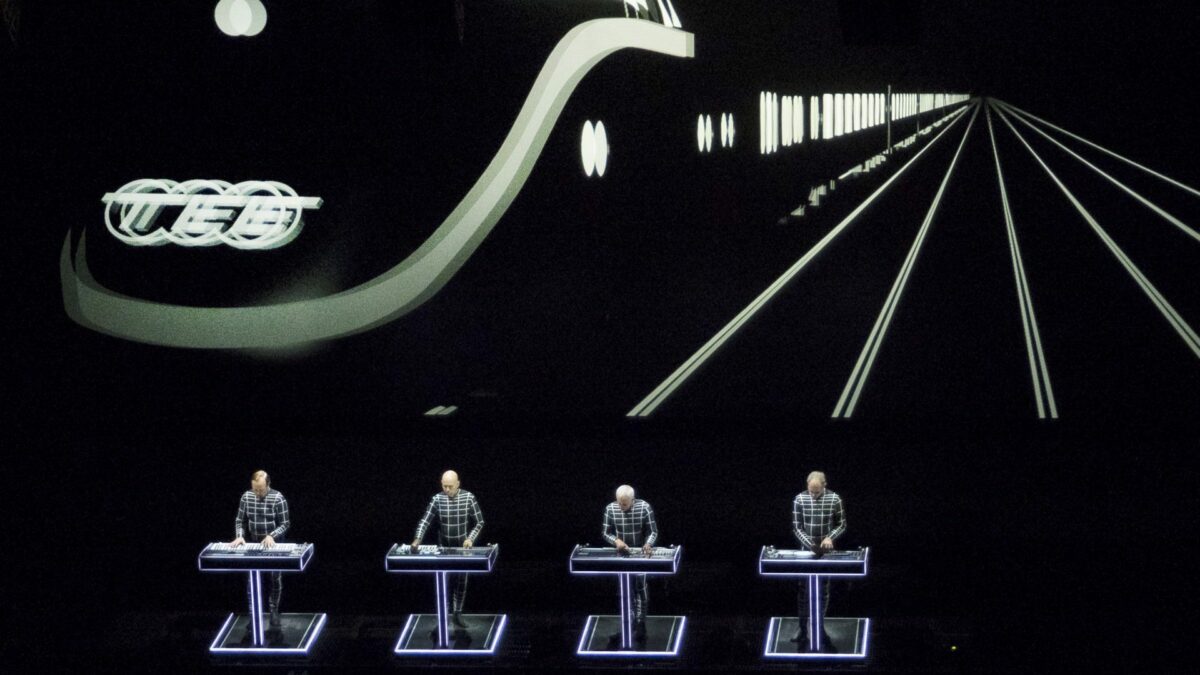 This list privileges the boundary-pushing and the influential, with an unapologetic hat trick for krautrock – the musical primordial soup of European music in the 1970s – in the Top 3. It also rewards those albums that are the best examples of what the LP "long play" format is all about, and since Europe excels in the myriad stripes of metal, and metal is a genre where the album format is key, there's a fair amount of it here. Even so, collections of perfect pop are not neglected. The geographical scope stretches from Finland to Greece and the traditional sounds of Europe – the Continent's musical DNA – also find a place here.
Kraftwerk, Trans-Europe Express (1977)

The quartet from Düsseldorf were midwives to synthpop with this LP, but it was not purely seminal – in capturing a sense of the epic European landscape and the clean modernity of a Continent still on a post-war upward trajectory, it had an intrinsic beauty. Expansive opening track Europe Endless was a sparkling, hopeful journey through the "Real life and postcard views" of the Continent. In 1980s New York The Hall Of Mirrors would be sampled by hip hop pioneers, and the schlocky riff of the title track provided the foundation of Afrika Bambaataa's pivotal Planet Rock.
Neu!, Neu! (1972)

The Düsseldorf krautrock duo were an offshoot of an early incarnation of Kraftwerk, and probably only slightly less influential. Their debut album, produced by electronic innovator Conny Plank, opened with the epic, 10-minute long Hallogallo which invented the famous motorik beat and, as well as being one of experimental rock's seminal moments, is still a deeply intriguing, energising listen a full half a century later. Both ambient music and punk would be shaped by these 45 minutes of innovation, and Bowie and Eno would be more than inspired by it in their work later in the decade.
Can, Tago Mago (1971)

It is difficult to believe that Cologne's foremost experimental rock band didn't have a crystal ball when they recorded this landmark krautrock double album. Made at the 15th century Schloss Nörvenich, a setting that lent it an inimitable atmosphere, it explored psychedelia, free jazz, funk and prog, but in doing so created myriad new sounds which makes it impossible to categorise (keyboard player Irmin Schmidt called it "witchy surprisings"). But Tago Mago also rocked out compellingly for the whole of the first disc, and taken as a whole this hypnotic journey shows what the album format was made for.
Aphrodite's Child, 666 (1972)

The Greek psychedelia project included Demis Roussos and Vangelis, and this, their third and final LP, was a concept album based on the Book of Revelation. Roussos' almost religious vocals and the transcendent musical journey of The Four Horsemen has been rediscovered in recent years, featuring on ads and film.
Röyksopp, Melody A.M. (2001)

The debut from the Norwegian ambient duo was a downbeat masterpiece, with tracks like the atmospheric So Easy and the whimsical Eple capturing the early 2000s zeitgeist and forming the musical backdrop to the last 20 years as they were used extensively on screen.
Rammstein, Mutter (2001)

Four years after their single Du hast announced the birth of the Neue Deutsche Härte ("new German hardness") to the rest of the world, the kings of German industrial released this classic. It featured single Ich Will which gave them their only UK Top 30 hit.
dEUS, Worst Case Scenario (1994)

The Belgians' quirky indie rock debut sounded like Tom Waits, U2, the Velvet Underground and the Eagles all at once. Never have a band sounded less like where they are from or proved so convincingly that is no bad thing.
Robyn, Body Talk (2010)

Sweden's queen of Nordic melancholy dance-pop truly arrived with this LP that was chock full of modern masterpieces. Ballsy, feminist tracks like Don't F***ing Tell Me What To Do and Fembot nestle next to Dancing On My Own and Call Your Girlfriend, stone cold contemporary classics of pop heartbreak.
Daft Punk, Random Access Memories (2013)

Over a decade after breaking through to international success, the Parisian duo proved they still had plenty of gas in the tank, releasing this career-defining album that was simultaneously deeply retro and fully contemporary, with lead single Get Lucky staking its place as a new pop classic.
Jacques Brel, Ces Gens-Là (1966)

Brel's ninth album contained such classics as the twisted love song Mathilde and his hymn to male friendship Jef, and was fully evocative of his Gitane smoke-wreathed on-stage drama. The hyperactive La Chanson de Jacky was the LP's centrepiece. Covered to chart success by Scott Walker, it inspired a generation of artistically-inclined musicians.
Django Reinhardt, Parisian Swing (1965)

Released over 10 years after the Belgian-born Romani guitarist's death, this album captured him in his 1930s heyday. Many a guitar god of the 1960s would claim him as an influence.
Neneh Cherry, Raw Like Sushi (1989)

Stockholm-born Cherry's perfect pop album was eclectic, idiosyncratic and generally uncategorisable, but also always effortlessly cool, its socially conscious lyrics tempered by sass and humour.
Golden Earring, Moontan (1973)

Disapproving the idea the Dutch band were a one hit wonder via their Radar Love, Moontan was accomplished hard rock spiked with Hawkwind-esque space rock. It reached No. 12 in the US.
Telex, Looking for Saint Tropez (1979)

The musical equivalent of a Magritte painting, proving you can always look to the Belgians for disruptive creativity, this album contained pivotal proto-techno single Moskow Diskow.
Lady Pank, Lady Pank (1983)

In the midst of martial law, Poland's premier new wave band released their debut album. Second single, the reggae-rock Mniej niż zero ("Less Than Zero") became a signature song.
Air, Moon Safari (1998)

45 minutes of Gallic cool, the electronic duo's debut album ran the gamut from deeply retro electropop to chill-out and dream pop, with the stonking lead single Sexy Boy its centrepiece.
Tangerine Dream, Phaedra (1974)

The German electronic pioneers' cinematic debut album takes us to some interplanetary realm. Founder Edgar Froese's experimentation would be seminal for ambient and new age music.
Scorpions, Love at First Sting (1984)

As they head for their 60th anniversary, this is still a landmark LP for Germany's premier rock band, containing their hits Still Loving You and Rock You Like A Hurricane.
Ghost, Impera (2022)

The latest from the theatrical Swedes was a No. 2 album on both sides of the Atlantic, confirming their unlikely blend of doom metal, psychedelia and pop has taken them to superstar status.
Taraf de Haïdouks, Musique Des Tziganes De Roumanie (1991)

The exuberant sound of the lăutari (Romani musicians) of Romania was captured on this, the debut album by the celebrated troupe from a village just south of Bucharest. The ultimate party music.
Jean-Michel Jarre, Oxygène (1976)

A classic of synthesiser pop which divided critics but was a runaway commercial success. Its fourth movement – the sound of a cosmic odyssey – became globally ubiquitous.
Camarón de la Isla and Paco de Lucía, El Camarón de la Isla con la colaboración especial de Paco de Lucía (1969)

The debut LP of the peerless flamenco singer, this was also the first several collaborative albums with the greatest flamenco guitarist of all time. The two would be pioneers of nuevo flamenco.
Einstürzende Neubauten, Halber Mensch (1985),

One of the greatest industrial albums ever made, this was the masterpiece of the West Berlin band whose name means "Collapsing New Buildings". Listen out for power tools and scrap metal as percussion.
Mayhem, De Mysteriis Dom Sathanas (1994)

Hardly everyone's cup of tea, this classic work from the violent Norwegian black metal scene can't be beaten for sheer atmosphere and sonic brutality.
Jacques Dutronc, Jacques Dutronc (1968)

Commonly referred to as Il Est Cinq Heures after the signature track it contains, this LP confirms Dutronc's status as a 1960s rock genius on a par with Ray Davies.
Behemoth, The Satanist (2014)

The magnum opus by Poland's internationally successful blackened death metal band was a full-on aural assault. A Top 40 LP in the US, it proved Europe's underground sounds are now fully overground.
Amália Rodrigues, Amália Rodrigues (1962)

The Queen of Fado had been on hiatus before this album caught her at the height of her powers, capturing the melancholy spirit of Lisbon's signature sound in its finest form.
Afterhours, Hai Paura Del Buio? (1997)

Are You Afraid of the Dark?, the post-grunge band from Milan's fourth album, had a galvanising effect on Italian rock. Single Male di Miele is considered Italy's Smells Like Teen Spirit.
Ewert and The Two Dragons, Good Man Down (2011)

The Estonian band's second album had a compelling indie energy and folk underpinning. The first release outside their native land, it would win them the EU's European Border Breakers Award.
Angèle, Brol (2018)

The debut from the Belgian rising star was a manifesto for Millennials, with whimsical, witty pop songs dealing with social media, sexual harassment, depression and same-sex attraction.
The Rustavi Choir, Georgian Voices (1989)

This album, the first by the ensemble founded in the 1960s to be released outside of the USSR, captures the deeply mysterious and staggeringly beautiful polyphonic singing of Georgia.
Mercyful Fate, Don't Break the Oath (1984)

The King Diamond-fronted Danish act's second album was a searing work of early black metal, establishing the occult and an extreme sound as the genre's foundation.
DakhaBrakha, Light (2010)

The Ukrainian folk ensemble have branded their sound "ethno-chaos", melding styles and using traditional instruments from across the world. This, their third album, finds them in all their anarchic beauty.
Heilung, Ofnir (2015)

Hailing from Norway, Germany and Denmark, Heilung's "amplified history" is the atavistic sound of Dark Ages Europe. This, their debut, is one of the most remarkable LPs of recent years.
Gipsy Kings, Gipsy Kings (1987)

The French rumba Catalana band's breakthrough album opened with the smash single Bamboléo and was rooted in the sheer exuberance of the Romani musical traditions of southern Europe.
Bathory, Blood Fire Death (1988)

The Swedish extreme metal band transition between the black metal sound pioneered on their previous three albums and the Viking metal they would invent on 1990's Hammerheart on this LP.
Molchat Doma, Etazhi (2018)

The Belarussian trio whose name means "Houses Are Silent" hark back to the post-punk, goth rock and darker synthpop of the 1980s on their brooding, icy cold second album. A recent gem.
Hanoi Rocks, Two Steps From the Move (1984)

Hair metal may have been synonymous with LA, but one of its major influences came from 5,000 miles away, and Helsinki's outrageous rockers peaked with this bombastic LP.
Focus, Moving Waves (1971)

The Amsterdam outfit staked their place in the history of prog with this, their second album. While it featured the hit single Hocus Pocus, it was an album to sit down and immerse yourself in.
Édith Piaf, A l'Olympia 1962 (1962)

While this live album hardly caught Piaf at her best – she was already a frail figure at 46 and would die the following year – her character is etched on every note.
Satyricon, Nemesis Divina (1996)

Part of Oslo's notorious black metal scene, Satyricon brought a new sophistication to the genre with this epic, uncompromising album now considered a classic.
Vangelis, Albedo 0.39 (1976)

Between Aphrodite's Child and his Oscar-winning film soundtrack work, the incredibly prolific Greek composer explored the space music trend on this, his mesmerising commercial breakthrough.
Faust, Faust (1971)

Hamburg's krautrock originals tested the definition of "experimental" with this three-track debut LP, with everything from weird tape samples to proggy grooves. As bonkers as it is inspired.
Serge Gainsbourg, Histoire de Melody Nelson (1971)

Gainsbourg's concept album finds him narrating a typically seedy story of a romance with a teenage girl. Its fusion of funk, psychedelic and orchestral elements was something unique and influential.
Opeth, Blackwater Park (2001)

A landmark progressive metal album from the Swedish four piece. Epic and intimate, abrasive and intricate all at the same time.
Moebius and Plank, Rastakraut Pasta (1980)

The nexus at the heart of krautrock, Conny Plank teamed up with Dieter Moebius of space rock duo Cluster on this experimental, reggae-influenced LP.
Volbeat, Beyond Hell/Above Heaven (2010)

The Danes' metal-rockabilly has made them a major export in recent years. This, their fourth album, broke the Billboard 200 and was the best incarnation of their anthemic, hard rocking sound to date.
Françoise Hardy, Françoise Hardy (1971)

Hardy left her yé-yé reputation behind with this intensely personal album, usually referred to as La question after its second single. Stylish, sexy and very, very French.
Gojira, From Mars to Sirius (2005)

Although hugely musically and thematically ambitious, this environmental concept album by the French technical death metal band was anchored by a consistent and convincing heaviness.
Brodka, Granda (2010)

The Polish Idol winner struck out for a new sound on this LP, with electronica and punk meeting the folk music of her native southern Polish highlands.