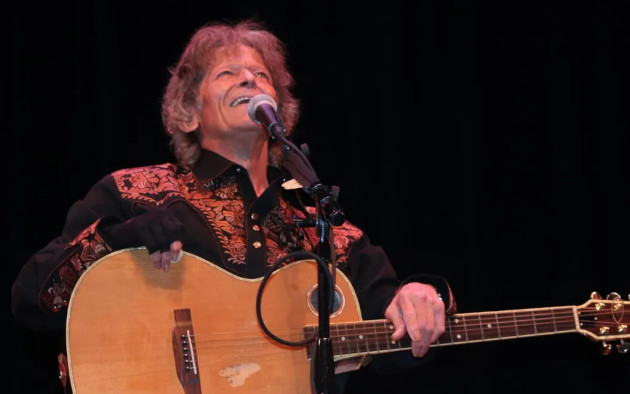 Johnny Rodriguez. Any serious fan of 1970's country music worth their salt will know the name, the hits, and doesn't need to be sold on the importance of this man. Six #1 songs, fourteen Top 5's, twenty Top 10's, including a run of fifteen Top 10 songs to start his career between 1973 and 1978, Johnny Rodriguez helped define country music as much as anyone in the decade, and continued to mint hit songs well into the 80s.
In a just world, Johnny Rodriguez would be a name at least in the discussion for the Country Music Hall of Fame at this point. But with the log jam at the Hall of Fame and the way today's country music sweeps large swaths of past greats to the side, some people may be surprised to hear that Johnny Rodriguez is even still alive. Oh he most certainly is, and at 71 years old, people are finally stepping up to honor this country music hit maker and pioneer.
Dale Watson and Celine Lee will once again be hosting the Ameripolitan Music Awards in Memphis, TN on February 19th as part of a greater weekend of festivities and showcases after a couple of years off due to the pandemic. Johnny Rodriguez has been selected as the organization's 2023 Master Award winner, joining previous honorees Ray Price, Jerry Lee Lewis, Charley Pride, Wanda Jackson, Billy Joe Shaver, James Burton, Johnny Bush, WS Holland, Junior Brown and Red Simpson. It's sort of like the organization's Lifetime Achievement Award.
Also being honored on the weekend will be The Adams Brothers with the Founder of the Sound Award, and rockabilly legend Nick Curran will posthumously receive the Keeper of the Key Award marking the 10th Anniversary of his passing. These awards will be on top of all of the winners in the various Ameripolitan Awards categories voted on by fans.
Born in Sabinal, Texas, Johnny Rodriguez was a good kid growing up, including being an altar boy at the church, and the captain of his junior high football team. But when his dad passed of Cancer when he was 16 years old, and then his brother died the following year in an automobile accident, a broken heart led to trouble with the law and a taste for country music.
Johnny Rodriguez never did anything too bad, at least not early on. Legend has it that in 1969 at the age of 18, Rodriguez was thrown in jail after he and his friends stole a goat and barbecued it. Others say he landed in the pokey simply for an unpaid fine. Either way, while singing in his cell to pass the time away, famous Texas Ranger Joaquin Jackson heard Rodriguez, and told music promoter "Happy" Shahan about him.
"Happy" Shahan in turn hired Rodriguez to sing at the Alamo Village tourist attraction where the 1960 John Wayne-directed movie The Alamo had been filmed. In 1971, Tom T. Hall and Bobby Bare were passing through town, and just like everyone else, they were floored at Johnny's voice and told him he should move to Nashville. Johnny complied, showing up in Music City when he was 21 with just a guitar and $14. Less than a year later Rodriguez was signed to record songs for Mercury.
After scoring his first Top 10 hit with "Pass Me By (If You're Only Passing Through)," Rodriguez minted consecutive #1's with "You Always Come Back (To Hurting Me)," "Ridin' My Thumb to Mexico," and "That's the Way Love Goes." Johnny Rodriguez became country music's first major Hispanic star, helping to open the door for Freddy Fender and Linda Ronstadt, and sometimes singing songs and phrases in Spanish, making him a crossover star to Hispanic listeners, and making Hispanic listeners fans of country music. In 1973, Johnny Rodriguez was nominated for the CMA's Male Vocalist of the Year.
Along with minting country hits with rock songs such as "Something" by the Beatles, and "Desperado" by the Eagles, Johnny Rodriguez wrote some of his bigger hits himself, like "Ridin' My Thumb to Mexico" and "You Always Come Back (To Hurting Me)," earning the respect of his peers and other songwriters. Johnny's affiliation with Bobby Bare and the fact that he was from Texas had some regarding him as a part of the era's Outlaw movement too.
In 1979, Rodriguez signed to Epic Records and worked with famous producer Billy Sherrill. The hits stopped coming so easily, but Rodriguez would make his mark now and again, including nabbing two Top 10 hits in 1983 with "Foolin'" and "How Could I Love Her So Much." The commercial era for Johnny Rodriguez ended when he shot and killed a man in his home in 1998, thinking the man was a burglar. Eventually acquitted on all charges, Rodriguez went on to perform for Presidents (Jimmy Carter, and both Bush's), and be exonerated in the public eye.
Johnny Rodriguez has continued to perform, tour, and occasionally record music ever since. In December he was in the studio recording an upcoming project that will include a duets with Dennis Quaid and Tanya Tucker. But you wouldn't know that Johnny Rodriguez was still around by the lack of attention he's received since his heydey in the 70s and 80s.
Rodriguez has remained a hero down in Texas. He was inducted into the Texas Country Music Hall of Fame in 2007. In 2010, he received the Pioneer Award from the Institute of Hispanic Culture in Houston. And in November of 2022 he was inducted into the All Cowboy and Arena Champions Hall of Fame in Kerrville, TX.
But it's about time that the wider country music community start recognizing the contributions of Johnny Rodriguez, and while he's still walking among us. Good on the Ameripolitan Awards for doing so. And for those who believe he's deserving, there is also a campaign underway to get Johnny Rodriguez inducted into the Country Music Hall of Fame.
Tickets and passes to the 2023 Ameripolitan Awards and Weekender can be purchased here.