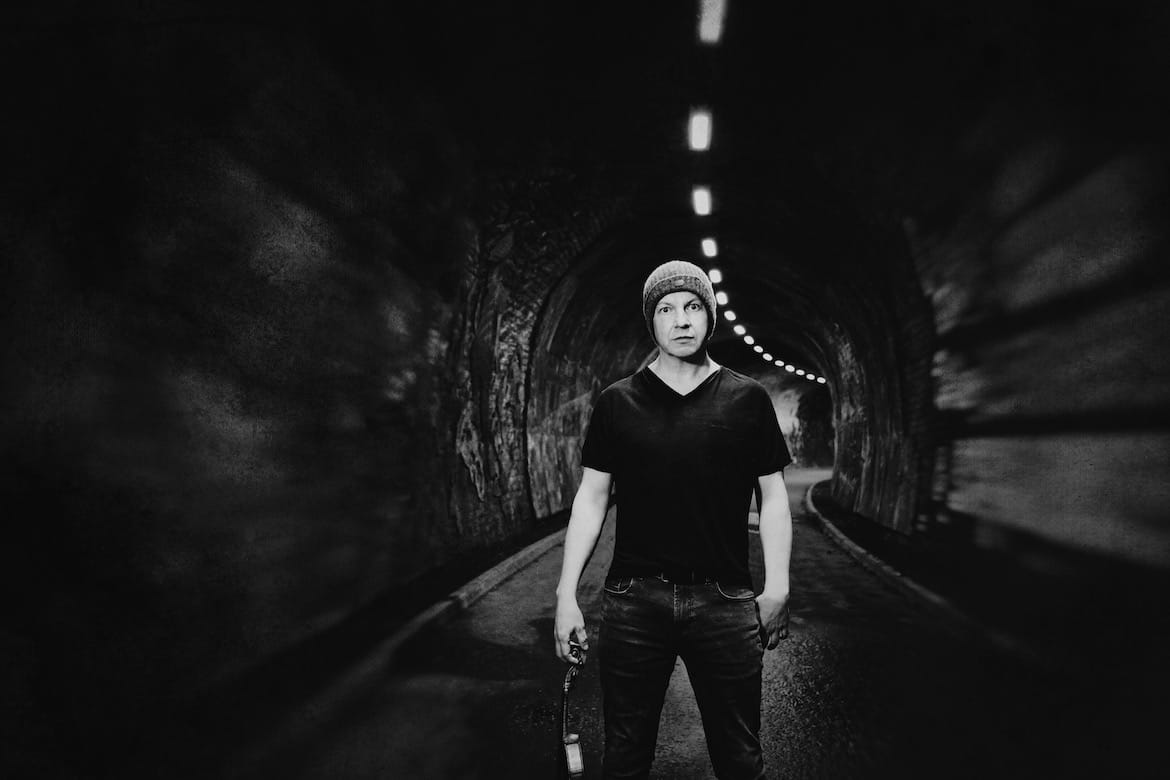 John McCusker
The Best Of
Under One Sky
20 January 2023
You only get to put a 30-track double-CD Best Of together in the folk and trad music world if you have been there, done it, and, if you're lucky, gained a good measure of recognition through testimonies from peers and a few awards along the way. Scottish fiddle player John McCusker's 30-year career covers all that and much more besides, amply justifying this retrospective look back at the broad sweep of his time as a professional musician, composer and producer. John has taken the opportunity to gather favourite tunes and songs, ranging across both his solo albums and multiple collaborations, including some perhaps less obvious but delightful tracks.
Besides being an exceptional instrumentalist, John has been a prolific composer of tunes (100 of which can be found in a book – John McCusker: The Collection – being published in parallel with this album), and most of the tracks are composed by him. Two of the most striking and enduring – Wee Michael's March and Leaving Friday Harbour – are featured here, both having originally been written and recorded in the late 1990s whilst John was still in his 11-year tenure with The Battlefield Band. They will be very familiar to fans of the steadfast trio John is in with Mike McGoldrick and John Doyle, both tunes being perennial favourites in their live shows. Wee Michael's March is taken from the trio's Live At Home This Spring album from 2021 (recorded in lieu of being able to play live due to pandemic restrictions) and Leaving Friday Harbour is taken from John's third solo album Goodnight Ginger from 2003.
There is a gem of a track from Eddi Reader's outstanding 2006 album Peacetime, which John produced. Baron's Heir is a traditional song, adapted by Eddi, coupled with Sadenia's Air, composed by John – Sadenia being Eddi's first name. Night Visiting Song is another standout, one of two tracks featuring Kate Rusby on vocals (both from John's solo albums – his production/playing on Kate's albums between 1997 and 2005 isn't represented here). John's tune here is much more contemplative than the tune to the Dubliner's version, with an exceptional vocal and suitably uncluttered instrumentation on guitar, whistle and fiddle.
Under One Sky, John's 2008 'large scale composition' – almost concept album (a commission from Celtic Connections and the Cambridge Folk Festival), is well represented with three songs and the title instrumental track, the latter though in the very different version recorded on Hello, Goodbye (2014). The songs are a fitting encapsulation of John's collaborative proclivities. 'S Tusa Thilleas has (Gaelic) words written and sung, as impeccably as ever, by Julie Fowlis, in combination with a set of stirring tunes written variously by John and guitarist Ian Carr. An English folk link comes from John Tams with Hush A Bye, a lovely flowing, waltz-like lullaby. A more mainstream connection comes with Lavender Hill, a song from Idlewild singer Roddy Woomble, with the tune again from John, it's full of longing, and the fusion of fiddle and Roddy's vocal is astoundingly seamless (as it had been throughout Roddy's album My Secret Is My Silence, which John produced and played on, from two years before, and again on his collaborative album Before The Ruin).
Before The Ruin was an album collaboration between John, Roddy Woomble and Kris Drever, here represented by the wistful Hope To See sung by Roddy, not dissimilar in mood to Lavender Hill, but offering a wider instrumental palette, accordion, flute, guitar and bass all playing an audible part. I would have loved another track from Before The Ruin – The Poorest Company, written and sung by Kris Drever, which has in the middle section probably my favourite piece of achingly beautiful fiddle playing by John and also happens to be one of Kris's very best songs.
The chosen tracklist shines a light on some almost hidden gems. Colin's Farewell was the opening track on the 2003 Heartlands film soundtrack album John made with Kate Rusby. A deceptively simple, evocative instrumental composed by John, on which, after an accordion (from Andy Cutting) and fiddle introduction, he plays the piano, the accordion returning in the later part, alongside flute (from Michael McGoldrick). Trip To Roma, taken from Hello, Goodbye, John's last solo studio album from 2016, is one of those unassuming tunes that get in your head as it undulates around a dream duo of John and Duncan Chisholm on fiddle, built on an appealing descending guitar refrain and subtle shadings of mandolin and whistle.
The last track on Disc 2 is the shortest – at less than one and a half minutes – Pokarekare Ana is perhaps the most tantalising, taken from the mostly instrumental soundtrack of the BBC series Billy Connolly's Musical Tour Of New Zealand. Produced and composed mainly by John, it is a traditional Māori love song sung by Billy Connolly and enhanced by gorgeous harmonies from Eddi Reader and Kate Rusby.
As with any retrospective look at an artist's work, it's easier to discern shifts in approach and sound over time. To my ears, the four new recordings/re-recordings, the McGoldrick/McCusker/Doyle tracks (The Wishing Tree and Madison Square Set, in addition to Wee Michael's March) and the material from Hello, Goodbye all have a fuller, slightly more organic sound. That is, of course, not to take anything away from the wealth of preceding music, all of which still provide considerable listening pleasure, as this collection proves.
Calendar Boys was the anthemic opening track on Hello, Goodbye, and who could forget the triumphant, atmospheric performance as part of the 2016 BBC Radio 2 Folk Awards at The Royal Albert Hall (at which John received the Good Tradition Award). John has rerecorded it for the album as Calendar Boys 30 with a choir featuring Kris Drever, Katherine Priddy, Karen Matheson, Heidi Talbot, Adam Holmes, Monaghan singer and fiddle player Helen McCabe, Irish actress and singer Lisa Lambe, and Admiral Fallow's Louis Abbott. The new version starts very similarly to the earlier recording. Still, the choir add a whole new dimension when they come in halfway through, then overlayed with a lovely subtle instrumental cameo from Jerry Douglas in the later section played partly in league with a flamenco acoustic guitar flourish against a backdrop of discreet pipes.
Another new recording is the memorable Folk on Foot Theme, played chiefly on low whistle and fiddle, underpinned with accordion. The other new ones are equally worthwhile additions: Brian's Jigs (Shane O'Farrell/The Green Hollow), written with Phil Cunningham, and Not A Care In The World/Fintan's Day, written and performed with Helen McCabe.
The cast list of musicians and singers is, perhaps unsurprisingly, extensive. That said, there is a core of Scottish, English, and Irish players that John has worked with through almost all of the music on these two discs (having largely been brought together for Hourglass, Kate Rusby's first solo album in 1997, and then Kate's subsequent records for the next eight years). Virtually ever-present – album by album, if varying track by track – is Ian Carr on guitar (as far back as the first solo album), Mike McGoldrick on flute, whistle and uilleann pipes, and Andy Cutting on accordion. Regulars include Simon Thoumire on concertina (also on the first solo album), Phil Cunnigham on accordion (there is a track from Phil's Christmas Songbook), Tim O'Brien on mandolin, Neil Yates on trumpet, James Mackintosh on drums and Ewen Vernal or Andy Seward on bass. Never far away are Duncan Chisholm on fiddle, John Doyle on guitar and Donald Shaw on keyboards. That large company provide a sense of coherence and continuity, and also, unsurprisingly, given the high calibre of musicianship, flexibility, inventiveness and ensemble playing capability that John has consistently made maximum use of.
John McCusker is a rare musician whose distinctive, alluring fiddle style – and overall production sound – seems a perfect distillation of the different traditional styles he plays. He may be a born and bred Scotsman, spending a formative decade with one of Scotland's finest folk bands, but he is equally at home playing Irish music, not least with Mike McGoldrick and John Doyle, and just as comfortable playing English songs and tunes with English trad musicians. That kind of versatility has also extended through most of John's career to playing with a good number of indie and rock artists (including Mark Knopfler, David Gilmour and Paul Weller), although that facet of his career is outside the scope of this collection.
What you hear consistently across all of these tracks is not in any sense flashy. John's playing and production are always in service to the song or tune, and you also notice how empathetic he is to what his fellow musicians are doing. If you either aren't familiar at all with John's music or only know some aspects of his output, this 30th anniversary Best Of is an ideal introduction to the breadth and depth of one of the very best traditional musicians working today.
John McCusker – The Best Of – Track listings
Disc 1
The Big Man Set 
The Wishing Tree – McGoldrick, McCusker, Doyle
It's A Girl 
Brian's Jigs 
Baron's Heir / Sadinia's Air – Eddi Reader
A Trip To Roma
Night Visiting Song – Kate Rusby 
Wee Michael's March
The Shepherd Lad  – Battlefield Band (Karine Polwart)
Wiseman's
Hope To See – Drever, McCusker, Woomble
Shake A Leg
Sprig of Thyme – Heidi Talbot
Goodnight Ginger
Colin's Farewell – Heartlands Movie Soundtrack
Disc 2
Calendar Boys 30
Madison Square Set – McGoldrick, McCusker, Doyle
's Tusa Thilleas – Under One Sky – Julie Fowlis
Love Is The Bridge Between Two Hearts 
Lavender Hill – Under One Sky – Roddy Woomble
FooFoo
Folk on Foot Theme
The Bold Privateer –  Kate Rusby
Kev's Trip To Brittany 
Not A Care in The World –  Helen McCabe & John McCusker
Under One Sky
Hush a Bye –  Under One Sky – John Tams
Chickadee's Christmas – Phil Cunningham's Christmas Songbook
Leaving Friday Harbour 
Pokarekare Ana – Billy Connolly's World Tour of New Zealand – Billy Connolly
Pre-Order The Best Of
John's Website: https://www.johnmccusker.co.uk/