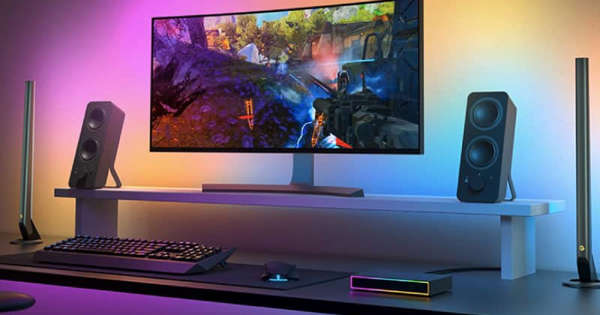 © Tech Hive
Govee, a Philips Hue and Nanoleaf competitor with a wide range of smart bulbs, LED strips, and light panels, has big plans for AI in the coming year, the company announced at CES in Las Vegas.
At CES 2023, Govee is showing off an AI system-on-chip that powers CogniGlow, an AI-enabled algorithm for real-time lighting effects that the manufacturer says can perform up to 14.4 trillion calculations per second.
Also at CES, Govee confirmed that it will officially support Matter, starting with one of its upcoming LED light strips.
Govee says it plans to use its AI-powered CogniGlow algorithm in ambient lighting products that sync their lights with both images and music.
Govee's first AI- and CogniGlow-packing device will be its AI Gaming Sync Box Kit, a gaming-focused alternative to Philips Hue's Play HDMI Sync Box.
Aimed primarily at PC gamers, the AI Gaming Sync Box Kit is a departure from Govee's Envisual TV light strips, which use mounted cameras to sync their lights with the images on TV screens.
A rectangular black box with three HDMI inputs and a single HDMI output, the AI Gaming Sync Box Kit supports up to 4K resolution (including Dolby Vision and HDR10+) with "highly accurate" color and less than 16 milliseconds of latency for its synced lighting effects.
At 1080p resolution, the device supports a silky smooth 240Hz refresh rate for passthrough video. At 2K resolution, the maximum refresh rate dips to 144Hz, while you can expect a 60Hz refresh rate for 4K video.
With help from the CogniGlow algorithm, the AI Gaming Sync Box Kit can perform real-time, on-device analysis of the colors, images, and text being piped through its HDMI inputs, and then transmits its "lighting signals" to connected smart lights via Bluetooth. The kit will ship with a light strip and a pair of thin vertical light bars that are designed to flank your PC screen.
Besides syncing the colors on your display, the AI Gaming Sync Box can deliver more than 30 "customized" lighting effects for specific games. League of Legends, Apex Legends, and Valorant will be the first three games that get customized lighting effects, with more to follow, Govee said.
Gaming isn't the only application for Govee's AI chip and CogniGlow, with the company noting that the algorithm is capable of identifying a dozen genres of music and then matching the tunes with complementary lighting effects.
Govee plans on showing off a prototype CogniGlow-powered device aimed at music syncing at its CES booth this week, the company said, while additional products equipped with its AI and CogniGlow tech should arrive starting in the second quarter of this year.
Separately, Govee announced at CES that it will support Matter, the new smart home standard that promises to ensure that different smart devices can be connected and controlled across a wide range of ecosystems, including Amazon's Alexa, Apple's HomeKit, and Google Home.
A two-meter version of the Govee LED Strop Light M1 slated to launch in 2023 will be the first Govee product to support Matter, the company said, with more to come in the "near future."