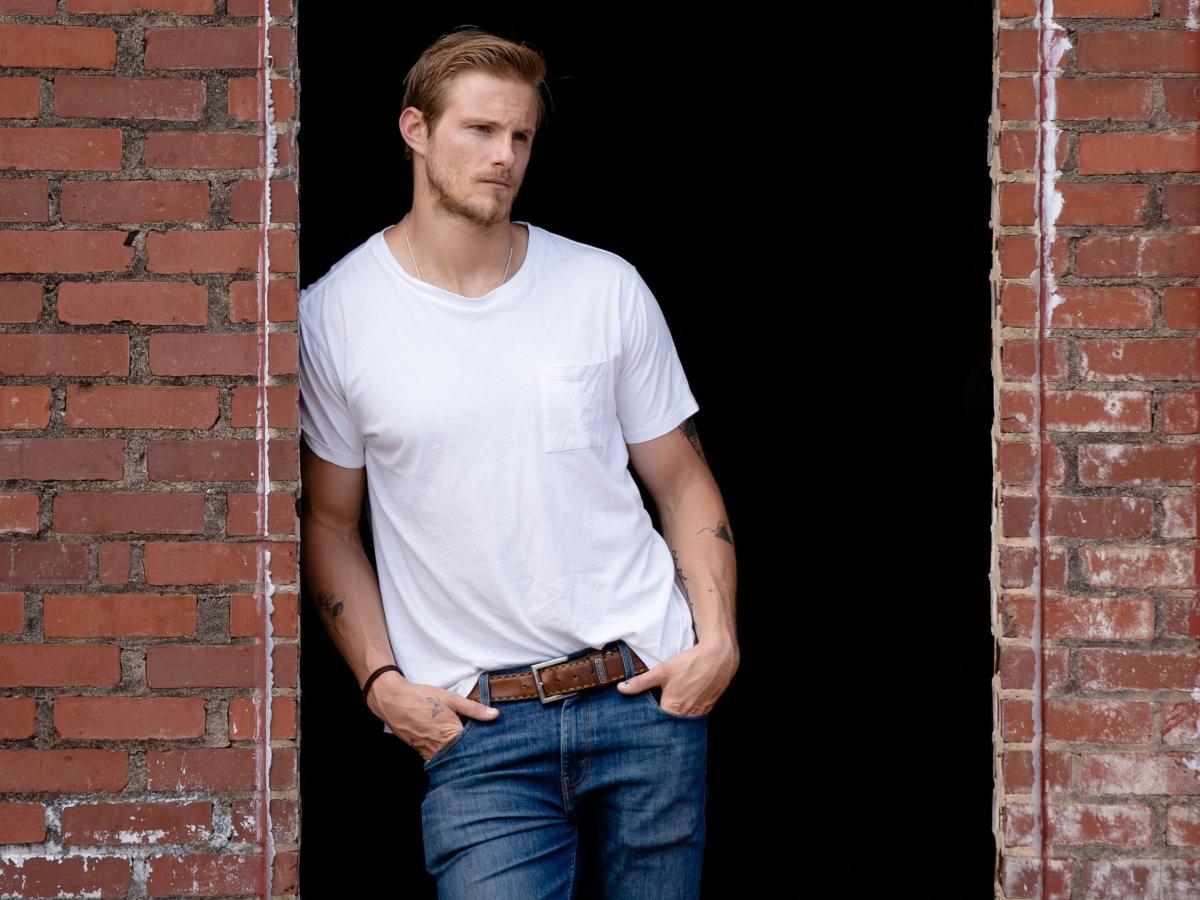 Actor Alexander Ludwig released his debut country music album, "Highway 99," in August.

The "Vikings" and "Heels" star tells Insider that he's been writing music since he was a child.

On Nicki Minaj's "Super Freaky Girl" video, he said:  "What's panties in your mouth at this point?"
You may recognize Alexander Ludwig from his role as babyfaced killer Cato opposite Jennifer Lawrence in the first "Hunger Games" movie, or as the boy-heir turned king, Björn Ironside, in the hit show "Vikings." But, now, the actor is ready to share a new side of himself: Alexander Ludwig, the country singer.
Ludwig, 30, released his debut album, "Highway 99," in August after signing a record deal with BBR Music Group/BMG last year. The Canadian actor-turned-singer is in great company at BBR, which is also home to Jason Aldean and Lainey Wilson.
"Highway 99," described as a record about "small towns, wild nights, broken hearts, and big dreams, brought together by a mixture of amplified guitars, climactic choruses, and heartfelt hooks," shows a softer side to the actor, best known for playing Viking king Björn Ironside in History's often bloody and brutal "Vikings" between 2014 and 2020.
Ludwig tells Insider that he began to plan for a career in music while shooting the final season of "Vikings," but despite his acting fame, it wasn't a guarantee that he'd land a record deal.
"By the time I was done with the show, I started taking trips to Nashville — with little to no contacts whatsoever," he says. "I tried to meet as many people as I could, write with as many people as I could."
When I speak to Ludwig over Zoom in October, he is in London to perform his first-ever UK showcase in front of select media and fans.
Here, Ludwig tells Insider about his foray into country, his "Vikings" legacy, the pro-wrestling drama "Heels," and just how he ended up having Nicki Minaj's panties stuffed in his mouth in her "Super Freaky Girl" music video.
How did you get into country music?
A lot of people don't realize there's a massive country fanbase in Canada. That's what I grew up on. It's always been a part of my life. I was always trying to figure out how to break into the business. When I was shooting "Vikings," on the weekends, I had time on my hands, so I was recording a 10-song demo.
"Vikings" had finished when I actually started working on music in Nashville independently.  About eight months into my trips to Nashville, I was boarding a plane, and these guys said they were big fans of "Lone Survivor." I sat right behind them on the plane. Turns out they produce and play with Jason Aldean, one of my favorite artists. I sent them my demo and within three days they called me and said, "We gotta work together." We started recording, writing, and releasing stuff independently. And BMG took notice.
Did you write music at all when you were younger?
Oh, yeah. I have a binder of bad songs that I've been writing ever since I was a kid. My mom went to this music store and convinced this guy that worked there to teach me how to play guitar. For 10 years we ended up playing together. He ended up moving to Nashville and playing for Brett Eldredge, and a bunch of big country music acts. I always told him, "One day when I got my record deal, we're going to play together." And now he's sitting right beside me right now.
How did you end up in Nicki Minaj's "Super Freaky Girl" music video?
I love doing things people wouldn't expect. I love not taking yourself too seriously. My friend was the producer on that, and he was my college roommate. They wanted someone with some notoriety, that was more of an actor. Their team liked me, and that's how this all happened.
Nicki's great. She is a super-talented artist. We had a blast. We got along fabulously, and I was shocked at just how big that was — that song, that video.
The video is quite risqué. Nicki shoves panties into your mouth at one point. Did you ever worry about what your wife might think?
No, my wife is the coolest chick ever, and she's very secure in our relationship. I consider myself a professional. When I do this stuff, I take it seriously. It's not like when you're doing a sex scene it's fun and games. It's like, no, how is this serving the story? Is everybody comfortable in this situation?
Nicki had this vision, and I'm never one to shy away from those kinds of things. I don't think there's any need to. At this point, after "Vikings," and after "Heels," half the country's seen my ass. What's panties shoved in your mouth at this point, you know?
It's been two years since "Vikings" ended. Björn died midway through the final season. What did you think of the ending now that some time has passed? Should Björn have lived till the end?
That was actually my decision with Michael [Hirst, creator]. We were talking about the ending of the show and the demise of that character, and how he should go out. I had spent six years in Ireland, 11 months out of the year, away from my home. I felt we had gotten to a place where Björn had done everything I had hoped he was going to do. We always had this dream for him when we started, and we were able to see that come to fruition.
So, I thought that a more interesting approach would be to let the other characters have their moments as well. Björn had his moment. He went out in such a fantastic way. It was nice, because then you see Ubbe (Jordan Patrick Smith), Ivar (Alex Høgh Andersen)… everybody gets their own moment to shine. That's how it should be. You want to see the resolve of the whole show.
You're now starring in Starz's pro-wrestling drama "Heels" with "Arrow" star Stephen Amell. What enticed you about that project?
I signed on to the show because the characters were truly already on the page, we didn't have to do anything. Where we really had to collaborate was for the actual wrestling. That was on our shoulders and you can't fake that with a camera. You can't have a stunt guy come in and do that. They can do the big things, like when you fall off a 20-foot cage, but they can't do the backflips and all that. You need to see the actors do this. That's where Stephen and I came in — he's a huge wrestling fan, and he was really helpful actually.
I was also calling [WWE wrestler] Adam Copeland, Edge… we did "Vikings" together. I'd call Adam and be like, "Hey, is this legit?" "Does this work?" I'd literally call him about everything. I even called him and asked him if I have to shave my chest.
Stephen has actually wrestled some matches, including for WWE. Would you ever do a real match?
100%. If anything, it'd be a great promo thing. It'd have to be with the right company that supports the show.
I do these moves for five minutes and I'm exhausted. 40 minutes… I can't even imagine how devastated these guys' bodies must be after that.
"Highway 99" is to stream, download, and purchase on CD.
This interview has been condensed and edited for clarity.
Read the original article on Insider