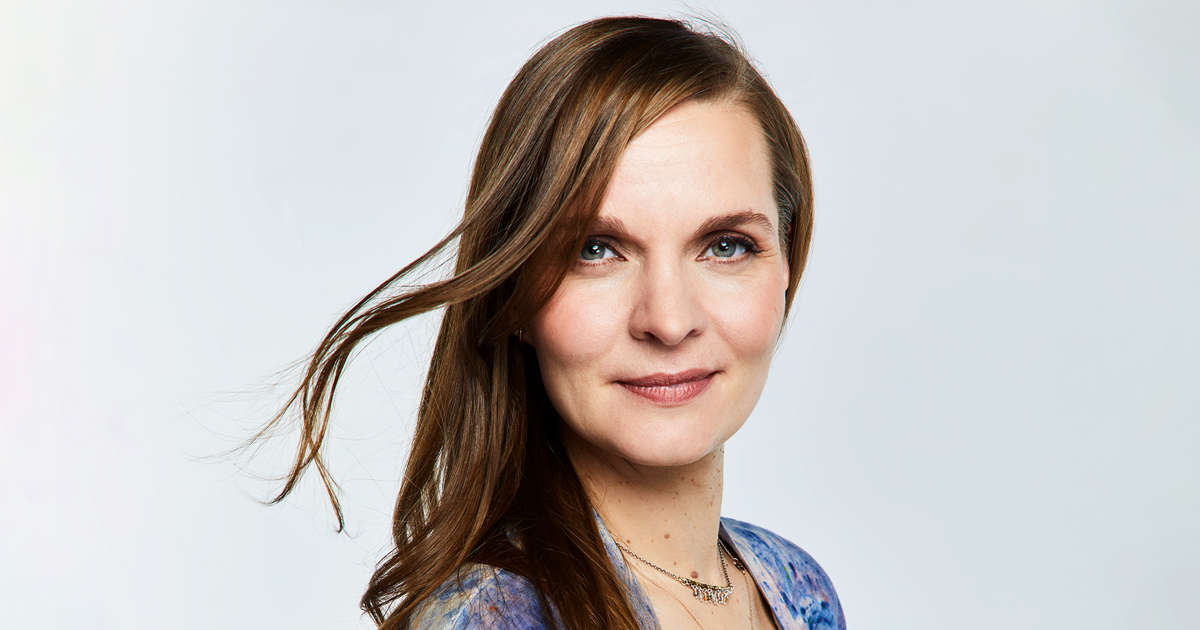 She may have an Oscar, an Emmy and two Grammys, but composer Hildur Guðnadóttir is uncomfortable in the spotlight. She'd much rather be in her Berlin studio practicing her cello, driving her son to school or making dinner for her family.
The Icelandic composer of "Joker" and "Chernobyl" is in Hollywood to talk about her two award-season projects, Todd Field's "Tár" and Sarah Polley's "Women Talking" (the latter of which is on Oscar's shortlist for score). And she does so easily and candidly, with a friendly demeanor and an infectious laugh. But it's clear this isn't the place she would normally choose to be.
"I had been going about my music for 20 years and no one really cared that much," she says with a smile. Her bracing, emotionally powerful music for 2019's "Joker" – which made her only the third woman in Oscar history to win for original score – altered all that overnight.
"It was a huge change for me to have so much attention," she says. "Then, of course, straight after the Oscar, COVID hit. So it was a complete U-turn from all the events to just seeing no one. And it made the whole thing a little bit surreal – being by myself, then being around all these people, and then again being alone."
The Fields film came first, in late 2020. What attracted her to "Tár" was its focus on the process of music-making. "I'm more interested in that than I am standing on stage and performing, or the final product," she says — an unusual attitude for a composer.
"Hildur's a composer that I've admired for a long time, before she started doing any television or film scoring," says Field, a classical-music buff who made Guðnadóttir his second call (after Cate Blanchett, who plays the film's title character) upon writing the script for his film about a powerful symphony conductor whose troubled personal life intrudes on her very public career.
"We had an unusually long process together that began long before prep and went all the way through the film," Field notes. "Our first conversations really started about noises and sounds. How does she hear? How does she listen? Ultimately she wrote music for all of the actors to have in their ears for when they moved on set."
Adds "Women Talking" director Polley: "I've been in love with Hildur's work for a long time. She never has any sentimentality in her work, and as this score needed to be concerned with hope, I needed her steady hand to make sure it never felt manipulative while still embracing the concept of faith and a possible future."
Yet these are the only two films the composer has done since "Joker." "I'm very picky," Guðnadóttir admits. "It's very important for me to be present for the project that I'm working on, that I have the time and space and mental energy to really live inside the story that I'm telling."
And, Guðnadóttir makes clear, she is not just a "film composer." "It's very important for me to not get stuck in one medium," she declares.
Her musical interests are much broader: In July, she debuted a 16-minute work for choir and orchestra at London's famous Proms ("The Fact of the Matter," her musical response to the state of the world) and she recently performed another concert piece in Krakow, Poland, for what she calls "robotic feedback instruments."
Experimental music – some of which was performed by the L.A. Philharmonic in November 2021 – plays a huge role in her career. Her disturbing, Emmy-winning score for HBO's "Chernobyl," for example, was built entirely from sounds she recorded at a Lithuanian nuclear power plant, processed with tape machines and electronic gear in her studio.
"There's just so much to explore in music," she muses. "My mind is much more driven by the process than necessarily knowing what the outcome is going to be."
She loves her life in Berlin, where she has lived "off and on" for the past 20 years. Born in Reykjavik, the daughter of a composer and an opera singer, she began playing the cello at age 5 and went on to study electroacoustic composition at the Berlin University of the Arts.
She fell in love with the city and its thriving classical and pop music scene, and decided to stay. "It's a place where I can hear my thoughts," she says. "There's something very grounding about the city. It's very easy to just disappear. You don't have to see anyone if you don't want to, which is mostly what I do."
Guðnadóttir spent several years collaborating closely with fellow Icelandic composer Jóhann Jóhannsson, whose music for "Sicario" and "Arrival" earned widespread praise in 2015-16. "We were very much on the same musical page. He moved to Berlin to work with me and we shared a studio until he died (in 2018)."
Her custom-made instrument, the electroacoustic Halldorophone, played a prominent role in nearly all the Jóhannsson scores, and her original music for the "Sicario" sequel "Day of the Soldato" drew the attention of director Todd Phillips, who commissioned the "Joker" score from her.
She and her husband, English composer-producer Sam Slater, collaborated on the acclaimed videogame score for "Battlefield 2042" (and he produced her scores for "Joker" and "Chernobyl"). They are currently converting an old Berlin restaurant into a new 2,500-square-foot studio; they expect to complete the work in February.
They were married in California in September 2019 ("a very spontaneous decision," she remarks) just hours before a Society of Composers & Lyricists reception they were attending to celebrate her Emmy nomination for "Chernobyl." "Brexit was just around the corner, and he was a bit nervous about what would happen. So it was a kind of Beverly Hills Brexit escape," she says with a laugh.
The international nature of their lives and careers becomes even more apparent with an anecdote about the pandemic. The father of her 10-year-old son is French, and during the COVID lockdown she had to homeschool him for a year and a half in that language. "No one speaks the same language at home. It's very confusing," she says with another laugh. "It's a big mess."
She finds solace in her daily routine. Yoga, meditation, practicing her voice and cello (usually Bach) in the morning, composing through the afternoon, retrieving her son from school, home to cook dinner in the evening,
Now 40, Guðnadóttir feels this is the best time of her life. "I have a better understanding of what I need to function as a person – what helps me maintain my body, my mind and my creative process. I feel I'm just starting to learn that now. I'm not very strategic about how I choose new projects. It's normally quite obvious very fast whether a project will resonate with me or not."
She is just beginning work on "Joker 2," a reunion with director Phillips and star Joaquin Phoenix, whose soft-shoe to the composer's "Bathroom Dance" music very likely won her the Oscar. Lady Gaga joins the cast as Harley Quinn.
Yet this happy, successful composer continues to shun the limelight and insists: "My life is pretty boring."
For more stories like this, follow us on MSN by clicking the button at the top of this page.
Click here to read the full article.