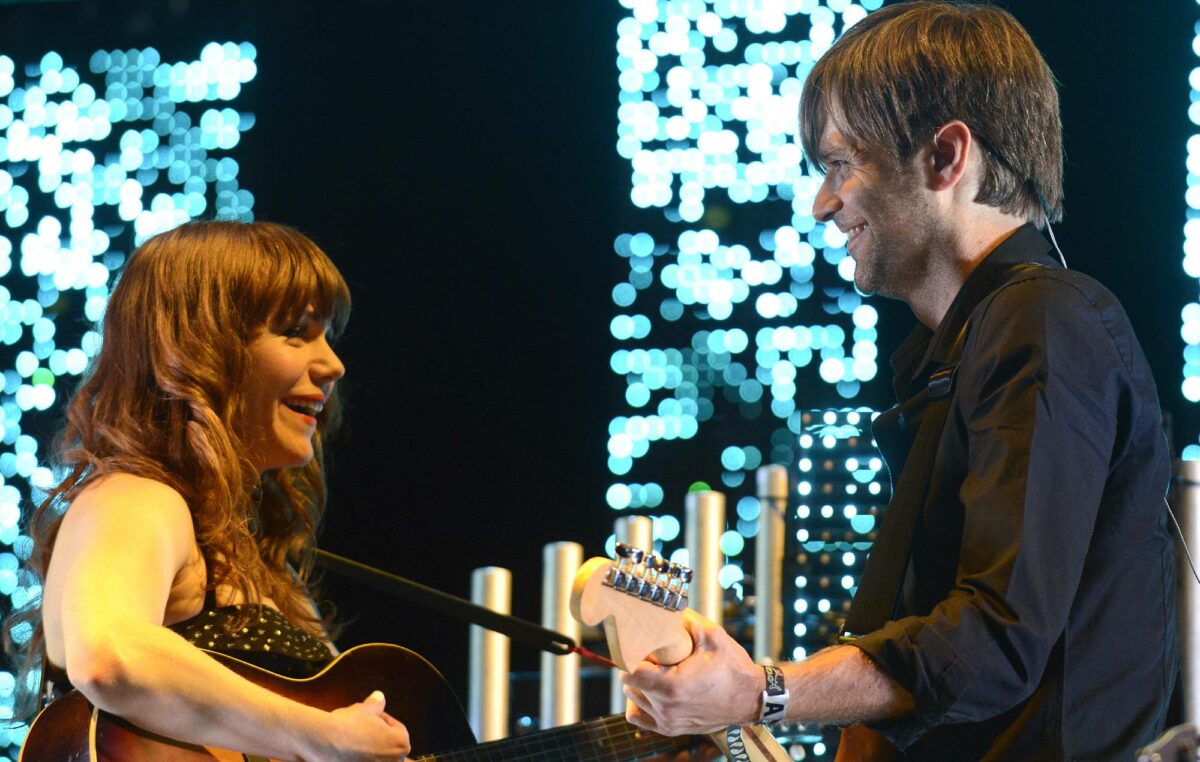 The Postal Service's Ben Gibbard says he believes that new music from the beloved side-project "would be a disappointment".
READ MORE: Death Cab For Cutie on their new album 'Asphalt Meadows': "This feels like a new band"
Later this year, the band – Gibbard, Jimmy Tamborello and Jenny Lewis – will head out on a co-headlining US tour with Gibbard's other band, Death Cab For Cutie, celebrating 20 years of their albums 'Give Up' and 'Transatlanticism'.
Speaking on the Kyle Meredith With… podcast, Gibbard said he believes that any new music from the band would be "drastically different" from their sole 2003 album and may not live up to expectation.
He said: "Anybody who's been asking a second Postal Service record, like really ask yourself, after 20 years, do you really think that there's gonna something we could make that could even satisfy half of the desire you have in your mind as to what this record would be like?
"Twenty years — a lot of technology has changed. A lot of how we make music has changed dramatically since then. It wouldn't be the same."
He added: "I think often, when we think about the music that we love the most and the eras of a certain artist or a band that we love the most, we're as much thinking about the sound.
"It's not just the songs or how you were driving around in high school listening to it, wishing you could be anywhere other than the town that you're living in — it's the sound of it. Whatever we would make now would sound dramatically different than what we made 20 years ago, and I think it would be a disappointment even if we tried."
In 2021, Gibbard also downplayed the chances of The Postal Service reuniting to make any more new music together.
"I love Jimmy and Jenny so much, but the dream or idea of doing more music kind of died when we attempted to make the second record in 2004 and 2005," he told NME at the time.
"I was writing for [Postal Service debut] 'Give Up' and [Death Cab's] 'Transatlanticism' at the same time in 2001 and 2002. The Postal Service obviously didn't exist at that point, but Death Cab wasn't touring a lot – we were still very self-contained as just four of us in a van with a merch person. The workload and expectations weren't anything like what they became later so I had so much free time to have these things going at the same time."
Death Cab For Cutie and The Postal Service will play:
SEPTEMBER 2023
8 – Portland, Cross Insurance Arena
9 – Kingston, The Ryan Center
10 – New Haven, Westville Music Bowl
12 – Boston, MGM Music Hall
13 – Boston, MGM Music Hall
14 – Washington, Merriweather Post Pavilion
17 – Detroit, Meadow Brook Amphitheater
20 – New York, Madison Square Garden
21 – Philadelphia, The Mann Center
24 – Minneapolis, Armory
26 – Denver, Mission Ballroom
27 – Denver, Mission Ballroom
OCTOBER 2023
3 – Phoenix, Arizona Financial Theatre
4 – Las Vegas, The Chelsea Ballroom
7 – Seattle, Climate Pledge Arena
10 – Berkeley, Greek Theatre 
13 – Los Angeles, Hollywood Bowl