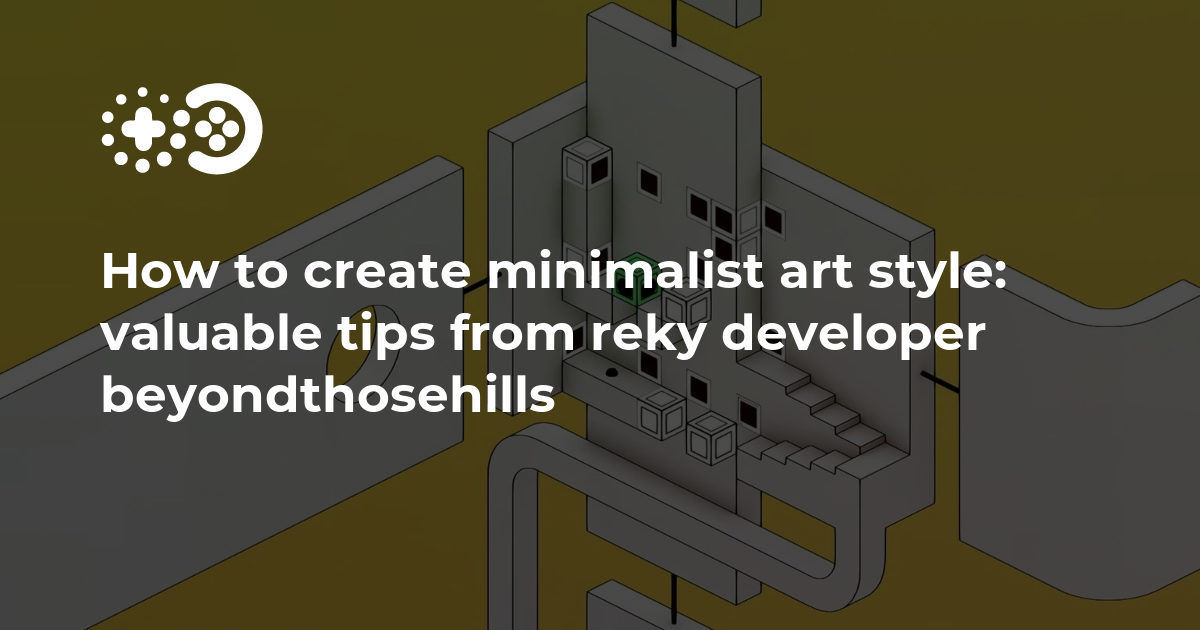 Greek studio beyondthosehills has shared with us some tips for creating abstract art style (and pitfalls to avoid). Here are some tips based on their experience with their minimalist puzzle game reky.
Maria Aloupi, co-founder and game producer at beyondthosehills
Minimalist art style should compliment gameplay
When it comes to style, less is often more. In a sea of games shouting for attention, we decided that a unique aesthetic would help the game stand out from the crowd. Finalizing the concept took a lot of work and iteration with elements that have come together from an eclectic mix of disciplines: architecture culture, minimalist style, abstract art, and ambient music. 
Based on architectural design and technical drawing, reky is a fresh and modern puzzle game that aims to accentuate its physical space with compositions that support the functionality in each level.
Creating puzzles with cubes was a great opportunity to use a design inspired by broader modernist, minimalist architecture and Bauhaus philosophy. The cubes in combination with gameplay indicate a minimal environment that reminds the player of an abstract situation like being in construction mode.
Ultimately these choices led to designing the game using only the most necessary elements. Players interact with different puzzle elements of every level, shifting and moving them in order to create a path to the goal of each simple yet brain-teasing challenge.
One of reky's early versions
Who is beyondthosehills?
Based in Athens, Greece, beyondthosehills was co-founded by Andreas Diktyopoulos and Maria Aloupi in 2012.

The team's debut title, point and click adventure game

The Minims

, came out in 2015 for iOS before later being ported to PC and Android.

beyondthosehills completely switched the genre with

reky

, which won a few awards for its art style. The game is available on mobile and PC, and the studio also recently released a Nintendo Switch version.

Right now, the team is working on

Albert Wilde: The Quantum P.I.

, black-and-white comedy game about a cat detective set in noir New York.
Keeping everything simple was key to avoiding certain game design pitfalls
The infinite possibilities of games have always fascinated us. Unlike more traditional mediums, there are no physical or material constraints, so one is free to creatively explore spaces that could not exist otherwise. This creative freedom, however, is both a blessing and a curse. It is very easy to fall into the trap of creating very complex concepts which are difficult to implement properly.
For reky, we avoided this trap. We decided, from the very beginning, to "keep it simple" so that we could manage a very well-balanced and coherent whole, where aesthetics, game design, and user experience were given the equal attention they deserve.
The result is a game where fresh technical drawing aesthetics meet a large variety of elegantly designed logic challenges to create a minimalist puzzle title with an understated artistic flair.
One of reky's early versions
Design should be as clear as possible to the player
The choice of a minimalist art style is a reflection of beyondthosehills' love for simple and intuitive design. It felt natural to bring this sort of philosophy into the design of the game. 
Based on an abstract concept, we had to create the rules, the structure, and then build each of the levels. The intention was to create clever, beautiful challenges to stimulate logic and lateral thinking.
To maintain players' interest, we crafted several types of puzzles and carefully arranged them based on their category and difficulty. But a lot of work went into making player interaction as simple and intuitive as possible. 
Through many iterations, we created a smart algorithm that understands what the player wants to do when tapping on the cube. As with good architecture, the goal is to make the game just work and be super clear to understand without any barriers or learning curve.
One of reky's early versions
Soundscape should be coherent and consistent with the overall minimalist approach
Ambient waves of sound and gentle chimes for every input give reky a relaxing feel. The feeling of random sounds when the player interacts with the cubes was intentionally created after a careful choice of selected interactive sounds that always harmonize with the ambient background.
We created an environment of Interactable Elements that works as a virtual musical instrument. Players come into active contact with the sound every time they interact with each action element in the game.
At the same time, a subtle, non-intrusive long loop provided a canvas on which all of reky's interactive sounds would be weaved together to create a coherent whole. So every single player action plays either a sound or, more interestingly, a melodic sound intertwined with the canvas to produce a pleasing end result.