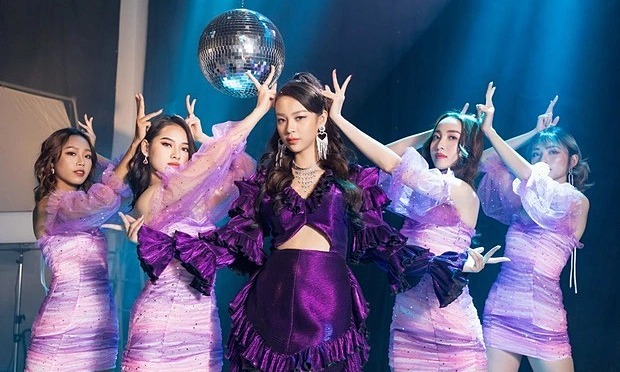 The lyrics of "Cam Sung Ai Dung Cam Sung Em" (You Can Cuckhold Anyone But Me) by singer Phi Phuong Anh are predictably ridiculous:
"Cuckolding can neither be created or destroyed. It only moves from one person to another. You can cuckold anyone but don't cuckold me."
Music producer VirusS called the lyrics unacceptable and has asked audiences to stop sharing poorly written songs that attack the tastes of youth culture and lower local music industry standards.
Many songs with allegedly absurd and meaningless lyrics have ended up trending on social media. Detractors say this is because artists only care about viewership instead of making good music.
"Tat Ca Dung Im" (Everybody Stands Still) was hyped as a comeback for singer Ngo Kien Huy. But disgruntled listeners were infuriated by the nonsense hook with lyrics like "Everybody stands still, don't move".
Another recent song skewered for its completely inane lyrics is Hoang Yen Chibi's "U! Em Xin Loi" (Ok! I'm Sorry). Listeners questioned the meaning and message of the repetitive chorus "You want to break up? Not that easy" and "Sit down, sit down, sit down."
"Anyone has a clue what she's trying to deliver in this song?" user Ngoc Yen commented on YouTube. "She should put more effort into her songwriting. I think she can do better than this."
Some other V-pop songs have been criticized for their inappropriate content.
Singer Chi Pu's singles "Black Hickey" and "Sashimi" were criticized for being sexually suggestive and glorifying workplace affairs. After that, Chi Pu announced she won't be releasing new music anytime soon and even canceled her plan for a debut album.
The public has also sounded disappointment with local artists who borrow too much from international stars.
Listeners have noticed the similarities between Jack's new single "Ngoi Sao Co Don" (Lonely Star) and Canadian singer The Weeknd's 2020 megahit "Blinding Lights." Jack seemed to mimic both the content and style of the song.
Critics have also said the ballad "Dap An Cuoi Cung" (The Final Answer) by singer Quan A.P. was similar to the song "How Have You Been?" by Chinese singer Eric Chou in 2016.
Many say the Vietnamese pop scene is crumbling under the trending weight of meaningless lyrics. But singers keep hopping on the bandwagon.
According to musician Nguyen Van Chung, perfection in music comes when everything about a song is true and beautiful. That includes melody, lyrics, meaning and title, he said.
Composer Nguyen Minh Cuong told Thanh Nien Newspaper he was worried about the future of popular music in his homeland.
"It's true that a series of songs have been criticized for their ridiculous and meaningless lyrics," he said. "Of course, the bad songs will fade away soon, but if we don't raise awareness among young people, they will easily become a trend. Social networks often create trends for trashy songs, and the more absurd the song, the easier it is to get noticed, which eventually poisons both the music industry and public tastes," he argued.
Of course, there are two sides to every coin. This year has also showcased creativity, passion and great artistic effort in many new music releases.
Hoang Thuy Linh' new album "Link", which infuses modern instruments with traditional Vietnamese music, received laudatory reviews from domestic and international critics.
"Link's most convincing moments arrive when sonic experimentation matches lyrical conceit. Hoang Thuy Linh's playful navigation of Vietnam past and present, something central to her art, exists even here," wrote Pitchfork, one of the world's most influential music criticism websites.
Singer Phung Khanh Linh also surprised everyone when she put out "Citopia", an album that focuses on city pop, a popular urban sound from Japan in the 1980s. Fans lauded the album for its concept and musical scope.
"There is plenty of great Vietnamese music out there, you just need to know what to listen," Minh Hien, a music promoter in Hanoi, said.